A Band for Britain, BBC Two |

reviews, news & interviews
A Band for Britain, BBC Two
A Band for Britain, BBC Two
Where there's brass, there's muck - and Sue Perkins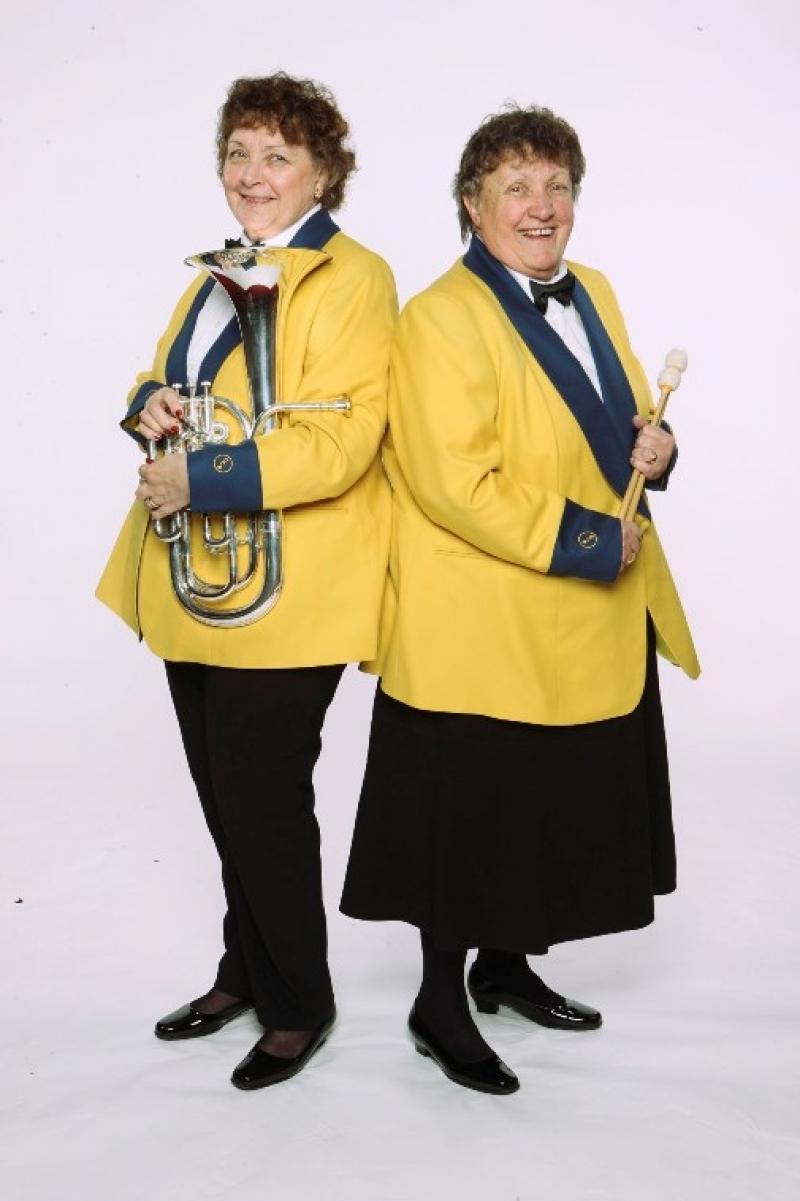 Natural performers - not sure about the playing, mind: the ladies of Dinnington Brass Band
We know the grammar now by rote. Some local institution is on its uppers. A traditional way of life is threatened by changing times. Sic transit etcetera and so forth. What's wanted is a shot in the arm, a kick in the seat, preferably administered by a famous well-known celebrity star, one if at all possible followed at all times by their own bespoke camera crew. And yea, lo, not to mention verily, they will sprinkle their fairy dust, twinkle their pixie bits, and an impossible task of a horridly hard nature will by some completely predictable miracle be achieved, all thanks to grit, graft and the consigning of many hours of unusable footage to the cutting-room floor because it doesn't quite stick within the narrative's tramlines. A Band for Britain could have been awful. Instead, it's almost entirely enchanting.
Why? Well, it's not about what television can do for you. It's about something more authentic than that, which derives from the participants on view. Amateur musicians don't want to be stars. Especially brass ones. They are content on the whole with making a little talent go as far as required, with being a cog in the wheel. The X Factor is a very long way from the mind of a euphonium player in an ailing colliery brass band in a Yorkshire pit village that no longer has a pit. If it's never quite so far away for those who toil in factual television, A Band for Britain is rare proof that tired formats can bloom again if the content is right.
The set-up is this. Dinnington Colliery Band is on its uppers. There are only a few members left to wheeze into their instruments, and one brassy old trouper on percussion. They're mostly full-bodied ladies of a certain vintage, natural performers all. Not sure about their playing, mind. In situations of such dire emergency, who you gonna call?
In another lifetime, if they wanted to record the life of an ailing brass band and its place in society, the BBC would have sent a trained documentary filmmaker to live among its subjects for months on end and produce a moving, crafted, fly-on-the-wall portrait of a community. But that ship has long since sailed, the skills forgotten, a way of working consigned to yesteryear. Forget brass bands. The documentary is the dodo. (Hey, they should make a documentary about it.) Meanwhile, this artificial insemination of urgency via outside agency is the only way anyone left in TV knows how to tell a story any more.
But I digress. Five years ago you'd never have come up with the name of Sue Perkins. Having spent much penitential time in reality TV's trenches, which teem with assorted desperadoes on the comeback trail, her reward in 2008 was to win the BBC's slebs–learn-to-conduct batonathon (the name escapes me) in which she revealed that she can swish a stick at least as well as Darius Danesh can caterwaul an aria.
Perkins's job with Dinnington's knackered band? To put some oomph back in their oompahs. And while she was at it, quadruple the size of the outfit, recruit the conductor of the best brass band in the world, become a sudden spokesperson for a form of music one suspects that - educated in Croydon and Cambridge - she has never gave a second thought to, and so on. The usual taskload. At an hour an episode, the programme feels too long. There's way too much "time's running out" and "work to do" and "are they really ready?" It never quashes the suspicion that narrative arcs are being carefully manipulated off camera, and characters being cast, including one white rasta on drums ("It's only 'air, in't it?")
Despite everything - shop-soiled format and creaky mechanistic narration-by-numbers - what's irreducibly lovely about A Band for Britain is the subject-matter: the fact that musicians of all ages want to don ridiculous togs for the pleasure of doing an old-fashioned thing well together. Where in most talent shows the talent is smaller than the show, here it's rather the other way round.
And everyone here sort of knows that. Caps were dutifully doffed to Britain's Got Talent and its sunlamped Svengali. They even went to the trouble of having a kind of audition with (almost) all the trimmings. Then they forgot to reject anyone. Even the one who said the only reason he wanted to audition was to get on the telly. The ladies took a distinctly dim view. "I think it came across that I were just doing it for the television," he admitted sheepishly in his post-audition interview. Honesty is the best policy, and A Band for Britain has enough of it to atone for a multitude of sins. A cheering hymn to the purifying pleasures of amateur music-making.
Visit the Dinnington Colliery Band website.

Where in most talent shows the talent is smaller than the show, here it's rather the other way round.
Explore topics
Share this article