Big Cats About the House, BBC Two review - irresistible feline-human bonding |

reviews, news & interviews
Big Cats About the House, BBC Two review - irresistible feline-human bonding
Big Cats About the House, BBC Two review - irresistible feline-human bonding
When a jaguar comes to stay... Wildlife television goes domestic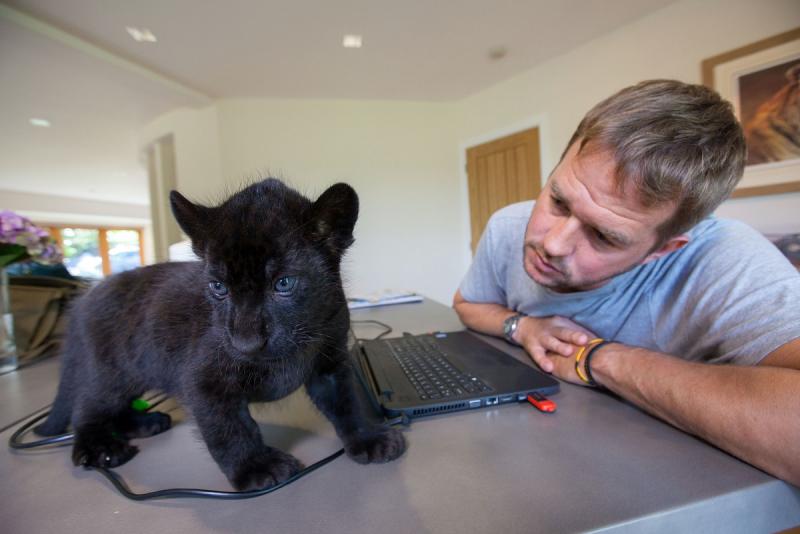 Getting to know you: Maya with Giles Clark
There is a jaguar in the house. Aged five days, and having been rejected by her mother, Maya has arrived from the wildlife park where she was born for hand-rearing by Giles Clark at his home in Kent. The cub is going to spend her early days with his family, with round-the-clock care from Giles, obsessed as he is with the situation of big cats worldwide.
For Maya, it will be an attempt to make sure of her survival, not least as an ambassador for endangered species at the Big Cat Sanctuary nearby, where Clark works as head of cats and conservation. A charity, it houses some 50 big cats from 15 species in optimum conditions on 40 acres.
Maya is thought to be the first jaguar to have an MRI
Clark has two decades of experience in handling big cats, and worked for over a decade at the famous Australia Zoo near Brisbane (with its history of the charismatic Steve Irwin and family at its head), where close handling from human to animal was pioneered. He is as much of a natural himself for television as his feline cares, as anyone who saw him in the BBC's similarly appealing 2014 documentary Tigers About the House will surely remember.
Now he's back in England, managing the Big Cat Sanctuary which, with its seven human keepers, is seen as a global centre for excellence and participates in international breeding programmes for its endangered felines. Eighty per cent of big cat species are in trouble, facing problems ranging from habitat shrinkage to poaching.
The Sanctuary works to impart information on all of this through the showcasing of its felines, as well as raising funds not only to keep the BCS going but also to support international initiatives and projects. Beyond the awesome appeal of the animals with all those endless cute moments, and the efforts going into the complexity of their care, is the message: how do humans hold back the damage that humans are doing?
The illegal global wildlife trade is estimated at £18 billion a year. Giles goes off to meet the Wild Life Alliance in Cambodia and visit the Cardamom Mountains, one of the last wilderness regions in South East Asia. Poachers are fearsomely active, with snares and traps – their attempts have increased fivefold in recent years. Cambodian tiger skins are much prized, with the animals nearly wiped out, and ingredients for traditional Chinese medicine are also sought. Heartbreakingly, Giles looks at a box of confiscated animal skin contraband (pictured left): it represents as many individual animals – over 50 – as he cares for at the BCS.
Back to Maya. The cub is black, a rare genetic variation: the black jaguars, six percent of the population, are known as panthers. Hand-raising big cats is controversial, as some think it leads to adult behavioural problems. On the other hand, neglected or abandoned feline cubs die very quickly. The care Maya needs is phenomenal: Giles has to get the five-day-old on a bottle as soon as possible. Her special milk does not have lactose, which is harmful to carnivores. She also has to build a bond with humans. His third attempt to feed the cub is successful: Maya has to drink 20 percent of her body weight a day, so she has eight feeds her first night. Feeding every two hours is followed by careful weaning onto meat paste, and even emulation of the ways in which her real mother would have stimulated her cub's defecation (fear not, the human does not lick Maya's bottom, but rubs it with warm cotton wool).
Maya will have this life at Giles's home for 10 weeks. She accompanies him to his day job with the big cats at the BCS where she will eventually live (pictured below). Born in captivity, Maya will never be released into the world. But we see how awesome she might be as we meet the adult Athene, an adult black panther at the Sanctuary who is seriously scary. But most are habituated to humans and we witness training sessions with three cheetahs, who instead of racing across the plains of Namibia are playing with red balls on a string.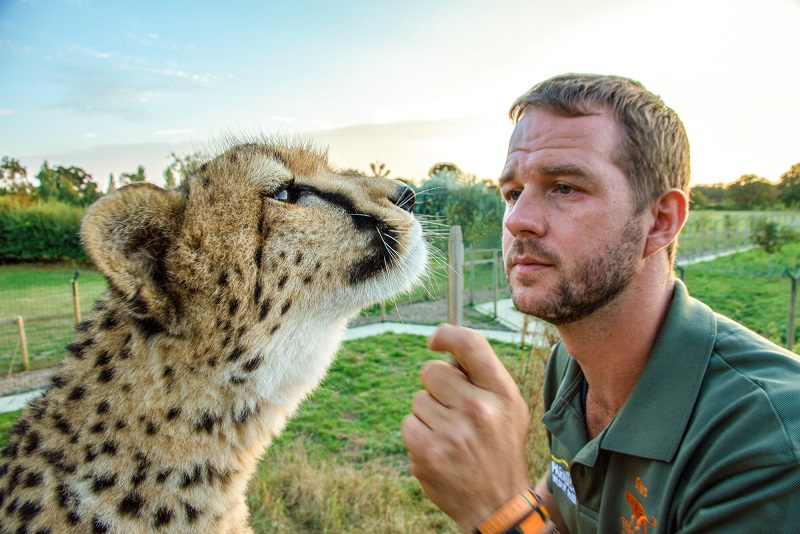 Meanwhile Maya is eating solids and teething, but at five weeks there are problems with mobility and sight. Giles, with a squealing Maya, drives 200 miles to Bristol to the Langford Small Animal Veterinary Centre where experts conclude her brain and nervous system are not working properly. Cue a brain scan: she is thought to be the first jaguar to have an MRI. The conclusion is to watch and wait.
And we can: this is the first film in a three-part series, with water therapy ahead for Maya (jaguars swim, and aquatic creatures are as much their prey as land animals). And a cheetah cub will also become a cat around the house, while there's a visit to Costa Rica to see what is being done to help the jaguar in both Central and South America. It promises to be an absorbing journey.