Bombing of Germany, National Geographic |

reviews, news & interviews
Bombing of Germany, National Geographic
Bombing of Germany, National Geographic
This is not how Hollywood wanted you to see the war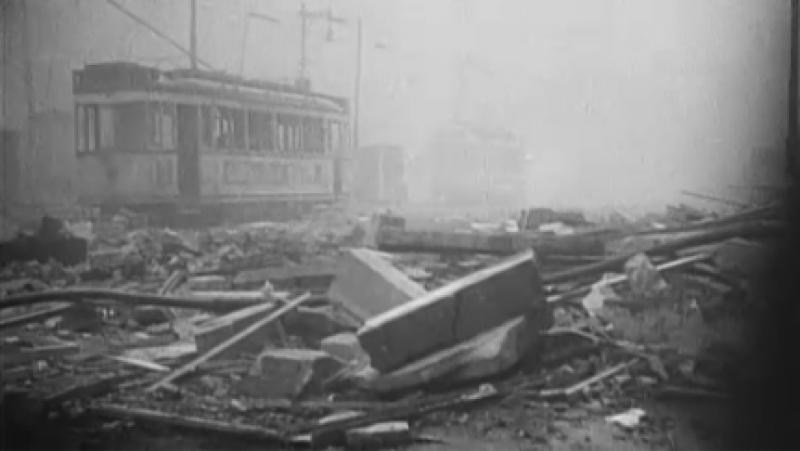 Destruction in Berlin after Allied bombing
By complete coincidence, this afternoon I tuned in to Air Force, Howard Hawks's 1943 propaganda picture: chiselled young airmen fill a B-17 "flying fortress", dropping their payloads over Japan, both a news service and wish fulfilment for domestic audiences. Their sharp, sweaty features glow in the firelight. Their commanders are tough but fair.
Their bombs fall crisply, in a noble cause. This is not that film.
In Bombing of Germany, you saw how well Hawks rewrote history. Surviving members of B-17 crews talked about Operation Thunderclap, the all-out air assault on Dresden, Leipzig and Berlin in February 1945, the qualms they felt about moving from targeted bombing of strategic objectives to bombing an entire city to break its morale and cause it to revolt. Survivors of the bombing described the two-metre-high piles of corpses and the children's toys at the top of piles of debris. We were not in Hollywood any longer.

Except the video used in this programme may as well have been created by some special-effects studio in California: I have never before seen such vivid and shocking documentary footage, from every perspective. There are the bombs slipping out of the planes; the buildings crunching and collapsing and burning as they hit; the people running in terror. German pilots crank up their planes. A wounded pilot, haunted, stares at the camera as he passes. Bodies lie in rows.

All of this footage - and it was extraordinary, easily suggesting the horrors of the time - supported the programme's exploration of the question of whether such indiscriminate bombing as Operations Thunderclap and Gomorrah (where in July 1943 the British pounded Hamburg into hell, launching a firestorm and a pillar of smoke that rose 20,000 feet, killing 45,000) was justified in the service of the greater cause, defeating the Nazis.

Extracts from official documents show how American commanders were unhappy with such a policy, fearing it destroyed something humane in the American war effort, and some of the talking heads see it as a slippery slope leading to the atomic bomb, whose 65th anniversary we have just observed.

A public which had consumed the cruel truth of Bombing of Germany, rather than the popcorn of Air Force, would have had a much harder time answering the moral questions we now have the luxury to consider. What would such footage from Afghanistan do for us today?
Buy Air Force (but only as a Region 1 DVD) on Amazon
Explore topics
Share this article