The C Word, BBC One / Home Fires, ITV |

reviews, news & interviews
The C Word, BBC One / Home Fires, ITV
The C Word, BBC One / Home Fires, ITV
Sheridan Smith pulls out the stops as cancer sufferer Lisa Lynch
Sheridan Smith as Lisa Lynch in 'The C Word', with Paul Nicholls as husband Pete
Perhaps only Sheridan Smith could have played the role of Lisa Lynch in The C Word [***], not just because of the no-messing directness she brought to the role, but because Lynch nominated her for the job. Lynch had attained a particular kind of celebrity as author of the blog, Alright Tit, about how she was coping with a diagnosis of breast cancer.
This became the book,
The C Word
, and when a tv adaptation was mooted, Lynch tweeted Smith and said "only you can play me".
The bitter twist in the tale was that Nicole Taylor's original C Word screenplay ended when Lynch had been declared cancer-free, but the disease subsequently returned more virulently than ever. What would have been a celebration of combative and witty defiance had to be rewritten to encompass its new, devastating ending.
Nobody is going to get through an experience like this without outbursts of fury and frustration
One of Smith's lines in the piece was "I'm British – we just don't talk about death, do we?" Maybe, though you can't really talk about death so much as how you approach it or deal with it. You couldn't fault Smith's performance here, as she battled her way through the various stations of the cross that a cancer diagnosis brings. Clattering out her blog on her laptop, vaulting every setback with caustic humour, she envisaged being "bald, bloated and one-titted" when she attended her brother Jamie's forthcoming wedding (getting to the wedding assumed Grail-like significance). She unsentimentally enumerated the ways in which cancer had sawn off the things she was or wanted to be – "it takes you hair, your confidence, your social life, your immune system, your figure... it took my optimism, hope, plans for the future..."
There was decent support from Paul Nicholls as her husband Pete, who remained stoical and loving but too saintly – nobody, surely, is going to get through an experience like this without outbursts of fury and frustration. Haydn Gwynne as Lisa's mother Jane at least got to vent some incomprehending rage about how something like this could happen to her daughter, only 28 when she was diagnosed. I don't know how to judge this film, other than to say it was probably as good as it could have been without getting someone like Terence Davies or Pedro Almodovar to make it.
Most of last year was consumed by the World War One centenary, and the trend has continued with massed remembrances of the disastrous 1915 Gallipoli campaign. Thus it feels a bit odd that ITV's Home Fires [***] should suddenly plonk us, for no immediately obvious reason, in rural Cheshire on the brink of World War Two.
It's August 1939, the month before Britain and Germany went to war, and even in leafy Great Paxford, the despotic ambitions of the Fuhrer loom large. Although the gardens are a-thrum with bees and birds warble sweetly in the treetops, the rural calm is being rent asunder by the roar of low-flying Hurricanes and recklessly-driven army trucks (one of them sent poor Claire Hillman crashing into a hedge on her bicycle), and eager young fellows are itching to sign up for military service (Home Fires cast on parade, below).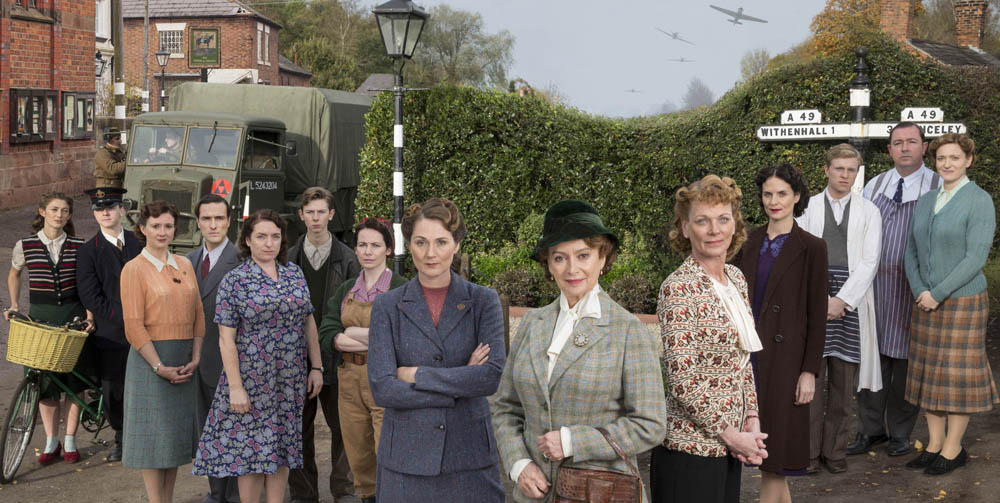 However, the focus of Home Fires (based on Julie Summers's book Jambusters) is the local Women's Institute, and how the reforming zeal of Frances Barden (Samantha Bond) converted it into a hive of self-help activity and patriotic support for the war effort. So far the latter has consisted only of producing copious quantities of home-made blackberry jam, but the war hasn't officially started yet.
Before any of this could happen, the Great Paxford WI had to prise off the authoritarian grip of previous chairperson Joyce Cameron (a freezingly brusque Francesca Annis), who ran the operation on behalf of her private coterie of "snobs and sycophants" (according to Mrs Collingborne, at least). For some reason Mrs Cameron had decided that the WI should be closed down for the duration of the war, but Mrs Barden's bold putsch seems to have uncorked a rush of sisterly solidarity in the neighbourhood.
This is going to unlock a whole bunch of individual stories, like Pat Simms's grim home life with her bullying husband Bob, or how doctor's wife Mrs Campbell is going to cope with the news that her husband Will (Ed Stoppard) has lung cancer. It's all engaging enough, but it feels as if it should be on at 6pm rather than 9 o'clock.
What would have been a celebration of combative and witty defiance had to be rewritten to encompass its new, devastating ending
Explore topics
Share this article