The Capture, Series 2 finale, BBC One review - gripping ride to a barnstorming conclusion |

reviews, news & interviews
The Capture, Series 2 finale, BBC One review - gripping ride to a barnstorming conclusion
The Capture, Series 2 finale, BBC One review - gripping ride to a barnstorming conclusion
But could the AI drama have been more chilling if less intent on being thrilling?
Tuesday, 13 September 2022
Identity crisis: Holliday Grainger and Paapa Essiedu
[Here be spoilers.] If you have been glued to the second season of The Capture, just ended, does it bother you that its content is borderline science fiction? Probably not. Writer Ben Chanan's depiction of artificial intelligence may outstrip the reality of what it can currently achieve, but he can sure spin a gripping TV series around AI's potential for creating chaos in the wrong hands.
But which are the right hands? In season two, Chanan upgraded the AI he mapped out in season one, which pitted DCI Rachel Carey (Holliday Grainger) against her own intelligence service, appalled that the British were using "correction" – digital manipulation of images to create "deep fakes" – when it suited them, just like the Chinese, Russians and Americans. Three years later she was still on the case, but the technology apparently now worked in real time, with the eye-popping result that the UK's security minister, Isaac "Zak" Turner (Paapa Essiedu), could be made to utter opinions on live television that were180 degrees away from the ones he actually held.
What fun Chanan had with this idea: the climax of episode four was a Great Telly Moment, with Zak in his bath first answering a phonecall from an ingratiating, familiar voice, then going to the door when his buzzer was repeatedly pressed – to find his own face on the entryphone screen. Essiedu's look of sheer panic as Zak2 raised his bowed head and stared at him was priceless.
From episode five onwards, you were most likely busy keeping track of the plot twists and working out who was deploying the AI, and why. The Chinese were a two-episode red herring, it turned out, so next we were encouraged to latch onto the presence of a masked Russian hitman, usefully found by a facial recognition program created by Truro Analytics. Except he was from Belarus, a mercenary, and was himself a target of the shadowy folk behind the tech attacks.
There weren't many ball-busting nations left in the frame by this point so it wasn't a surprise that a US firm was given the government's contract for facial recognition software. Her eyes going squinty and steely, Carey spotted at once that the winning outfit was based in the same building as Truro Analytics, and Truro's role in the whole debacle started to become clear. Clearer, anyway. In the final twist of this pretzel of a plot, the US and UK intelligence units became hi-tech roomies in a Bond-like HQ hidden in a railway arch, and their complicity in creating all the digi-havoc we had been watching became clear. Clearer, anyway. But to what end?
The final lap made things a little too clear, almost preachy, with Zak appearing on Newsnight again, but this time exposing the deep-fakery and its aims. Or rather, Zak2 appeared on what seemed to be Newsnight and did the exposing, in a barnstorming speech against not believing all you see. It was relayed to a big screen in Piccadilly Circus (a first for Newsnight?), where the real Zak watched, smiling. Carey, who miraculously materialised there too, after betraying her own intelligence chiefs, seemed more cautious. And when Zak2 promised that the creators of the deep fakery would be hunted down, she looked positively worried. Perhaps she realised she was facing a third season of mayhem, to catch the perps. Besides, "Shaun Emery must be freed", she had vowed to her sister. (Keep up at the back: he's the soldier caught up in the fakery in season one.)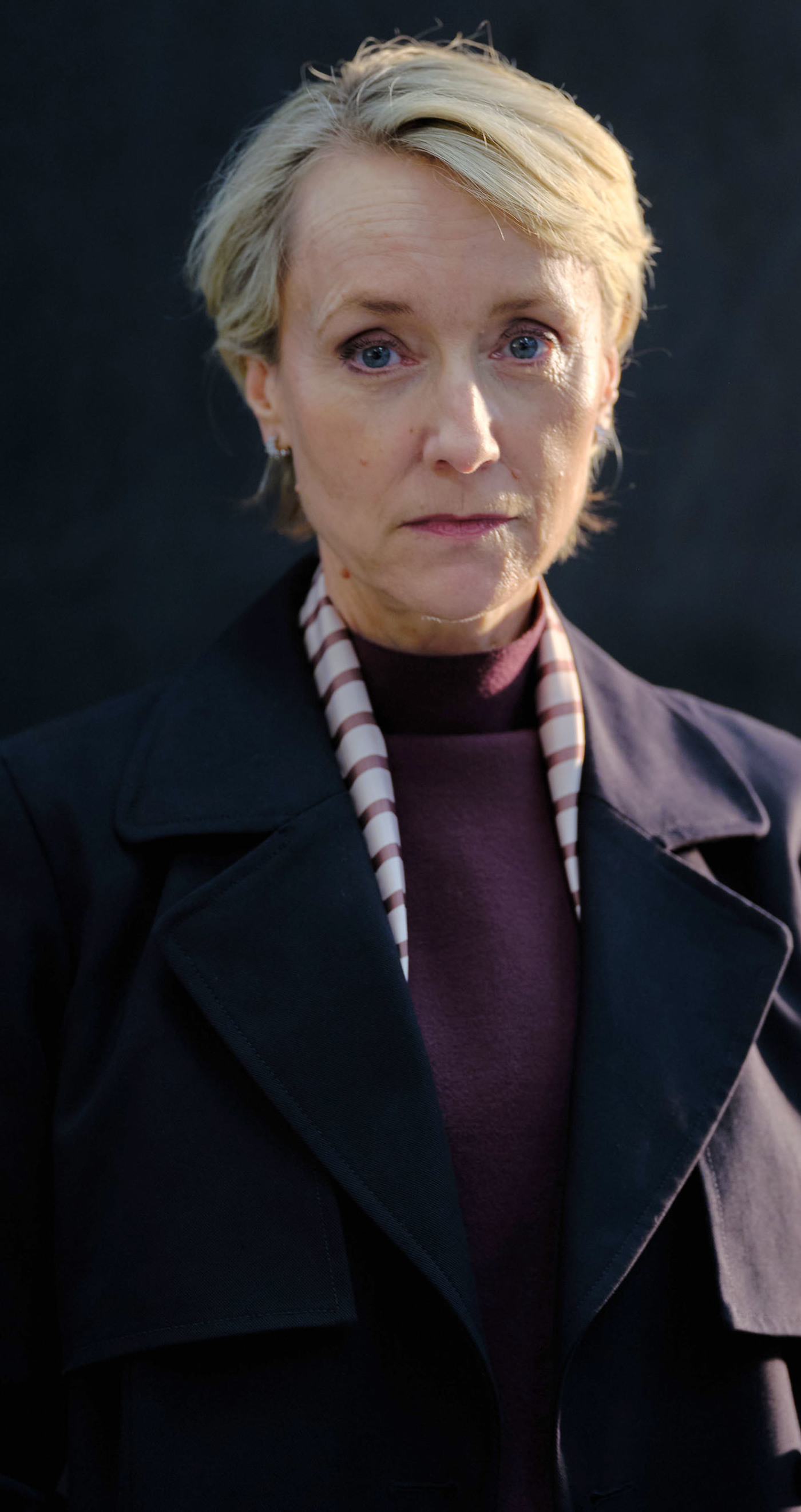 Thriller endings have a tendency to be less thrilling when their workings are ultimately exposed (exhibit A: the identity of H in Line of Duty). In this second series of The Capture there were at times too many moving parts: Zak's spads and family had too little to do to justify their presence; characters popped up unidentified, like the "taxi-driver" who took Turner to Piccadilly Circus (DS Latif); the Chinese threat disappeared and the demolition of the home secretary (excellent Andy Nyman, pompous and pathetic) was hard to focus on alongside the hacks and tech attacks.
For long stretches of the series it wasn't clear where Chanan had hidden its moral compass. It wasn't in the depiction of chilly DSU Gemma Garland (Lia Williams, pictured right), who lost all trace of nuance. Frank Napier (Ron Perlman), her hulking US counterpart, was left to mine the contradictions of his character. And I would have wished bad-guy data manipulator Gregory Knox (Joseph Arkley) had been more credible: his product presentation was overly comic, reminiscent of the League of Gentlemen's Legs Akimbo lectures.
Carey was still scrapping away like an action heroine, and Turner – a gift of a role for an intelligent actor like Essiedu, who has played King Lear's villainous Edmund to perfection – rose to heights of indignant innocence when needed. But his acceptance of Truro Analytics' help with his career was too swiftly handled. By the end, we saw that the people putting words into Zak2's mouth, whoever they were, were on the side of the angels, but what about the real Turner?
It became a drama somewhat at odds with itself: less outlandish tech effects wouldn't have been as much fun to watch, though a less showy, more realistic take – which the script prodded us towards, via the parallels with the Huawei affair and Truro Analytics/Cambridge Analytica – might have been more chilling. Even so, it was exciting to give in and go along for the ride.