Case, Channel 4 |

reviews, news & interviews
Case, Channel 4
Case, Channel 4
It's grim up north in Icelandic crime drama featuring yet another young female corpse
Wednesday, 25 January 2017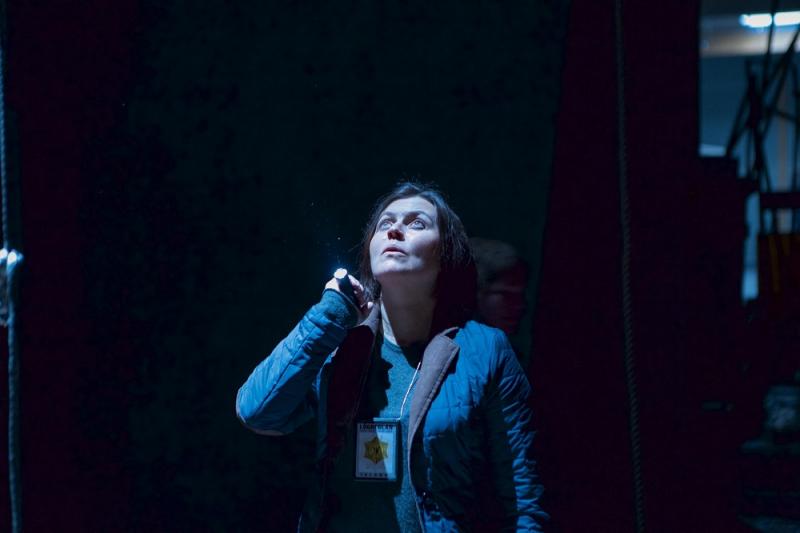 Gabríela (Steinunn Ólína Þorsteinsdóttir) at the scene of the crime in 'Case'
Another night, another woman battered/strangled/raped/murdered. On Sunday a pregnant woman was brutally slapped about by her husband in Call the Midwife, while Emily Watson's character in Apple Tree Yard was the victim of a punishment rape. And so it continues in Case, the latest Nordic noir to make its way here, this time from Iceland.
It opened with two police officers making their way to the stage of a theatre. A glimpse through a doorway revealed what had brought them: the bottom half of a young woman's body, dangling six feet above the ground.
Lara is roughly the same age as Nanna Birk Larsen from The Killing. Or Léa Morel, the girl whose murder was investigated in the French series The Disappearance. Or… [fill in with more of your own examples]. The reality is that most murder and violence is domestic and women take the brunt. But one's inner vigilante sometimes yearns for a crime drama in which the victim is a pimp or a pusher, say, or a champion of alternative facts. Someone who, in a strictly fictional context, is asking for it in the neck. But then nobody would care if the crime were cleared up or left unsolved, to be taken up many years on by any one of the cold case crime dramas that are another of television's on-trend entertainment.
What do we know so far in Case (written by Þorleifur Örn Arnarsson and Andri Óttarsson, broadcast as Réttur in Iceland)? That Lara was a talented ballerina and had a best friend who is covering something up about the night of her disappearance. That she was removed as a young child from the care of her birth parents, both alcoholics, and fostered by a wealthier childless couple. That the former are so distraught and resentful that they have allowed a pair of techie code-cracking snoops to dig up some dirt on the latter. One of the snoops is a lawyer on his uppers called Logi (Magnús Jónsson), owner of the sleaziest beard in Reykjavik. His sidekick is his girlfriend Ilmur (Elma Stefania Agustsdottir, pictured above with Jónsson), who at one point covers her nakedness by carrying a resplendent moggie. They have been commissioned by a creepy middleman who, in the opening episode's most disturbing scene, visited a young woman at the grocery where she works and asserted his control over her by aggressively thrusting a hand down the front of her jeans in the practically patented style of you-know-who.
Meanwhile the police are represented by Gabríela (Steinunn Ólína Þorsteinsdóttir) whose solitary domestic life is so dysfunctional she can't even get it together to hang a set of bedroom curtains. When summoned to have a beer with her long-term work partner, he asks her if she's a lesbian. She doesn't say anything much, being a workaholic stablemate of Sarah Lund and Saga Norén. She cannot accept the evidence that Lara, who had possibly non-consensual sex hours before her death, committed suicide. Meanwhile a blonde Valkyrie lawyer called Brynhildur (Jóhanna Vigdís Arnardóttir) is getting involved out of guilt, never the best motivation for an attorney. (Several characters get their names from Norse myth. There's also a Thor.)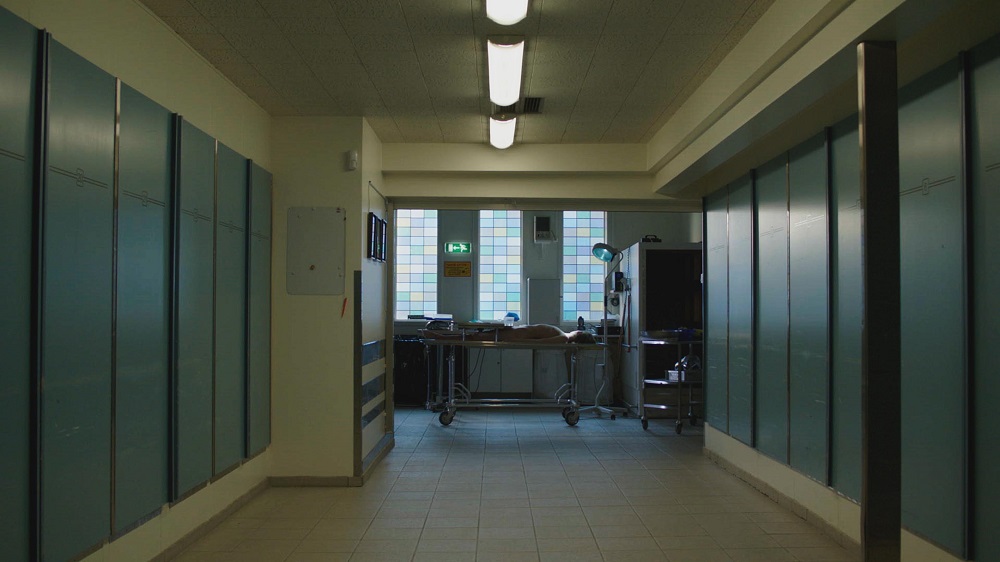 As ever with Scandi offerings the look of it is clean as a whistle, including the chamber of horrors that is the autopsy room (pictured above). Everyone exudes peachy blue-eyed wholesomeness. (The director Baldvin Zophoníasson also shot three episodes of Trapped.) But as we know from Denmark's drama department, something is rotten in the state of pretty much everywhere. It doesn't matter how pretty the actors are.
We also know from noir of every nationality that any of the above could be the culprit, though Gabríela can probably discount herself. There's a most unpleasant boss of Brynhildur's law firm, and a cocky young pup from the youth centre who we saw destroying evidence in the last frame of the first episode. If you've got a spare nine hours you can find out who done what by binge-ingesting the whole series on Channel 4's website, another example of terrestrial taking a leaf out of the Netflix playbook.
The most powerful scene so far is one dramas often skip, when the parents are told about their child's death. The mother wept uncontrollably, the father looked catatonic with shock. Keep half an eye on him.