Cats v Dogs, BBC Two |

reviews, news & interviews
Cats v Dogs, BBC Two
Cats v Dogs, BBC Two
Which is faster, cleverer and stronger? And do our pets really love us?
Liz Bonnin and Chris Packham search for the animal X Factor
This slightly ludicrous programme is really a chance to see a charming range of dogs and cats, based on an assumption that by comparing cats and dogs we humans can decide which species is best. But best for what? As pets, domestic companions, survivors in the human jungle?
Both species have survived indeed by attaching themselves in one way and another to various human societies, and even managing in certain societies to be worshipped as divine beings, Egypt being a prime example, while now some Asian countries see dogs as a food source. Well, they eat guinea pigs in South America; one country's pet is another country's dinner.
The dog brain is evidently 20 per cent bigger than the cat brain
We were told we are a nation of animal lovers (tell that to the RSPCA) and a spurious contest between cats and dogs, the animals all unknowing, was set up with the presenter Chris Packham, in his slightly outdoorsy persona, championing dogs – man's best friend – and Liz Bonnin, a very graceful creature herself, on the side of cats. Let the battle commence, they commanded, the animals in question of course blissfully ignorant of the competition.
In this first chapter of two, we looked with the help of various research scientists and veterinarians at canine and feline brainpower, senses – hearing, sight, smell – and physical prowess, and travelled to (inter alia) the Animal Behaviour Centre at Lincoln University, the Wolf Science Centre in Austria, centres in Cambridgshire and Lincoln, the Royal Veterinary College, and the Clever Dog Lab (sic) in Vienna.
Visiting the Austrian captive wolves, it emerged that 99.6 per cent of the genes of domestic dogs came from their direct ancestors, the wolf, as well as the fact that dogs are pack animals. The social skills and intelligence of the domestic dog are a lupine legacy. At the Animal Behaviour Centre in Lincoln, we learnt that cats are solitary animals, and are descended from the Arabian wild cat, with a marvellous furry specimen hissing at us from his high tree perch.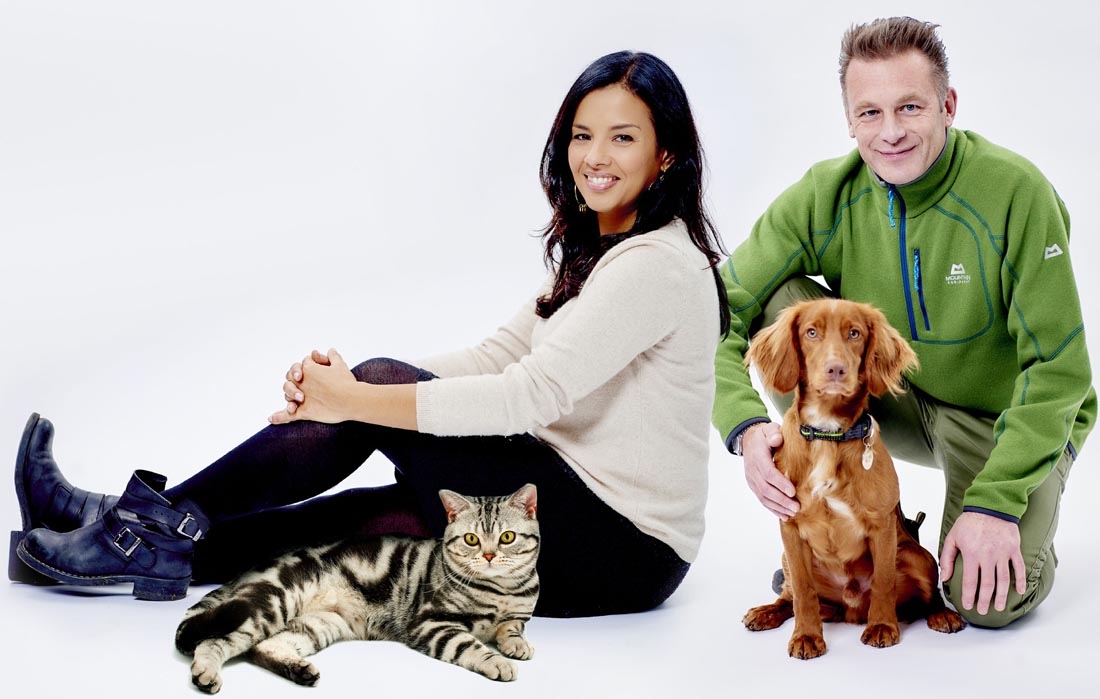 In one test, a dog had to choose between two screens with different numbers of dots, to see if dogs have a sense of numbers; they don't, but can distinguish and choose between quantities, which might be useful when one pack faced off against another in either rivalry or co-operation. It made sense that the pack leaders could evaluate the size of another pack. Cats too seemed to be able to do this, although their approach to being tested was certainly less disciplined: even the charm of Liz could not prevent the cat being tested from just wandering off. But the dog brain is evidently 20 per cent bigger than the cat brain, and while size isn't everything…
Throughout, we were given what 1,000 owners of cats and dogs thought in a statistical survey: 58 per cent thought dogs more intelligent, only 29 per cent championed cats, the rest presumably undecided. To prove this, a dog improbably made toast for its owner's breakfast, and then tenderly lifted it from the toaster to put on the plate, but would Health and Safety approve? Another dog played billiards, pushing the ball with his nose (soulful Labrador, below).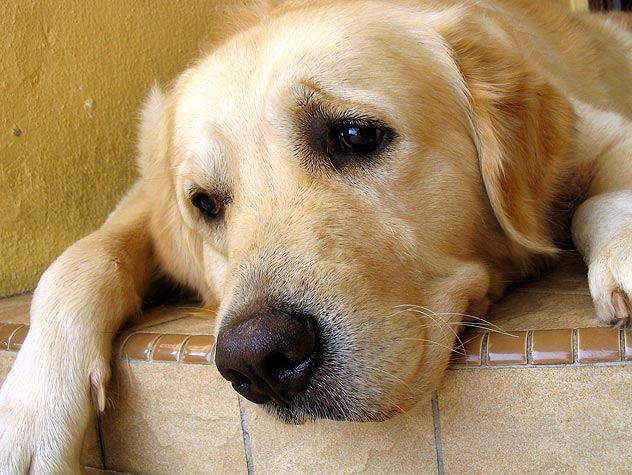 With models and X-rays, such sensory processes as sight were compared, and the night vision of cats was a marvel as our feline competitor whisked through a maze in the dark in a few seconds, whilst the dog had was measurably much slower. Feline hearing was also much more acute, the better perhaps as natural nighttime predators to hear the high pitched squeals of their prey.
But with the sense of smell, it was another story. Boris, a talented sniffer dog, was on the trail of Chris Packham in lunchtime Manchester, through streets and alleyways and the smelly overload of the local street market with its sizzling food stalls: the human quarry was found, even after a 40-minute gap between Chris's brisk walk and Boris setting out. Eager Boris was armed only with the scent clues given by Chris's dirty T-shirt and pillow case, but it took just a few minutes for him to find Chris with contemptuous ease in the final destination coffee shop. Dogs have three times more smell receptors of cats, and both are far more sensitive to scent than humans (camera-friendly kitten, below).
Physiological explanations abounded, from the anatomical explanations for cats leaping higher, but dogs leaping further, not to mention cats being faster – cheetahs are the fastest mammals on earth, and have been clocked at 64 mph – but dogs have much greater stamina. There was also a surreal new sport out there, "Canicross", where humans are linked by a leash to their dog, who is in the lead, in a neat reversal of the usual order. Dog and owners then run over a 5km woodland course. Evidently canine aerobic capacity is extraordinary; while cats have amazing speed as sprinters, dogs were in it for the long game. Whilst their heavingly breathless human companions couldn't stagger on, the dogs were ready to continue seemingly forever.
Of course the progamme in one sense was just a set-up, as there is no particular reason to compare the two species. Most of us like either dogs or cats, or both, and acknowledge the differences. Next week though, we're promised a look at the real question for emotionally needy pet owners: do dogs or cats really love us? I can only tell you that from my neck of the suburban woods, cats are genuinely clever. The old adage holds true – dogs have owners, cats have staff.