Cinema Verite, Sky Atlantic |

reviews, news & interviews
Cinema Verite, Sky Atlantic
Cinema Verite, Sky Atlantic
Revisiting the creation of America's original 1970s reality TV show
Wednesday, 28 September 2011
James Gandolfini, Diane Lane and Tim Robbins (left to right) lay plans for 'An American Family'
The 1973 series An American Family is often referred to as television's first reality show, though comparing it to Big Brother or the Kardashians would be like slotting Ingmar Bergman alongside the CBeebies. Its 12 episodes were boiled down from 300-odd hours of observational footage of the Loud family, of Santa Barbara, California, at work, rest and play.
But whatever the original intentions of the show's producer, Craig Gilbert,
An
American Family
ended up being far from a fly-on-the-wall portrait of humdrum domestic routine, or "five hours of pass-the-salt", as one TV network executive feared.
The Louds' 20-year-old son, Lance, achieved cult status as the first openly gay character on television. The marriage of parents Bill and Pat steadily disintegrated as filming progressed, culminating in the scene where Pat told Bill that she wanted a divorce and ordered him out of the house. Critics argued furiously about the intrusiveness and manipulativeness of the project and speculated over the extent to which it represented a demolition of the American Dream, while the Louds were showered with brickbats for their lack of self-knowledge and louche California lifestyle. Subsequently, An American Family has been pored over with vampiric zeal by media students and academics.
Now here's HBO's Cinema Verite, an unusual hybrid which is part documentary, part feature film, and part critique of the An American Family project. Early on, we got a bite-sized summary of the original objectives of producer Gilbert (played by James Gandolfini). Pat Loud (Diane Lane), having had the plan outlined to her, wonders: "Why would anybody want to participate in such a thing?"
"To educate," says Gilbert. "To be part of a brave new experiment with a real family, with real people that audiences can relate to." (The fictional Louds, in colour, with their real-life counterparts, pictured below.)
Gilbert, now 85, has described the storyline of Cinema Verite as "essentially fallacious" and considered legal action against the film-makers, which strikes an ironic echo of the complaints the Louds themselves made back in the Seventies about how Gilbert had distorted and sensationalised their lives in the editing suite. Coming to the film from a position of blissful ignorance about An American Family, apart from spinning through a few clips on YouTube, I found it almost entirely gripping.
Apart from being tightly written by David Seltzer, the piece is forcefully driven by its three central performances. Tim Robbins catches Bill Loud's bullish, self-made Southern-ness with outsized enthusiasm. Even if he hadn't been a compulsive adulterer, the fault lines between himself and Diane Lane's Pat are almost comically apparent. Bill keeps jetting off on "business" trips as she busily mothers their five children while trying to carve out some independence for herself, impaled as she is on the twin prongs of domestic incarceration and dawning emancipation. Her empathy with the extravagantly camp Lance, who has moved to New York to hang with a Warholian crew of transvestites and showbiz wannabes, is in stark contrast to Bill's deluded hope that his son will find himself a nice girlfriend. "If Bill ever saw this he'd have a stroke," Pat mutters, when Lance takes her to a drag queen cabaret in New York (Lance and Pat at New York's Chelsea Hotel, pictured below).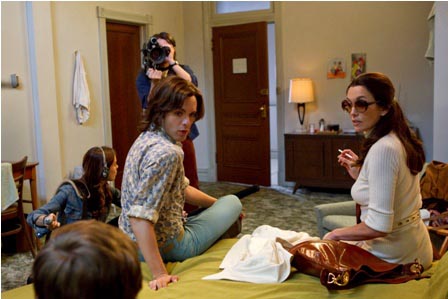 For his portrayal of Craig Gilbert, a burly, bearded Gandolfini has unleashed an intimidating mix of energy, ambition and ruthlessness, which enables him to browbeat sceptical executives at the WNET network into allowing him extra time and funding to make the An American Family project work. His Gilbert is also instinctively manipulative, reassuring the Louds early on that filming won't cross the "threshold of privacy", then bullying his camera team of Alan and Susan Raymond to throw privacy to the winds to capture the most painful unguarded moments as the Louds buckle under the pressure. His apparently sincere flattery of Pat Loud - "Women all across America are going to look up to you for a road map of how to be and who to be" - seems ultimately part of a cynical attempt to push her into letting every emotion hang out, and to preserve the gory details of the Louds' imploding marriage on film.
Cinema Verite has framed its unfolding psychodramas against a skilfully evoked Seventies California, seen through grainy film textures in pre-widescreen squares. Colours are soft and pastel, the light is golden and mellifluous, and the Louds' swimming pool is a piercing pale blue. Music from Carole King, Mama Cass and Steve Winwood floats in the background, while Pat Loud dresses in pantsuits and big sunglasses like Jackie Onassis. It was a dream doomed to crash and burn, but, as we learn in the closing sequences, the various Louds were resourceful enough to find their own ways of moving on and building new careers.
Watch the trailer for Cinema Verite
Gilbert bullies his camera team to throw privacy to the winds to capture the most painful unguarded moments
Explore topics
Share this article