The Cricklewood Greats, BBC Four |

reviews, news & interviews
The Cricklewood Greats, BBC Four
The Cricklewood Greats, BBC Four
Peter Capaldi's spoof tribute to a largely forgotten chapter of British cinema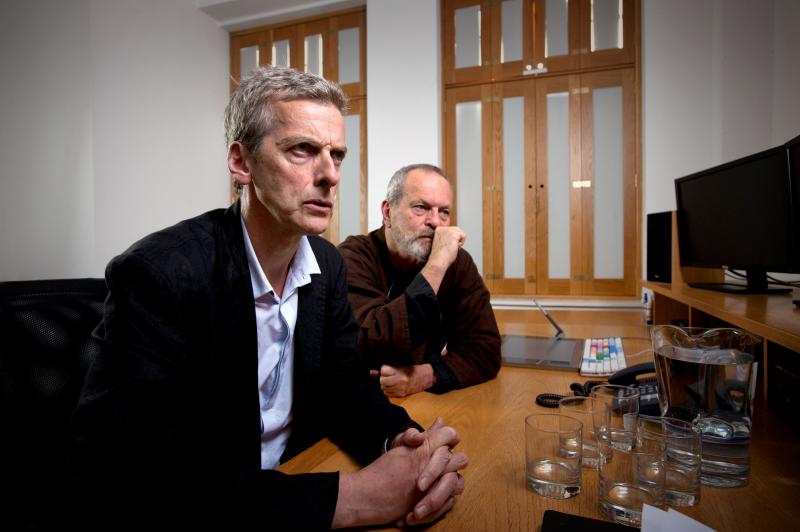 'Cricklewood Greats': Peter Capaldi (left) and Terry Gilliam revisit 'Professor Hypochondria's Magical Odyssey', the film which finished off London's Cricklewood Studios
Walking into a Wickes DIY superstore in Cricklewood, north London, Peter Capaldi is overwhelmed. The history there isn't obvious as shoppers scurry about. But he knows it's the site of Cricklewood Studios, the engine of British cinema that churned out classics like Clog Capers of 1932, the horror benchmark Dr Worm and the hilarious Thumbs up Matron. The end came in the 1980s with Terry Gilliam's Professor Hypochondria's Magical Odyssey and the wrecking ball. Wickes rose from the rubble.
Cricklewood never had the cachet of Pinewood or Elstree. Its films weren't as lauded as those of Gainsborough or as cool as Hammer's. Its Thumbs Up series was as cheekily British as the Carry On and Doctor brands. Woman-Saurus-Rex and Dance of The Undead gripped like Hammer's One Million Years BC and Brides of Dracula. Even so, Cricklewood is a largely forgotten footnote, less remembered even than Merton Park Studios.
Cricklewood hit its stride with Harold the Hobo, and his mixture of inebriation and violence
Capaldi isn't just Malcolm Tucker and nor is The Thick of It writer Tony Roche, who worked with Capaldi to bring the Cricklewood story to TV. Capaldi is a film man through and through. His short film Franz Kafka's It's a Wonderful Life won a Bafta in 1994 and an Oscar in 1995 (watch an extract below). He wrote 1993's Soft Top, Hard Shoulder. Moon Man and Strictly Sinatra, which he also wrote, might not have snared the Hollywood big bucks, but his experiences mean he recognises a part of himself in Cricklewood.
The studio was founded by Arthur Sim in the silent era. In the first of a number of remarkable parallels with better-known film history that went uncommented on, Sim was – like Georges Méliès – a magician who turned to film. Presaging the studio's distant future, he moved into the ruins of the fire-damaged Cricklewood Crumpet Company and built his studio. It hit its stride with the Harold the Hobo films, with Sim himself in the lead. Dubbed "the little drunk", Harold cheered Twenties Britain with his mixture of shambling inebriation and violence.
When the talkies came, Cricklewood's star became Florrie Fontaine (pictured right), a northern lass with something of Gracie Fields about her. She also had something of actor Lindsay Marshal about her. Fontaine had come the studio's way after making her name in her husband's act. He played Old Granny Flannery, a less well-known Old Mother Riley. Fontaine played Florrie Flannery, Granny's daughter. Her loud voice was her trademark. Her Cricklewood debut was Clog Capers of 1932. In the following eight years she made 141 films for the studio. Nobs and All, from 1938, featured her singing "Give Us a Grin", soon a firm wartime favourite.
Unlike Fields she was seduced by Germany,
where she moved and made Dial F for Fatherland. Her sister recalled she was so reviled that dashchunds were thrown through the windows of the family home. Returning to Britain after the war, she was booed off stage at the Hackney Palladium and ended her time running a bierkeller in Benidorm.
If that wasn't failure enough for Cricklewood, 1947's Johnny Puff, intended to capture the plucky post-war British spirit, was a box office disaster. The arrival of the production house Acton Films at Cricklewood in 1956 turned things around. The horror film Dr Worm uncannily mirrored The Quatermass Xperiment and its star Lionel Crisp was an equally uncanny morphing of Hammer staples Peter Cushing and Christopher Lee. Crisp's appropriately crisp diction owned itself to his epiglottis, described as "a little fist".
Horror paid the bills as did the fun-filled Thumbs Up films, Cricklewoods's very own Carry Ons, and Doctors. Their star was Gerry Pollock, an actor as tortured as Kenneth Williams and as fruity as Leslie Phillips. He was soon taken with the ingénue who arrived for 1966's Thumbs Up Matron, the perky, pretty Jenny Driscoll, who looked eerily like Hustle's Kelly Adams. Unlike Barbara Windsor with the Carry On films, Driscoll was easily distracted and in 1968 starred in her Italian boyfriend's Swinging London stiff Three Girls and a Brolly. She returned to Cricklewood, married Pollock and donned a fur-kini for the prehistoric romp Woman-Saurus-Rex. Both she and Pollock fell for Joe Hazelhurst, who played caveman Noogar (pictured above, Driscoll with Joe Hazelhurst in Woman-Saurus-Rex). Driscoll ended up as the body double in Nicolas Roeg and Ken Russell films, and killed herself in 1980.
Capaldi told the story with affection and warmth, but Cricklewood doesn't need revisiting
Then Terry Gilliam arrived in Cricklewood. George Harrison ducked out of supplying the cash and so did the other Merseybeat-era bands, so he was set to make Professor Hypochondria's Magical Odyssey with hardly any money and a Marlon Brando distracted by a passing ice cream van. A disaster, it was finished off when the set's water tank burst. The studio couldn't pay the bills, writs flew and no one has seen the film, so Capaldi and Gilliam were seen watching it on a monitor. Not that Gilliam was too fussed back then as Brazil quickly came along.
Capaldi told the story with affection and warmth, but Cricklewood doesn't need revisiting. Playing out to the aural sigh of Coldplay's "Fix You" was appropriate, it was hard not to sigh along as The Cricklewood Greats finished. It was funny and the faked clips were spot on, but what was the point? Mark Gatiss and Paul Merton have been on TV celebrating their love of the cinema's less mainstream history, as has critic Matthew Sweet, and even though he had to make it up Capaldi is a welcome addition to these enthusiasts. It'd be great if the energy expended creating this tribute to a wholly fictitious studio inspired similar examinations of, say, Butcher's Film Services, the British pop film or even the great mid-twentieth century Lancashire comedies made by John E. Blakeley's Mancunian Films. One can hope.
Watch an extract from Peter Capaldi's Franz Kafka's It's a Wonderful Life
Cricklewood's star Florrie Fontaine was so reviled that dascshunds were thrown through the windows of the family home
Explore topics
Share this article
Subscribe to theartsdesk.com
Thank you for continuing to read our work on theartsdesk.com. For unlimited access to every article in its entirety, including our archive of more than 10,000 pieces, we're asking for £3.95 per month or £30 per year. We feel it's a very good deal, and hope you do too.
To take an annual subscription now simply click here.
And if you're looking for that extra gift for a friend or family member, why not treat them to a theartsdesk.com gift subscription?