Cucumber, Channel 4 |

reviews, news & interviews
Cucumber, Channel 4
Cucumber, Channel 4
Russell T Davies' new series turns observational comedy into melodrama
Thursday, 22 January 2015
Rules of modern etiquette: finding the waiter on Grindr
It doesn't take many cucumbers smacked into cupped male palms to realise this isn't, surprisingly, a show about salad. Russell T Davies has written three new series (Banana shows on E4, and Tofu online), exploring LGBT sexuality today. Queer As Folk, Davies's 1999 breakthrough creation depicting the lives of three gay men living around Canal Street in Manchester, was an important landmark in dramatic depictions of gay life.
Returning to the same location and similar themes now, now those lifestyles are mainstream and familiar across the country, it was always going to be harder to make a splash.
Vincent Franklin and Cyril Nri (pictured below) play Henry and Lance, a fortysomething couple, whose lives, as so often at the beginning of a drama series, seem so perfect. There's undoubtedly dramatic mileage in a show about how gay romantic domestic life changes with middle age (goodness knows, there are enough of them about straight couples), and Cucumber opened brightly, with an entertaining pub scene showing the similarities, and differences, of middle-aged gay social life.
Davies is clearly not content with a gently amusing comic purview of the middle-aged scene. Amidst much iconographic cucumber-slapping, the plot quickly thickens. The first part of this, the appearance of cracks in Henry's and Lance's relationship, is a credible and intriguing development, exploring the consequences of new-found marriage rights on gay couples, who turn out, unsurprisingly, to have exactly the same commitment issues as their straight counterparts.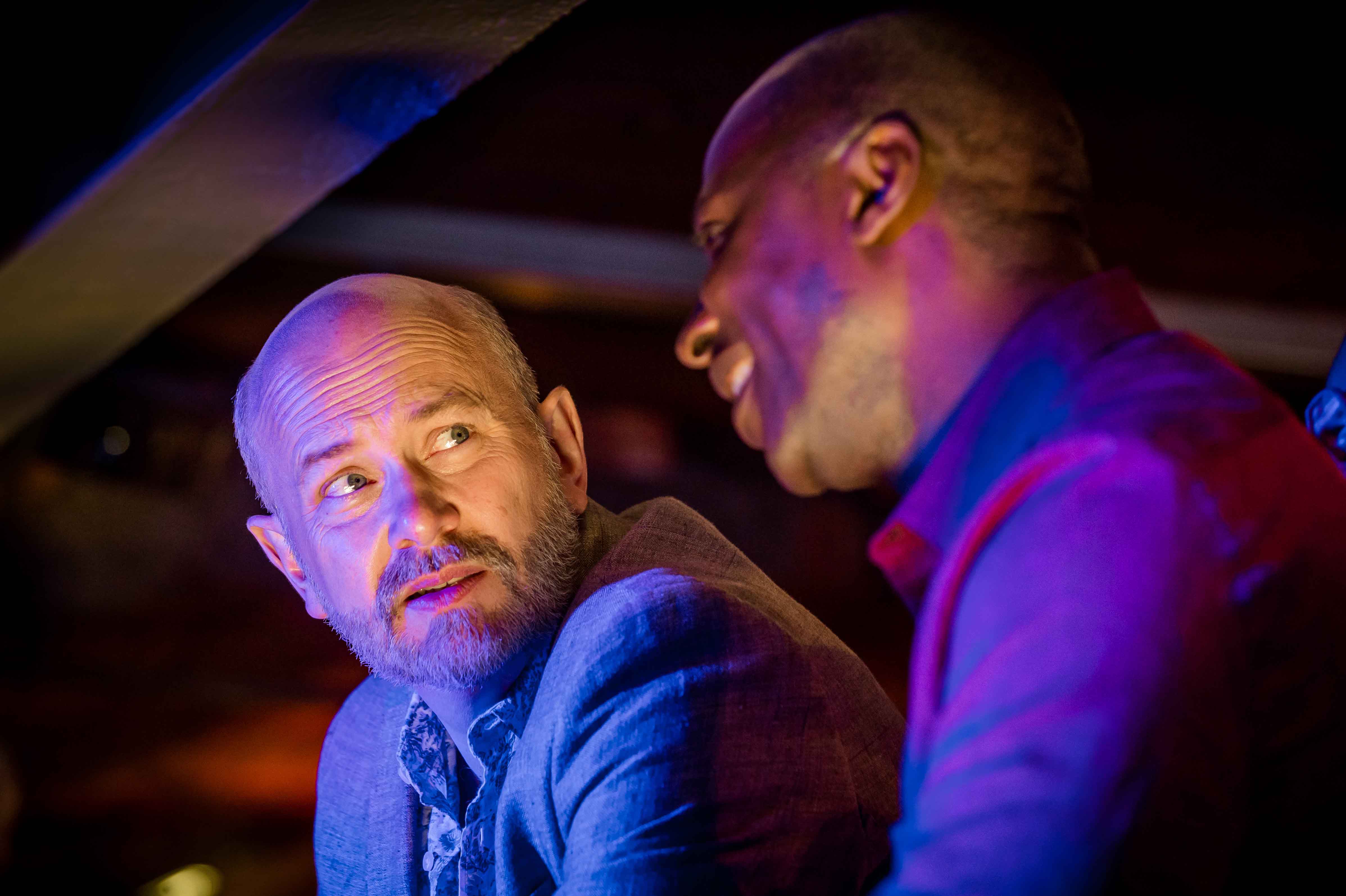 The way an insensitive knockback turns into a full-blown domestic ending with Lance hauled out of the house wearing only handcuffs and his smalls, in the company of a drugged-up, naked stranger, while Henry yells abuse about his inability to swim before a street full of goggle-eyed neighbours, cranks up the tension to 11, but throws away much of the plausible, observational humour in favour of the vibe of an offbeat episode of EastEnders. The way this strand of the plot develops promises plenty more intrigue, but now the drama has passed into full, gaudy soap mode, the returns on increasing the levels of absurd conflict diminish rapidly.
The second strand of unexpected tension, meanwhile, involving suspected plagiarism by Henry's colleague Sunil, progresses from minor incident to full-blown tragedy in even less time, and with even less plausibility. The loss of dramatic control is sudden and drastic. It's a little like sitting down to watch Last of the Summer Wine, and finding it turn into King Lear, with Nora Batty as Regan.
Vincent Franklin has made his name in satire (The Thick of It and Twenty Twelve), and still has a slightly uptight, bullying edge. He needs to work on his domestic manner. Or is that precisely why Lance, sensitively played by Cyril Nri, runs amok? The names of all three strands of this new project refer, we quickly discover, to states of male arousal. By the end of this bizarrely traumatic first episode, though, being put off the health food is the last thing you'll worry about.