Death and Nightingales, BBC Two, review - slow, lyrical, slightly dull |

reviews, news & interviews
Death and Nightingales, BBC Two, review - slow, lyrical, slightly dull
Death and Nightingales, BBC Two, review - slow, lyrical, slightly dull
Jamie Dornan reunites with The Fall creator to explore passion and bigotry in 19th-century Fermanagh
Thursday, 29 November 2018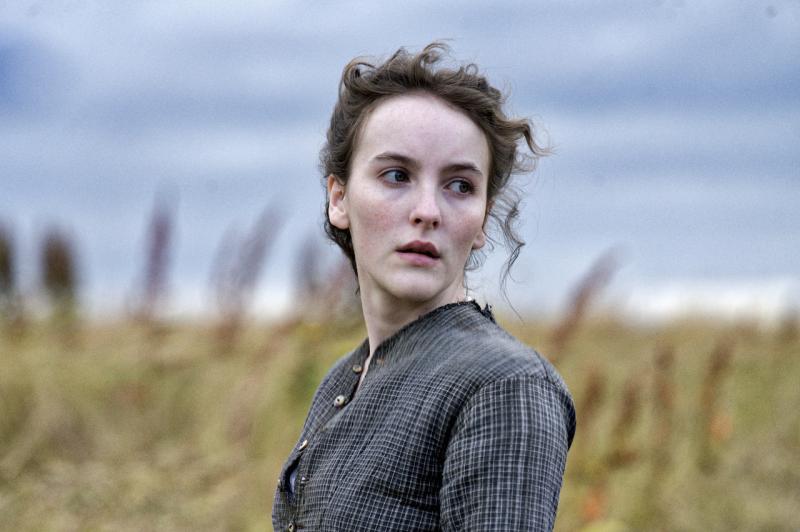 Still centre: Ann Skelly in 'Death and Nightingales'
And now for something completely different from The Fall. The nerve-shredding drama from Northern Ireland was written by Allan Cubitt and featured, as its resident psychopathic hottie, Jamie Dornan (pictured below).
It seems the two couldn't get enough of each other because here they are again in
Death and Nightingales
(
BBC Two
), adapted from Eugene McCabe's 2002 novel. The setting is rural County Fermanagh and to blend in Dornan has cultivated some exuberant shrubbery about that chiselled jaw.
The year is 1883, when on the occasion of her 23rd birthday young Beth Winters (Ann Skelly) plans to flee the homestead of her brute Protestant stepfather Billy (Matthew Rhys, twisting his vowels impressively) and take up with the smouldering Catholic neighbour (Dornan, see above). The atmosphere of intolerance and superstition firmly places all this at a safe distance from the here and now. So does the language, copied from the novel and pasted into the dialogue. "French gold put the shine on this place a hundred years ago," says Billy. Beth says Billy has "kissed me not fatherly" (she says this twice).
But is it not also just a little bit 2018? The Good Friday Agreement has changed the nature of drama in Northern Ireland. Stories about treachery and sectarian violence have long since made way for more cheerful fare such as the adorable schoolgirl sitcom Derry Girls and The Journey, in which Ian Paisley and Martin McGuinness made friends in the back of a car. But things are hotting up again in Ulster what with all this talk of backstops, the government's supply-and-deal with the anti-abortionists of the DUP and the suspension of the Northern Ireland Assembly. Schism and dysfunction is once more on the agenda.
Meanwhile, back in 1883, the binary slipperiness of things in a place caught between cultures is captured in names. The priest will allow himself to be addressed "my lord", but also Seamus or Jimmy. "I answer to Liz at school," says Beth. "To Beth or Betty at the house." These repetitions and echoes have the quality of poetic refrains, aptly perhaps for a story whose title alludes to Keats. They are not quite so hypnotic in the context of a drama, where you sometimes feel that you are just being told the same thing twice. There are other signs that the source material did not give up its charms willingly. There have been no fewer than three eavesdropping scenes so far, and not one but two incidences of stricken cattle.
It's refreshing for a period drama to steer viewers towards unvisited stories. Death and Nightingales, which is also directed by Cubitt, looks beautiful enough, and Ann Skelly holds the centre with commendable stillness, while Rhys and Dornan embody different forms of masculinity. But for all the trappings of melodrama - stashed coin, poison, secret love trysts and one post-coital dip - it's a bit bewitched by its own lyrical rhythms. Slow. Even ever so moderately dull?
There are signs that the source material did not give up its charms willingly
rating
Explore topics
Share this article