Doctor Who: Revolution of the Daleks, BBC One review - a perfectly predictable romp |

reviews, news & interviews
Doctor Who: Revolution of the Daleks, BBC One review - a perfectly predictable romp
Doctor Who: Revolution of the Daleks, BBC One review - a perfectly predictable romp
Jodie Whittaker's Doctor sparks up a festive adventure with no real surprises
Saturday, 02 January 2021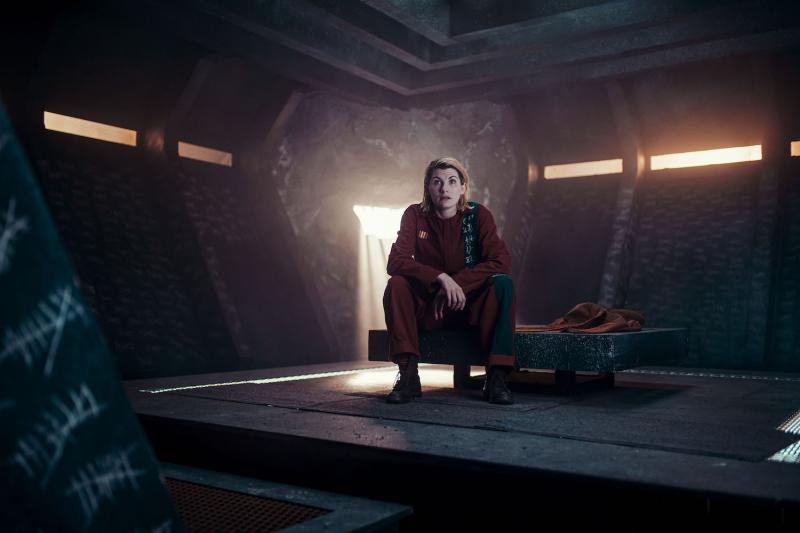 Novelty and nostalgia: Jodie Whittaker in 'Revolution of the Daleks'
The Doctor (Jodie Whittaker) has a simple routine: she gets up at the same time every day, tramps out for her allotted hour of exercise, and spends the rest of the day staring out of the window, yearning for freedom. Sound familiar? That's a bit worrying, she's in prison.
Covid doesn't exist in the Doctor Who universe, going blissfully unmentioned in this festive special allegedly set on 1 January 2021. The 13th Doctor has been banged up for various unclear misdemeanours – maybe pulling off a bob too well? – leaving mates Yaz (Mandip Gill), Ryan (Tosin Cole), and Graham (Bradley Walsh) to fend for themselves on Earth. Nothing much is happening, aside from a cabinet minister (Harriet Walter, having the time of her life) entering into some shady deals with an American drone magnate (Chris Noth, not even convincing himself) to beef up police brutality. All right, maybe this 2021 is recognisable.
Writer-in-chief Chris Chibnall mixes nostalgia with novelty here, familiar friends and foes alike popping up on screen. The immortal Captain Jack Harkness is back, finagling his way into the next-door cell to the Doctor and busting them both out of space prison. "Have you had work done?" the Doctor asks. The gallant captain, still gamely played by 53-year-old John Barrowman (pictured above), snorts, "You can talk!" The Daleks are back too, and they've definitely had some work done: they're being grown in a giant clone factory, like one of those tower block vertical gardens, except evil.
The plot carries on almost seamlessly from last year's New Year's Day special, raising the question: what was the point of the series in between? Forcing the Doctor away from her friends for 10 months, probably. Chibnall's best idea – to have a four-person "Team Tardis" instead of one or two companions travelling with the Doctor – levelled the intellectual playing field, cutting out all those tedious lectures filled with pseudo-science. Complaints that Whittaker's Doctor isn't clever enough miss the point entirely. She's still that clever; she just doesn't feel the need to prove it every five seconds.
The separation of Doctor and pals may be the reason why Revolution of the Daleks takes a little while to find its feet – things pick up once Team Tardis are reunited and the exposition's out of the way. The four of them are all better in each other's company, and Barrowman slots right in. This is a playful romp rather than a deep-thinking episode, but that's just what you need on a hungover day. The Daleks are a pretty repetitive bunch at the best of times: exterminate everyone who's not a Dalek, make a stupid mistake because you're a demon pepperpot with a sink plunger stuck on the front, get wiped out by the Doctor, come back after an appropriate mourning period. The best Dalek storylines throw a crumb of humanity to the gooey monsters inside the shells, because that makes it harder to see them as pure evil (which is boring). Chibnall doesn't bother with that, but maybe we're done giving fascists the benefit of the doubt. I hope so.
What stops this episode from being merely serviceable is Whittaker. To play the Doctor convincingly, you have to combine stoic wisdom with bouncing enthusiasm – be a sage and a toddler, all at the same time. Whittaker nails it, giving even the stodgiest of lines spark and verve. The pairing of showrunner and Doctor is crucial; a disconnect between the two sticks out like a sore thumb. Christopher Eccleston and David Tennant were perfectly matched with Russell T Davies, but Matt Smith and Peter Capaldi were too much for Steven Moffat. At the moment, Whittaker is far outshining Chibnall, and not just because she's a woman.