Dragons' Den, Series 11, BBC Two |

reviews, news & interviews
Dragons' Den, Series 11, BBC Two
Dragons' Den, Series 11, BBC Two
Two new dragons hope to win 100 per cent of our investment
David v Goliath: the Fogels pitch to the dragons for their children's game
Two new dragons have joined the Dragons' Den, and it may be even scarier for them than it is for the entrepreneurs. How can pale, uppercrust, celebrity hotel designer Kelly Hoppen possibly match up to our 'ilary, the trucking queen with the Buzz Lightyear shoulder-pads and the bass-baritone snarl? And how can a faceless cloud-computing bloke supplant Theo, the affable little emperor of high-street bras and waspies?
Will we the viewers invest 60 minutes of our precious time in 100 percent of their business?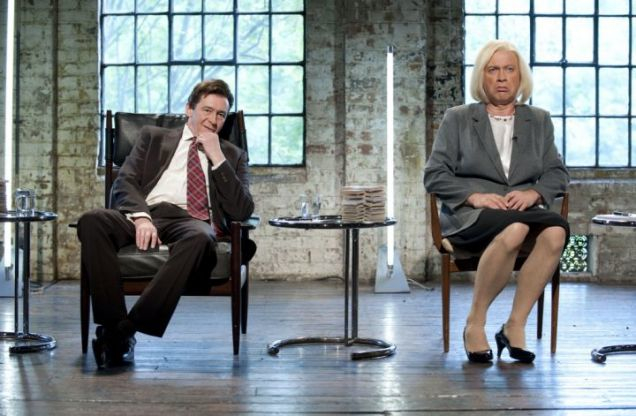 Call me cynical, but my acid test is whether Harry Enfield and Paul Whitehouse would bother to guy them alongside Grumpy Woman and Duncan Guillotine (pictured right), or would find, as with James Caan, that they have no discernible character traits.
The atmosphere is, as always, trying to be like a murder scene from Wire in the Blood. The applicants are delivered to the den like new-born kittens in an iron lift apparently stained with blood and wee. We're in yet another warehouse on the demolition list, and the trailer promises us tears, if not actual balls squeezed till they pop.
The comedic element of this reality programme has diminished as life becomes harder. It's no joke if new enterprises can't find backing from investors when the banks have rejected them. Since 2005 the various dens have pledged £7 million to back more than 100 small businesses, even if not all have succeeded. Peter Jones and Duncan Bannatyne are still there, eight years on, so it can't be all bad for their pockets.
In this opening show of the 11th series, candidates pleaded for backing for fake tan, fast food, a complex children's toy, and two brilliant products the Den producer had to have been doubled over in happiness about: a body-length hotwater bottle in cashmere, trimmed with mother-of-pearl, which is already being sold in Harrods (I think they said), and a luxury golfbag-shaped picnic hamper on wheels. The last two have a pleasing aura of being produced by aliens strayed in from Cameron-land: let's make a £200 hotty for rich folks who don't have an electric blanket, and here's a nice accessory for a shooting party.
Kelly Hoppen (left), who knows the luxury scene backwards, inquired how much room there was actually inside the golfbag picnic hamper for, you know, actual food. She was assured that you could get celeriac mash and game curry quite easily in there in a thin Tupperware. Plus, obviously, a bottle of Bolly. And, the maker added as an afterthought, the Kuwaiti royal family had bought 50 already.
The dragons seemed dumbfounded by its maverick eliteness. Great margins, but not, sadly, a big enough market if it's just royal families. Instead they battled tooth and nail to invest in high-street fake tan and colourless, gluten-free, taste-free gym food. Don't try to be too clever, was the message. Pile 'em high, sell 'em cheap.
When the elephant sits down, get out of his way
There are, if you're watching with your glasses on, good lessons about business. The clever construction toy created by a doughty couple with 12 children hit the wall of what the IT man called the Big Rule: "When an elephant sits down, get out of his way." This meant: you're up against Lego. When David went out against Goliath, NB it was only a real giant, not a multinational corporation with 75 percent of the world building-toy market.
Kelly, the brand-maker, came out of her slightly not-a-real-business persona by asking the couple why, if they had 1,000 packs of this fantastic toy in their garage, they hadn't gone out and sold them before coming to the dragons to ask for money to expand into a wider range. Were they ducking out of the selling? You suddenly understood that brands, too, have actual budgets, actual projections, actual people flogging and needing deals. It still felt unfair on the Fogels, though.
The faceless IT man - ok, let him have a name, Piers Linney (right) - earned his mean stripes facing down an impressive pair of men with a world fast-food idea that's already a whiz success, but still they wanted half a million quid from dragons to replace their kitchen. "That's what banks are for," he said sharply.
Sob stories abounded. The fast-food man was only 30 but looked 40 because he'd been working 100-hour weeks for the past three years and had lost his hair to alopecia. How unfair it seemed that instead it was the man with no charisma selling the grey pot-noodles that have no calories and no taste who scooped up all five dragons in a bidding war after breaking down pathetically in tears about his fantastic wife. I know which food I'd rather eat. But he was only asking for a tenth of the money. In the dragony world, he was cheap and he was weak but he had a great brand. Dragons' Den is a great brand but I hope these new dragons can do better than that, or it will all become very depressing.
Overleaf: watch a Harry and Paul Dragons' Den sketch
The atmosphere is, as always, trying to be like a murder scene from 'Wire in the Blood'
rating
Explore topics
Share this article