Feel Good, Channel 4 and Netflix review - a fresh, bingeable comedy that digs deep but feels mild |

reviews, news & interviews
Feel Good, Channel 4 and Netflix review - a fresh, bingeable comedy that digs deep but feels mild
Feel Good, Channel 4 and Netflix review - a fresh, bingeable comedy that digs deep but feels mild
Mae Martin's dramedy about addiction is honest and enjoyable — but is it that funny?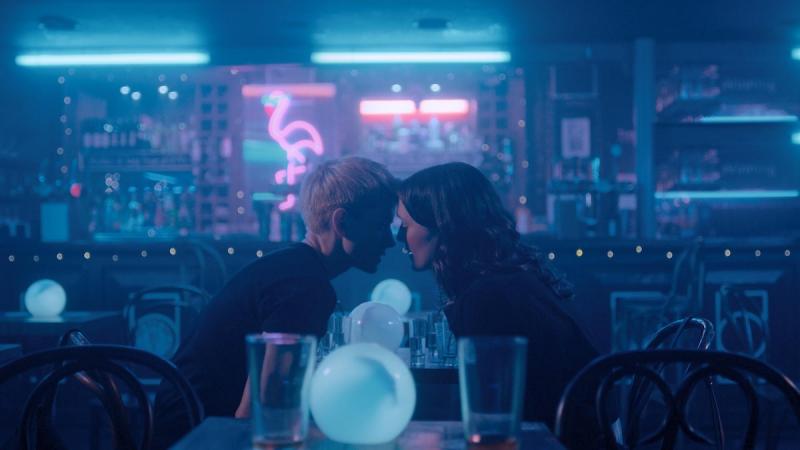 Mae (Mae Martin) and George (Charlotte Ritchie) are at the heart of this dramedy about addiction in all forms
"I am not intense." That declaration arrives early in Feel Good, the new Channel 4 and Netflix romantic comedy fronted by comedian Mae Martin, who plays a fictionalised version of herself. Over Mae's shoulder, we see a literal trash fire. She's lit up the evidence of a past drug addiction.
It smoulders in the background while she smoulders in the front.
This scene is Feel Good in miniature: it encapsulates Martin's brand of vulnerable, quirky comedy, pinned to her appeal as a character and a creator. The series is easy to watch and easy to like. Still, Feel Good has a hindrance. For a comedy about a comedian, the show is full of promise — but it's not always that funny.
Feel Good has roots in Martin's real life. Onscreen Mae is a stand-up comedian. She's kicking off a relationship with George (Charlotte Ritchie), who is plunging into her first queer relationship, brazen and guarded at the same time. Mae is more comfortable with her queerness but less comfortable with her past. She has a complex history, and she's trying to shake a pattern of addiction. Feel Good digs into these themes. It's a dramedy, but it's also a game of concealment, as Mae and George build a relationship across different social worlds.
This is a tender take on queer love, backlit by a sober take on addiction. Feel Good's six short episodes are extremely bingeable. Chiefly, this is because of the romance at their core, and the show's honest, gawky and modern way of telling a love story. It's also because of Martin's heady mix of charisma and vulnerability, which makes it hard to look away. Although Feel Good is comedic, it feels like a form of therapy — for us and for Martin. It works best when it's leaning into questions about pain, shame and internalised homophobia, and when it's tracing the complex fault lines of relationships between women (as lovers, mentors, daughters or mothers).
Comedy should add levity to the formula. But in Feel Good, comic characters often weigh the show down. The show's low-rent antagonists — George's school friends and Mae's two fellow comedians — are unfunny and unlikeable, almost implausibly uncool. Some jokes fall flat, and some of the situation comedy (and the main characters' lifestyles) seem implausible too. When the show digs deep, these elements undercut it. The result is comedy that, periodically, feels mild or mannered. Still, there are some good laughs. Lisa Kudrow (pictured above right) has received top billing for her role as Mae's mother. She delivers, with her faultless timing. Her scenes are the show's funniest. There is also a charming performance from Sophie Thompson as Maggie, Mae's sometime sponsor.
With its stand-up comedy sequences, and its vulnerability on its sleeve, Feel Good has pitched itself against hard-hitting peers. Louie looms large in the background. Please Like Me and Fleabag, with their meditations on family and sexuality, come quickly to mind. Those shows delivered more in the way of out-loud laughs.
Still, Feel Good's triumph is that — despite its drawbacks — it feels boldly personal. It's not trying to compare itself: it's multi-dimensional, and more importantly, it's something new. Feel Good will be prime fodder for the self-isolation streaming boomtime. It deserves its audience, and hopefully, will do even better if it comes back for round two.
This is a tender take on queer love, backlit by a sober take on addiction. Comedy should add levity to the formula. But comic characters often weigh the show down.
rating
Explore topics
Share this article