Fleabag, BBC Three |

reviews, news & interviews
Fleabag, BBC Three
Fleabag, BBC Three
Phoebe Waller-Bridge's brilliant dark comedy about loneliness and grief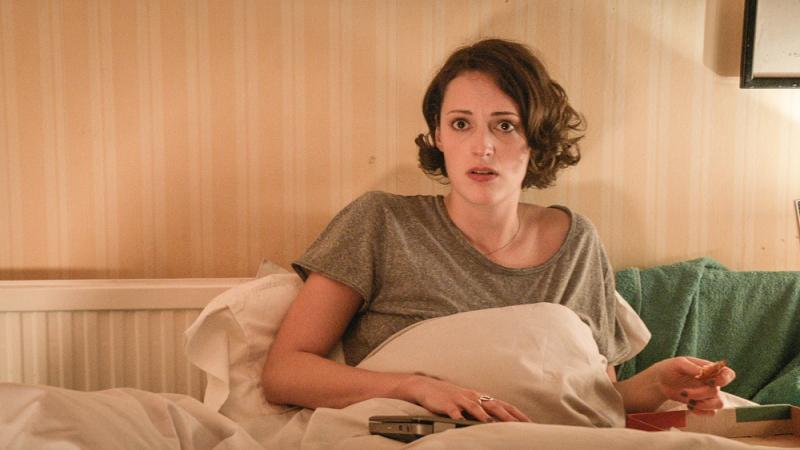 Bedroom eyes: Phoebe Waller-Bridge as Fleabag
Have you seen Fleabag yet? If not, here's the one-word review: brilliant. You need three hours to watch the lot on the iPlayer, which is BBC Three's main address these days. Do come back afterwards and read this longer appreciation, which contains spoilers.
So, Fleabag. Brilliant. It was written by and stars Phoebe Waller-Bridge as the eponymous singleton, and began life as a fringe play at Edinburgh before moving south. Like Miranda it features a dark-haired single woman making confiding asides to camera. It's as if she's her own Greek chorus supplying a running commentary from the wings. (Fleabag is also Waller-Bridge's nickname.) Unlike Miranda, which seemed to get more cloyingly sentimental with every passing episode, Fleabag starts dark – the very first scene mines for comedy in impromptu anal sex – and ever so gradually gets a good deal darker.
Fleabag, it emerges across the six episodes, is a mess. Even more so than her sister Claire (Sian Clifford, pictured right, holding her own wonderfully as Waller-Bridge is mugging to camera), who is wealthy and married if also childless and epically uptight. Fleabag's sex life consists of a series of dismal pick-ups with the species of twat and berk who – for obvious reasons: terrible teeth, or a black heart - haven't been bagged by other women. Her spindly on-off ex Harry (Hugh Skinner) really has gone for good. Her best friend Boo (Jenny Rainsford), with whom she set up a café and whom we encounter in cheerful Family Guy-style flashbacks, has accidentally committed suicide by walking into the path of a cyclist (three died in total). She's also still grieving the loss of her mother, whose place in her dithering father's bed has been taken by a godmother she cheerfully describes as "a cunt" (Bill Paterson and Olivia Colman lending important actorly ballast).
Her problems are nothing a good shrink couldn't help with. Instead the audience is her confidant. As the story grows, Fleabag's asides reveal to us what she is concealing from herself: the searing pain beneath the thinnest carapace of perky good cheer, the brittle triumphalism of a woman who has allowed her back passage to be explored by a character billed only as Arsehole Guy. She's a good sport, but also a good loser (she has a lot of practice). If Fleabag has a forebear it's Emma Woodhouse, the heroine whom Jane Austen feared no one but herself would much like.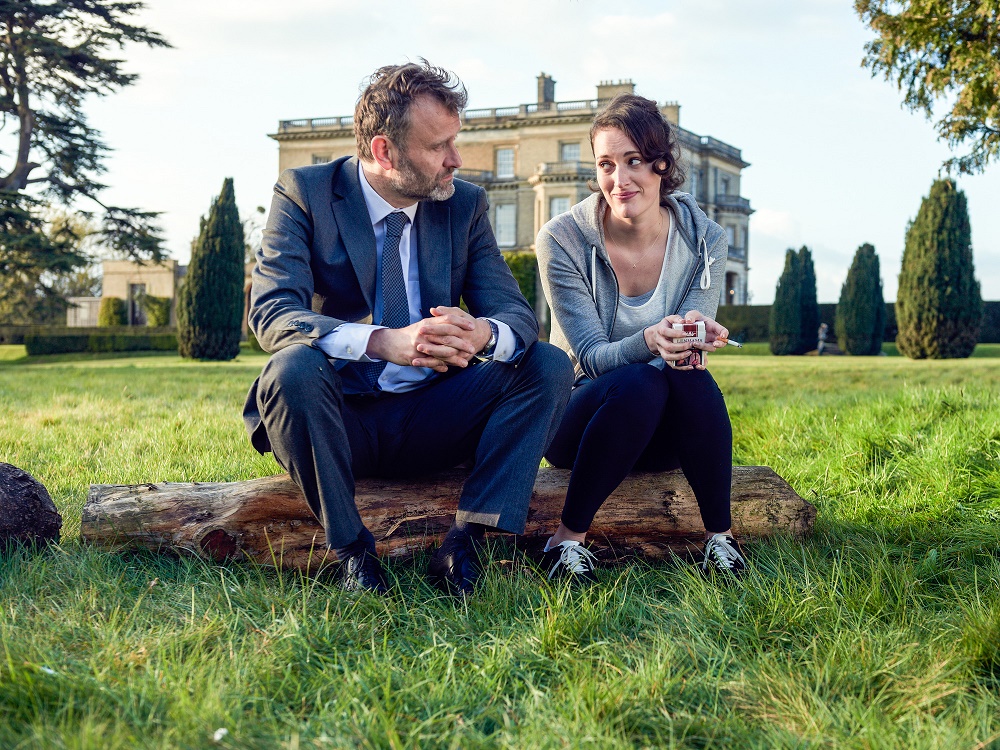 There has been a plot of sorts, mainly involving the theft from her godmother of a headless gold statuette depicting a fecund female, which passes through several hands, each time exposing anxieties and tensions and hatreds. The story even briefly threatened to turn into EastEnders as Fleabag shoved her godmother in the chest and got a slap back. In one episode the script took a holiday from itself and sent the two sisters off to a health farm retreat for a weekend of sanctimony and torture. Next door a men's group was in therapy, in which angry chauvinists learned to wean themselves off ingrained misogyny, including Fleabag's depressed bank manager (Hugh Dennis, pictured above with Waller-Bridge). The scene in which he spilled his guts while she kept shtum (they weren't allowed to talk at the retreat) was written and performed with pathos and subtlety.
The final episode stripped away all of Fleabag's remaining dignity as her godmother, hosting a show of her dismal art work under the title Sexhibition, gave her a tray of champagne flutes and slapped a name tag on her chest. Because this was a script which refused the infantilising pleasures of wish fulfilment, there was no satisfactory revenge: just more humiliation and loneliness, followed by just the possibility of redemption.
Remember the nametag Waller-Bridge. This rich portrait of family dysfunction also had a role for Tree Waller-Bridge as a feminist lecturer, while the music (including the shortest-ever theme tune) was composed by Isobel Waller-Bridge. Brilliant.