Fleming, Sky Atlantic |

reviews, news & interviews
Fleming, Sky Atlantic
Fleming, Sky Atlantic
Racy account of Bond author's life makes it difficult to tell him apart from his creation
Thursday, 13 February 2014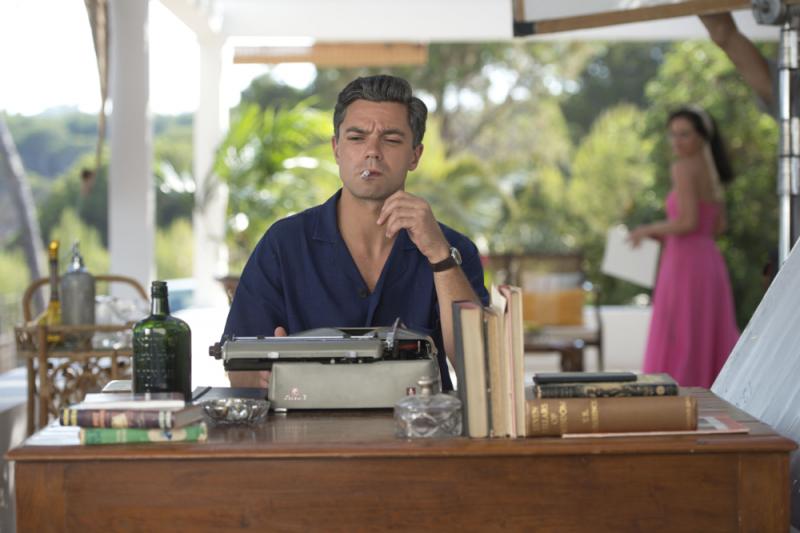 Dominic Cooper as Ian Fleming, performed with a cycle of three different faces
Many successful writers turn to their pens having failed miserably at everything else. Ian Fleming, creator of James Bond, and subject of Sky Atlantic's new mini-series, spent all of his youth failing, but unlike literary contemporaries Graham Greene and Evelyn Waugh, failure seems to have been a thoroughly enjoyable experience.
The side effects of a racy lifestyle required his withdrawal from both Eton and Sandhurst, while a brief
engagement,

to the exquisitely titled

Monique Panchaud de Bottomes, had to be quashed by
his
well-connected but overbearing mother
.
Professional life proved no more fruitful, with abortive careers in journalism and finance ("You are probably the worst stockbroker in London," his boss pronounced) before his mother once again intervened, and in 1939 Fleming was offered a job in Royal Naval Intelligence. He progressed rapidly from administrative assistant to the innovative creation of 30 Assault Unit, a group of commando intelligence troops. The rest is history; or a mythical distraction from Britain's post-imperial decline, at any rate.
The writing of Bond comes to seem like a religious destiny
Literary critics have long been squeamish about obvious connections between a writer's work and life. Squeamishness, however, has no place in a series about Fleming, and the writers at Sky Atlantic seem to have set out to demonstrate that the character Bond is a distillation of Fleming's own character and life, with Fleming's taste for Martini, Munday, the Moneypennyish PA at Naval Intelligence, lovers, cars, gadgets and fighting all featuring prominently. Fleming's late development as a writer (Casino Royale didn't appear until 1952, when Fleming was in his mid forties) is signposted with foghorn clarity by an ingenious scene in which Fleming's adventure writer brother, a much earlier starter, receives blonde adulation while Fleming looks on. The writing of Bond comes to seem like a religious destiny.
In most of these areas, the younger Fleming is incompetently enthusiastic. He only picks up Bond's pugilistic and geopolitical expertise from his work in naval intelligence, and his early ideas for gadgets are not so much Q as B&Q. The one skill Fleming required no external help to raise to Bondian levels of expertise was seduction, and his approach was often brutal, his conquests sometimes at the boundaries of consent. Fleming's statement, in Casino Royale, that good sex for Bond must have "the sweet tang of rape" is notorious. It's enacted more closely than is sometimes comfortable by Fleming, however. Many of Fleming's couplings copy Bond's desire, from the same novel, to "take the ropes of her black hair in his hands and bend her long body back under his". Though the novels' ample racism and everyday misogyny have been edited out, the editorial position on sexual consent will make some viewers uneasy.
That aside, it's as much fun as you'd expect from a series combining Thirties' decadence, spy gadgets and screen Nazis aplenty. As Fleming, Dominic Cooper doesn't so much act as recycle a series of faces conveying lust, boredom and impertinence, but since those feelings encompass his character, it works just fine. Anna Chancellor's Munday and Samuel West's Admiral John Godfrey are more finely drawn, while mistress (and later wife) Lara Pulver and mother Lesley Manville enjoy some splendidly bitchy stand-offs. The series' story arc is much like a Bond film's, with stagey exposition interrupted by increasingly frequent sex and violence: and that, of course, is the point.