Gentleman Jack, BBC One review - the revolutionary life of Anne Lister |

reviews, news & interviews
Gentleman Jack, BBC One review - the revolutionary life of Anne Lister
Gentleman Jack, BBC One review - the revolutionary life of Anne Lister
Suranne Jones shines in Sally Wainwright's swashbuckling dramatisation
Commanding: Suranne Jones as Anne Lister
In 2010, Maxine Peake starred in The Secret Diaries of Miss Anne Lister, but this new dramatisation of Lister's life has been gestating in Sally Wainwright's brain for 20 years, and finally arrives under the auspices of the BBC and HBO.
Hugely entertaining it is too, not least its rollicking folkabilly theme tune, and its story of a buccaneering polymath, adventurer, businesswoman and pioneer of
lesbian
liberation now finds itself fortuitously timely.
Suranne Jones steps boldly to the plate in the title role ("Gentleman Jack" was a mocking nickname), blowing through the staid social world of 1830s Halifax with the swashbuckling bravado of an intersectional Errol Flynn. Her arrival back in her home town after a long absence found her sitting in the driver's seat of a stagecoach, clinging on determinedly as the vehicle clattered hectically up the high street, panic-stricken bystanders fleeing from its path. The driver had been injured in an accident, prompting Lister to take command.
And taking command is something she excelled at, as we would learn. Her aunt Anne (Gemma Jones) apologised to her niece for her family being so boring, and certainly Anne enjoys nothing better than ridiculing the predictable tastes and dreary conventionality of her sister Marian (Gemma Whelan). She has more or less written off her father Jeremy (a somewhat ossified Timothy West), something she can afford to do since the inheritance of the ancestral estate at Shibden Hall passed directly to her.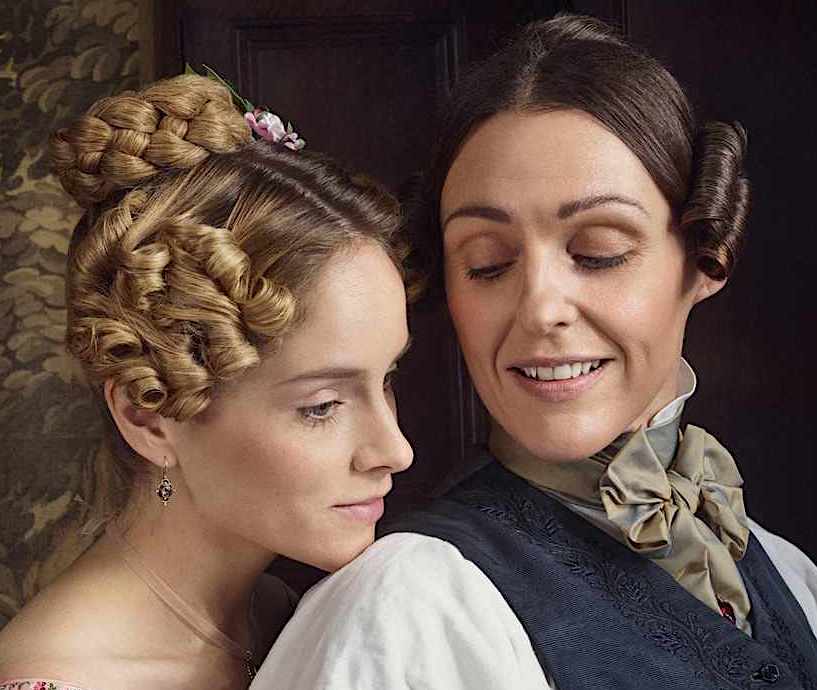 It was a man's world, theoretically at least, but Lister had no hesitation in making it her own. With the estate manager Mr Briggs afflicted with the dropsy (aka edema), she strode out boldly to take on the task of collecting rents from the estate's tenants, seeing no good reason not to terminate 80-something Mr Bottomley's tenure in favour of a younger man who could exploit the land more energetically. When Mr Briggs happened to remark on the rising value of coal, a plentiful supply of which happened to sit under the Shibden estate, it set wheels whirring in Anne's brain, and she was soon laying plans to start digging her own mine. Fortuitously, she had studied geology.
It's a terrific performance from Jones, who dresses in severe but stylish black and has devised a ramrod-straight power-walk to convey her character's energy and strength (apparently they referred to her as a "masculine oddity" back in the day, lesbians not yet having been invented). Intrepid female adventurers were of course not unknown, and as well as her extensive travels in Europe and Russia, Lister entered the history books for her conquest of the Vignemale peak in the Pyrenees.
But one of her most remarkable claims to fame was her compendious diary, which eventually filled 27 volumes and recorded (partly in code) all aspects of her life, including details of her lesbian relationships. She pursued these with the same energy she brought to everything else, and in this first episode we met the lover who'd just left her, Vere Hobart, her ongoing partner Mariana Lawton, and the latest object of her desire, the troubled young heiress Ann Walker (Sophie Rundle, pictured above). Her objective, she remarked to the camera, was to try to make Miss Walker her wife. Failure was not an option.