Jessica Jones, Netflix |

reviews, news & interviews
Jessica Jones, Netflix
Jessica Jones, Netflix
The superhero universe has gained another star
Thursday, 26 November 2015
Krysten Ritter as Jessica Jones – an R-rated superhero
After the roaring success of Daredevil this year, Marvel brings us the next instalment in the TV rendering of their universe – or part of it at least. Jessica Jones, created by writer Brian Michael Bendis and artist Michael Gaydos in 2001, is a failed superhero and volatile PI who copes with her demons by drinking so heavily that at least one of her superpowers seems to reside in her liver. Super strength, near-flight and a fine line in withering sarcasm make up the rest.
Once again, Netflix have released a show, in its entirety, on one day, so it's up to us how we consume it. Rather than the weekly feast, the communal experience of event TV, the audience is free to stuff its greedy, fat face as soon as it wants. Compared to the weekly drip feed, this is, of course, immediately more satisfying, but it also means that we are each exploring this world at our own pace, on our own terms. The increased intimacy this brings to the experience is something that the encompassing and deep detail of the series accommodates very well.
Lives are lived in the creases and folds of their own making. Like Tracey Emin's bed. But much less shit
As with sister show Daredevil, Jessica Jones is set in a kind of augmented now. It's contemporary life, but viewed through a vintage gauze – a trick also favoured by DC counterpart Gotham. It's a look that suits its hard-boiled tendencies very well. We're guided through the streets of Hell's Kitchen, New York, by a smart script that itself treads a careful balance between a modern laconic staccato and Dashiell Hammett: "New York may be the city that never sleeps, but it sure sleeps around," Jones (Breaking Bad's Krysten Ritter) tells us as the first episode opens.
Ritter is great, switching effortlessly between ruthless, detached efficiency and believable vulnerability, often at a moment's notice. A lead performance with such depth is tricky in a show where much is initially hidden; affairs, pasts and demons. And with this well-drawn complexity comes an honesty. This is a world of hurdles and consequences; forget to plug your charger in? Your phone doesn't work. Using a laptop while on the loo? Check there's enough paper or you may be left in the… well, you get the idea. Basically, lives are lived in the creases and folds of their own making. Like Tracey Emin's bed. But much less shit.
Tucked away in these rucks is a past so troubled it keeps our hero up and discount distilleries in good business. Her paranoid manifestations are well realised and often surprising – an imaginary David Tennant licking your face as a wake-up call is hardly what you'd call a dramatic leitmotif. Meanwhile, Tennant's villain, Killgrave (pictured below), a man with the ability to control minds, is a brilliantly complex character, perhaps even more so than Vincent D'Onofrio's beautifully nuanced Kingpin. Tennant, by the way, gives a performance that may rank as one of the best of his career.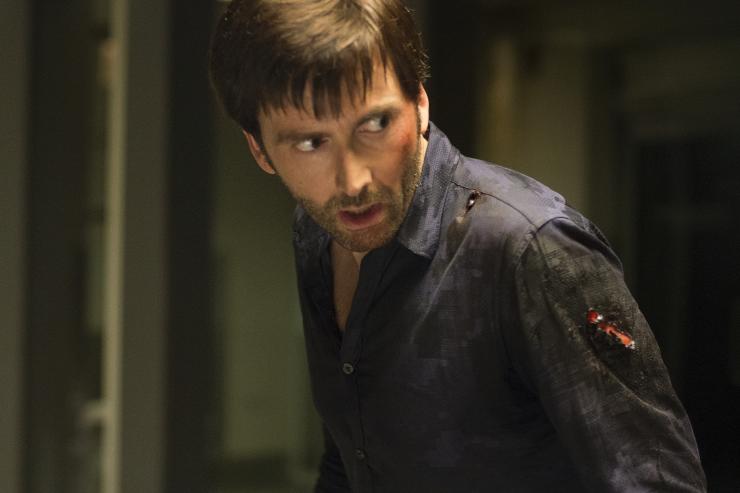 The plotting and pace have near-perfect heft. By the end of episode two, each of the minor characters has their own door through which their story will eventually emerge. The fact that so many of these are women is incidental, and very welcome because of it. Carrie Ann Moss's snippy lawyer, Jeri Hogarth, and best friend and adoptive sister Trish Walker (Rachael Taylor) are joined by Luke Cage (Mike Colter), who is soon to get a series all of his own. So far, so good. In fact, so far so one of the best series I've seen all year.
But yeah, so what… It's a superhero show, right? It's TV for idiot kidults who want primary morality, simple stories and food you eat with your hands… Well, yes. And no. In that order. I can only assume that the kind of blustering arsehole who takes pleasure in stating, loftily, that the comic is an inherently intellectually inferior form would also fail to see the value in the Norse and Greek mythology of which modern-day superheroes are direct descendents. They are, I imagine, the sort of person who goes straight for the money section of the newspaper and knows exactly how many miles to the gallon they get. They are dullards and I wish to spend as little time in their world as possible. Jessica Jones has just given me a 13-hour respite.
Ritter is great, switching effortlessly between ruthless, detached efficiency and believable vulnerability
rating
Share this article