John Barrowman's Dallas, Channel 5 |

reviews, news & interviews
John Barrowman's Dallas, Channel 5
John Barrowman's Dallas, Channel 5
The entertainer meets his heroes from the revamped Eighties soap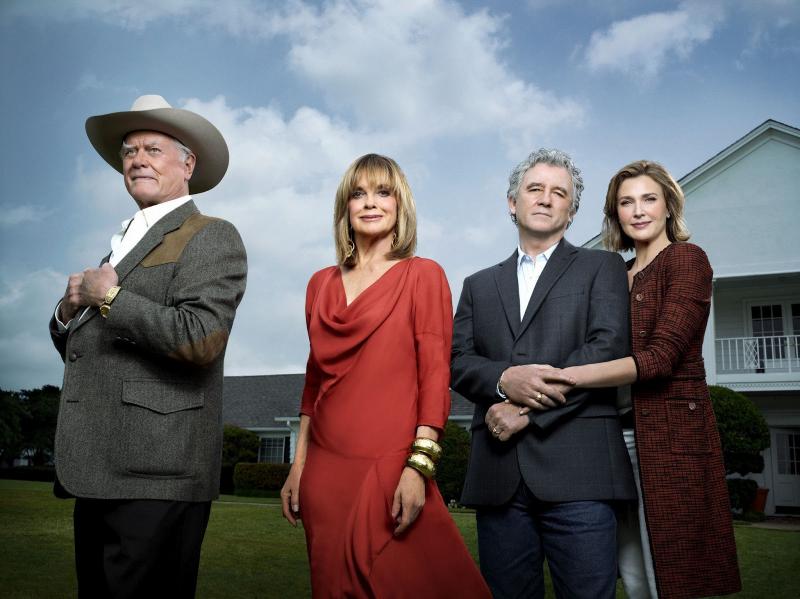 Return of the Ewings: 'Dallas' is back our screens soon
John Barrowman's Dallas was a shameless ad for Channel 5's upcoming new series, an updated retread of the American soap opera, but an enjoyable pointer nonetheless to what pleasures await us - the amuse-bouche, if you will, to the meaty main course starting next week.
For those old enough to remember the original, the prospect of Ewing family shenanigans starting over is a treat indeed. For those too young to have experienced the Emmy-winning show, which was broadcast on BBC One between 1978 and 1991, let me fill you in. Dallas, with its bombastic theme tune and much copied split-screen opening credits, followed the fortunes of the Ewing family, scions of the Texas oil and cattle industries, and their battles with the Barnes family, less monied and less well-placed in Texan society but no less ambitious, greedy and sexually voracious.
In a programme for no discernible reason presented as a two-parter where one would have done nicely, Torchwood's Barrowman met the cast, old and new. Three main members of the original cast - Larry Hagman (who played JR Ewing), Partick Duffy (his brother, Bobby) and Linda Gray (his ex-wife, Sue Ellen) - and the younger generation: Josh Henderson (JR's son, John Ross), Jesse Metcalfe (Bobby's son, Christopher).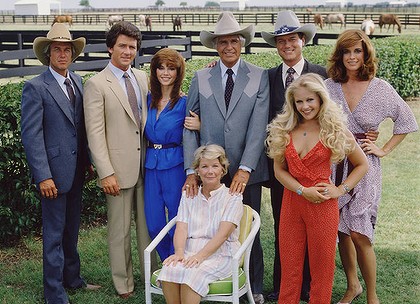 The self-confessed fan also "interviewed" - not quite the right word, but not in a bad way - Jordana Brewster and Julie Gonzalo, who play the young cousins' love interests - Elena and Rebecca respectively - in the new series, and was shown around the iconic homestead Southfork Ranch by Bobby's third wife, Ann (played by Brenda Strong who, like Henderson and Metcalfe, is an alumnus of Desperate Housewives, one of the many successful American melodramas following in Dallas's wake in the past 20 years). Ann takes over the role of Southfork matriarch, once played by Barbara Bel Geddes (seated, with original Dallas cast, pictured right), who played JR and Bobby's mother, Miss Ellie, back in the day.
There was some stagey business involving getting the new cast to talk at a shooting range or astride a horse, but it fed some good lines. Barrowman, no great equestrian, complained that Metcalfe "looked liked a stud muffin" whereas he was "a Mary on a horse". The youngsters, still feeling their way into what are potentially career-defining roles, were nice enough but didn't have much to say so the real fun was provided by the old-timers, now at an age when many TV actors have long retired and who clearly don't give a Southfork Ranch what anybody thinks.
At the real Southfork Ranch, Barrowman met Patrick Duffy, his teenage pin-up and now, with greying hair, only slightly nonplussed by the idea that he is a "dilf" (think milf but a dad), telling Barrowman that he and Hagman, once a notorious drinker and who later had a liver transplant, used to start their days on the Dallas set with a glass of champagne. But whereas Duffy would have a little lie-down afterwards, Hagman would carry on drinking. Gray, meanwhile, creased up when she was unable to do Sue Ellen's trademark lip wobble. It wasn't hard to imagine why the threesome – all pals in real life – had jumped at the chance of reuniting.
While everyone else was interviewed on set, Hagman was filmed at his Malibu house amid celebrity photographs and numerous stetsons, one of which he signed for Barrowman (pictured together below), who by now appeared almost orgasmic at meeting his heroes. What could have been embarrassing nonsense was saved by Hagman's unfailing irony in the face of Barrowman's gushing and total lack of penetrating questions. Hagman has long since perfected the role of "Larry Hagman", and made his entrance to meet Barrowman amid the flushing of a loo.
Only a few exteriors of the original Dallas were filmed at Southfork Ranch, located just outside the Texan city and now a popular tourist location - even though it's more than 20 years since the show came off air. But then Dallas once had the highest viewing figures on both sides of the Atlantic, when "who shot JR?" at the end of the third season made the main news on BBC One.
But a programme that once gained 50 percent of the US viewing audience was, by its final series, watched in a mostly ironic way because it had run out of, er, gas. The nadir was reached when the supposedly dead Bobby returned, after missing the whole of series nine, in the famous shower scene at the beginning of series 10.
The new series, we learn, was filmed almost entirely on location in Dallas, which must please the local tourist board and which, incidentally, was listed on the credits. The new version is about the battles between John Ross and Christopher (evil and saintly, just like their dads) as they fight over oil rights, the sale of Southfork Ranch and Christopher's passion for new energy sources, but let's hope the old-timers are allowed to do their stuff once more. On this showing they certainly have more going for them.
Dallas begins on Channel 5 on 5 September
The self-confessed fan also 'interviewed' - not quite the right word, but not in a bad way
Explore topics
Share this article
Subscribe to theartsdesk.com
Thank you for continuing to read our work on theartsdesk.com. For unlimited access to every article in its entirety, including our archive of more than 10,000 pieces, we're asking for £3.95 per month or £30 per year. We feel it's a very good deal, and hope you do too.
To take an annual subscription now simply click here.
And if you're looking for that extra gift for a friend or family member, why not treat them to a theartsdesk.com gift subscription?