John Mahoney: 'I wanted to be like everybody else' |

reviews, news & interviews
John Mahoney: 'I wanted to be like everybody else'
John Mahoney: 'I wanted to be like everybody else'
How the Manchester-born star of 'Frasier' became a naturalised Midwesterner
Tuesday, 06 February 2018
'There's a strange ingenuous quality about Marty Crane': John Mahoney in 'Frasier'
In 11 seasons of Frasier, John Mahoney played Marty Crane, a cussed blue-collar ex-cop who couldn't quite understand how his loins came to produce two prissily cultured psychiatrists. His ally in straight-talking was his physiotherapist Daphne, whose fish-out-of-water flat-cap vowels were apparently the result of a gap in the scriptwriters' field of knowledge. "When they wrote that Daphne is a working girl from Manchester," explained Mahoney, "they had no idea what that meant. The accent really threw them." It wasn't apparent from his Midwestern growl, but Mahoney was the one who was able to fill them in.
Mahoney has died at the age of 77. In another life he could have spent the last three decades propping up the bar of the Rover's Return. Mahoney, a baker's son and number seven out of eight, spent his first 19 years in Manchester. His first job was selling peanuts at Old Trafford football ground (though like all true Mancunians he grew up a City fan). His first big role was as an 11-year-old Polonius in the Stretford children's theatre.
He compared his emigration to a move from black and white into Technicolor, but he still owned a flat in Stockport. When America fell for with yet another British actor, not only in Frasier but also in movies like Suspect, Moonstruck, Tin Men, Say Anything and Barton Fink, in this case it did so unawares.
He fetched up in Illinois because an older sister had settled there as a GI bride. His younger brother tried emigration twice, and twice lasted less than a week. "I understood exactly what it was like because I had been through it," he told me. "I joined the army almost immediately because I wanted to get my citizenship faster, but I was so homesick. It's the worst feeling I've ever gone through in my life. I felt like killing myself." He used his years in the army to go native. "I knew I was going to live the rest of my life in the US and I didn't want to be on the outside looking in. They make such a big deal about it: anyone from the United Kingdom is automatically regarded as brilliant beyond belief. I didn't want to live with that. I'm not a non-conformist. I wanted to be like everybody else." (Pictured below: Kelsey Grammer, David Hyde Pierce and John Mahoney in Frasier)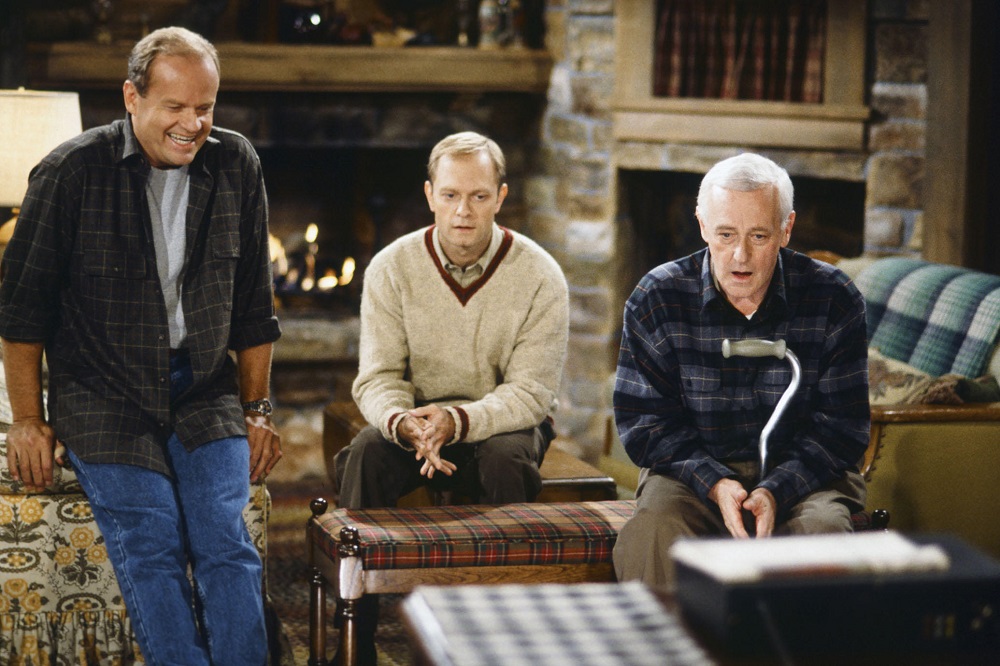 For 15 years Mahoney tried to conform professionally too. He graduated, taught English literature at college but "couldn't light any fire in my students". With his experience as a hospital orderly, he got a job editing a medical journal and put off his Damascene conversion to thespianism until he was 37. "I was going home with a six-pack of beer and a couple of packets of cigarettes and just rotting in front of that television thinking to myself, 'I just thought there was going to be so much more to my life than this.' It was just a question of saying, what did I ever do that I really loved?"
Then on a trip home he was blown over by Albert Finney in Uncle Vanya at the Royal Exchange. Back in Chicago he was similarly struck by A View from the Bridge. He saw an ad for an eight-week acting course. He enrolled and found himself being taught by a guy called David Mamet. Mamet cast him in his next play, The Water Engine, in 1977. Then John Malkovich invited him to join the year-old Steppenwolf company. As a longstanding member of the Chicago company he would play psychologically tough roles in Pinter, Beckett and Ariel Dorfman.
Mahoney based Marty on his business manager. "There's a strange ingenuous quality about Marty Crane that I took from this guy. He's a man who has been around a lot and yet is still able to be shocked." The business manager was unaware of his vicarious celebrity. By the end, Mahoney's feeling was that the show might have slightly overextended itself. "I think we had taken the show about as far as it could go. We did 260 episodes and each had two stories. I was afraid we were beginning to repeat ourselves and vulgarise ourselves a little bit in looking for things that we hadn't done. I think it lost something when [Niles and Daphne] got married. He stopped being so tense; he stopped being so fussy. She stopped being so weird. I think people wanted them to get together. They didn't realise the consequences."
Frasier made him financially independent. "I don't have to do anything except what I want any more, which is small theatre," he told me. "I don't care if I don't get in front of a camera again for the rest of my life." In 1998 he came back to the UK to star in Steppenwolf's production of George S Kaufman and Moss Hart's 1939 comedy The Man Who Came To Dinner. Seven years later he returned to star in Mamet's Romance at the Almeida. He played a dumb American judge who swore a lot, which wasn't really Mahoney's thing.
"I was never a bad language person," he told me. "I don't know why. I just never was. I have to be really angry about something and then it'll come out. When I come to rehearsal and I can't remember a line all of a sudden I'll just go 'Mother FUCKER!' But at myself. I've never called anybody anything like that."
He acted with his co-stars away from the set of Frasier. In 1999 he, Kelsey Grammer and David Hyde Pierce appeared in Yasmina Reza's three-hander Art in New York. He once even played Lady Bracknell when the Frasier cast did a charity performance of The Importance of Being Earnest for Kirk Douglas's theatre in Los Angeles. "I wore a suit with a huge big feathered hat when I came in and then I had a lovely shawl over my shoulders and then in a later scene I had a tiara. I just spoke very slowly. Kelsey was just peeing himself onstage."
During the five months of the year he spent in Los Angeles recording Frasier, he pined for Chicago as he had once pined for Manchester. When I asked him to do the accent of his youth it came out jarred and mangled. But he never quite managed to erase the lot. "There are words every one in a while that still give me away," he said. "We were doing an episode of Frasier and I had to say, 'See you next Wednesday.'" He pronounced the word with a sounded D. "The director said, 'See you when? Next what?' They wanted me to say Wensday. It was so alien that I couldn't do it. So they changed it to Tuesday."
Anyone from the United Kingdom is automatically regarded as brilliant beyond belief. I didn't want to live with that
Share this article
Subscribe to theartsdesk.com
Thank you for continuing to read our work on theartsdesk.com. For unlimited access to every article in its entirety, including our archive of more than 10,000 pieces, we're asking for £3.95 per month or £30 per year. We feel it's a very good deal, and hope you do too.
To take an annual subscription now simply click here.
And if you're looking for that extra gift for a friend or family member, why not treat them to a theartsdesk.com gift subscription?