The Knick, Sky Atlantic |

reviews, news & interviews
The Knick, Sky Atlantic
The Knick, Sky Atlantic
Medical drama could have felt tiredly formulaic, but there's freshness in the well-worn tropes
Clive Owen as Dr John Thackery in The Knick
That there is something of the Sherlock Holmes about Dr John Thackery – the Shakespeare-quoting, opium and cocaine-addicted surgeon in this Steve Soderbergh-directed 10-part drama set in a New York hospital in 1900 – hasn't gone unnoted. But although Thackery, played with a certain gruff charm by Brit actor Clive Owen, is clearly a maverick with a clandestine habit, a happy outcome for his patients is rarely on the cards.
Surgical techniques being fairly primitive, and a modern and safe anaesthetic procedure also some way off – and what with the electricity short-circuiting and setting patients on fire – Thackery's displays of professional prowess at the operating table have a habit of being frustrated. His surgical mentor even goes as far as shooting himself in the head after one too many fatal Caesarean Sections. He made one terrible mistake, Thackery tells his widow. And what, the viewer wonders, was that? He lost sight of the battle for the advancement of medical science and started to see his patients as human, he says. Thackery isn't about to make the same mistake, though this being a TV drama that plays all the popular tropes, you feel that that kind of "learning curve" may well be on its way.
The well-worn formula for brusque, drug-addicted genius mavericks is once again referenced
However, there are plenty of tense moments in the opener of this well-paced, beautifully filmed drama. The operation that immediately precedes the senior doctor's suicide is nail-biting, edge-of-your-seat stuff; we are not spared the volumes of blood both gushing forth from the abdomen of the unfortunate woman and filling several glass bottles – the squeamish be warned. House this is not, though the well-worn formula for brusque, drug-addicted genius mavericks is once again referenced here. Under lesser direction this could all descend into enjoyable but lazy cliché – and, well, it does just a bit – but, at least in the first two episodes I watched, the pacing, the storyline and the writing (Jack Amiel and Michael Beler) are taut enough to hold their own.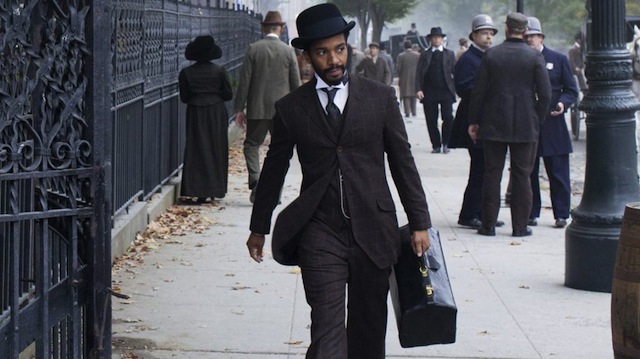 Meanwhile, the opening episode throws another well-worn "spanner" in the works. The doctor the hospital want to hire to act as Thackery's deputy is not only Harvard-educated and trained under the best physicians in both London and Paris, but he's black. So we also get a large chunk of Stanley Kramer's Guess Who's Coming to Dinner, thrown in the mix. There the Sidney Poitier character was not only a high-flying doctor and about the most awesomely qualified one of any colour you'd ever hope to meet, he was also a little beyond saintly, too, just like The Knick's Dr Algernon Edwards (Andre Holland pictured above right).
Still, unlike the white liberal parents in Kramer's film struggling to overcome latent prejudices, our prickly anti-hero surgeon is an out-and-out racist and not afraid to show it. Naturally, one might expect this for the time – segregation would still be around for another six decades – but we are so used to the piously liberal flights of fancy of popular drama, that this still comes as a tiny bit of a shock. Nonetheless, one does feel that by the series' end the two will be best buds and rooting for one another after a climactic showdown.
Gongs must be awarded for both Soderbergh's stellar cinematography (all shot on digital) and Cliff Martinez's compelling score. The look is of glowing, underground gas-lit interiors and a New York that's smokily enticing, and yet it all feels starkly contemporary. Martinez's pulsing electronic score (he used to be the drummer in the Red Hot Chilli Peppers) suggests both Giorgio Moroder and a synthesized human heartbeat. Like the storyline and the characterisation, you feel this contemporary overlayering has all been done before, yet here it still feels remarkably fresh and, actually, kind of inspired.
The storyline and the writing (Jack Amiel and Michael Beler) are taut enough to hold their own
rating
Explore topics
Share this article