Louis Theroux: Savile, BBC Two |

reviews, news & interviews
Louis Theroux: Savile, BBC Two
Louis Theroux: Savile, BBC Two
Little light, but powerful television, as Louis Theroux dealt with Jimmy Savile a second time
First stand-off: 'When Louis Met… Jimmy', 2000
The procedure of introductions in Louis Theroux: Savile seemed somehow more elaborate than usual. Knocking on the door of those he was about to talk to for what might have been dubbed "Savile Revisited", Louis Theroux was unusually careful about his greeting ritual: "I'm Louis", "Can I come in?", "Should I take off my shoes?" That last one was perhaps the fairest question here, because he was bringing all sorts of past horrors and dirty deceits into these clean and tidy homes.
This was Theroux confronting Jimmy Savile – on his own behalf, for the BBC, and, by implication, all the rest of us, too – and the question: why didn't anyone see what kind of a person he really was, and just what he had been up to all his life, until after his death, let alone do anything about it? The context came from the fact that, back in 2000, Savile had been the subject of the first of Theroux's When Louis Met… television profiles: an auspicious beginning, Savile not only being an almost ideal subject for Theroux's style – "odd" was the word Savile used about himself, Theroux offered "enigma" – but also putting an unexpected energy and commitment into the film.
It may indeed be the distorting power of hindsight, but Savile really was playing you along, Louis
The two stayed in touch after When Louis Met... Jimmy, a kind of friendship – Theroux's word – developing between them. The first sequence we saw in the new film was Theroux bicycling around an empty room in his new home when Savile came to visit – his exercise bike, he called it, with a touch of Savile's trademark silliness. Theroux went on wondering whether one day a bit of the Savile mask might slip further, while Savile was talking of a "proprietary interest" in Theroux's career. A phrase that sounds almost as creepy today as Theroux offering Savile the use of his spare bedroom.
The women Theroux was talking to now came from two groups: the ones who knew Savile far better than Theroux because they had worked with him for much of their lives, and the ones who knew him because he'd abused them, infiltrating himself into their existence at a time when their vulnerability made them easy targets. The second group were more horribly memorable: there was Kat, who had been the first to speak out about what Savile had really been, remembering in almost clinical detail the choice between whether to fellate him, or give "hand relief": since fellating often meant "gagging and retching and vomiting" Savile would open the car door so she didn't mess up his Rolls. (Where, oh where, a question that has been often asked, was the chauffeur while all this was going on?)
Then Theroux asked her if she'd watched his film and what she had thought of it. "Poor Louis! He's really, really been hoodwinked!" she answered, which was astonishingly generous of Kat you might think, and they laughed; "gullible" was another word for him that came up a lot. It might be hard now to blame Theroux for having being hoodwinked – after all, so was Downing Street and the Palace, not to mention (and it largely wasn't mentioned) the BBC itself – but to see Theroux playing along with those idiotic Savile japes, that preposterous rigmarole, must have been particularly galling. (Pictured above, Theroux with Savile at his Scarborough childhood home, 2000.)
Then there were his professional ladies – under other circumstances we might have called them the "keepers of his flame", except there's no flame to keep over an unmarked grave – who have had to do an awful lot of readjustment, but seemed remarkably balanced talking about it now (though it's probably time the term "Jimmy Savile denier" entered the lexicon). If even Janet Cope, his PA for three decades before he ditched her in a day (he had given her away at her wedding), could find a good word for him, you could somehow understand how the old photographs were still being kept, even if now they were consigned to the cupboard (or, considerably more surreally, in the case of the large Lego portrait bust of the man, an unsolicited gift from Legoland, to the shed).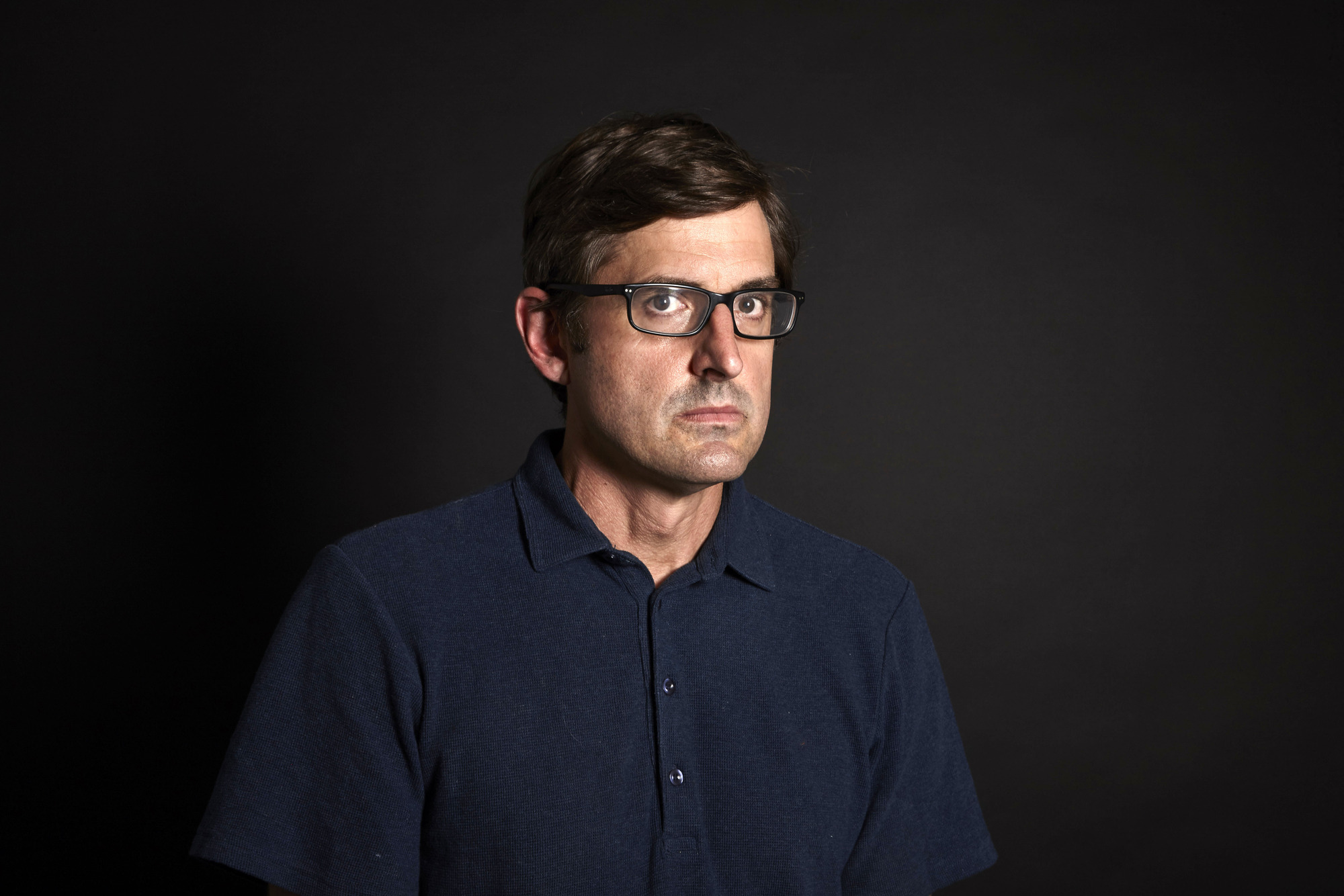 Louis Theroux: Savile was always going to be powerful television, but might have benefited from some voices being raised a little louder, including Theroux's own. But then very possibly it was these women speaking here because they were the ones who could, who had agreed to, who had been able to some extent to overcome their trauma. If there was a positive moment, it came with the final person Theroux talked to, Sam – regularly abused by Savile from the age of 11 while taking the collection at Stoke Mandeville church, though that was hardly new given that her grandfather had been at it since she was two – who was speaking in the presence of her grown-up daughters: we felt that she had somehow coped with the worst of the past, and created a family and a life that wasn't dominated by it.
But that was about the only good thing we saw. Most of the Savile enigma remained just that, and director Arthur Cary's film related its mystery with the necessary sensitivity, accompanied by a bubbling background electronic score by Jon Opstad, suitably creepy-threatening if occasionally somewhat over-prominent. In the end, everyone failed. "Don't mention the BBC!" could have rung out, Fawlty-style, as the mantra here, and memo to the Mail on Sunday journalist: yes, many may indeed blame you, because if your outfit couldn't get the story out – turning from puff feature to investigative journalism – then no-one could.
And to Theroux, too: it may indeed be the distorting power of hindsight, but Savile really was playing you along, Louis. What we heard here about his idea of the "perfect crime" made it clearer than anything: he was teasing you to discover his truth, and you missed it. There were precious few laughs in Louis Theroux: Savile, and it's hard to avoid the conclusion, awful though it is to write, that the last one probably still does belong to Jimmy Savile, evil in a string vest.