'Most of the time I play complete losers' |

reviews, news & interviews
'Most of the time I play complete losers'
'Most of the time I play complete losers'
From the archive, an encounter with Hugh Bonneville as one of his finest roles at last appears on DVD
He's tall, he's dark, he'll pass for posh: Hugh Bonneville as Lord Crawley
The world now knows him as Lord Crawley, stiff-backed in white tie and tails, regimental garb or, for relaxation, tweed. But before he became the face of Downton Abbey – and of bumbling institutional incompetence in Twenty Twelve and W1A – Hugh Bonneville could be seen in roles of considerable depth and range, including a moving Philip Larkin and a brutish husband in the BBC's Daniel Deronda.
The evidence was The Cazalets (pictured below), a stately six-part tour of well-to-do town and country folk as Blighty prepares to stand alone against Hitler. It was broadcast all the way back in 2001, but only now is the adapation of Elizabeth Jane Howard's novel sequence being released on DVD. Back then Bonneville was still a contender looking to move away from playing a series of losers who couldn't get the girl. In that capacity I went along to a small room in a BBC building which has long since been abandoned to interview him. Hence this snapshot of a fine and highly flexible actor. Reading it back just goes to show that, even less than other professions, actors never know what's coming next.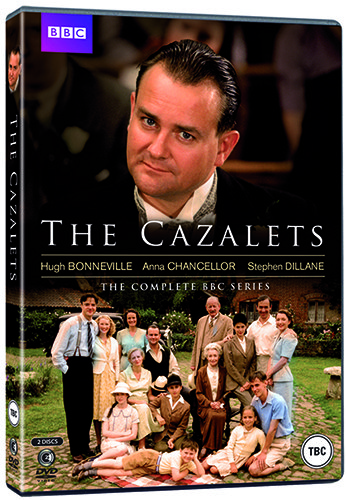 He's tall, he's dark, he'll pass for posh. He can play damaged in a three-piece suit. He can embody all those discreet, manly virtues that the female viewer looks for in her small-screen pin-up. Only one prob. Bonneville has risen to prominence on a tide of cuckolds and buffoons. Remember the stockbroker from Notting Hill, the one who's so crap he doesn't recognise Julia Roberts? That's him. In Mansfield Park his wife cheats on him with Alessandro Nivola. How about the TV drama Thursday the 12th? Wife cheats on him with Ciaran Hinds. And then there's always Madame Bovary: wife cheats on him with Greg Wise.
There was a small sea change in the Kingsley Amis adaptation Take a Girl Like You. Bonneville's filthy rich cad got his grubby hands on plenty of tottie, just not the one he wanted. She went off with Rupert Graves instead. "I was dead chuffed because finally I was a proper shagger," he says. "But most of the time I play complete losers."
There is a pause.
"Why is that?" we both ask simultaneously.
"A lot of those parts are dependable gullible best friend types. Rupert Graves gets the girl. Hugh Bonneville never gets the girl. Apparently I've got this chubby warm friendly face. Mr Reliable. People say, 'Oh cute and cuddly, I'd like him to massage my back'. Rather than 'I'd like to shag him rotten'. They look at me and laugh for some reason. Maybe because I don't go out there and pump my pecks every day. Maybe that's a fault in my acting. I'd love to play something darker. Recently there was a really nasty shit of a part I wanted, and they gave it to a real nasty shit. Who probably wants to play someone cuddly and warm."
Bonneville may have got his wish. In so far as his wives have stopped cheating on him. In Iris he plays the young John Bayley to Kate Winslet's Iris Murdoch (pictured). He plays an amoral loss adjuster in William Boyd's Armadillo who "starts shagging this waitress virtually in front of his wife". And then there's The Cazalets, an adaptation of the first two of Elizabeth Jane Howard's novel sequence set before and during the war. There are three Cazalet brothers stationed along the spectrum of male fanciability. There's raffish Edward, who serially cheats on his wife (Stephen Dillane); drippy uxorious painter Rupert (Paul Rhys), whose wife cheats on him; and there's Hugh, father of many and loyal beloved spouse, ever so slightly not-all-there since the last big show in the trenches. That's Bonneville. It's the role Colin Firth would have if he were in it.
Hugh Bonneville looks dramatically thinner and younger than Hugh Cazalet. "I've lost a stone and a half. I've always been fairly chunky. I saw some playback of Cazalet and thought, This is mad. I'm now at my fighting weight and am going to try and stay there and see if it makes any difference to the parts I get." Subtract the lost 20 pounds and a further ten pounds that the camera always adds, and he's almost another person. He compares the trick the camera plays on him to what it does to his most famous co-star. "When you meet someone like Julia Roberts (pictured below with Bonneville, Tim McInnerny and Hugh Grant) in the flesh she's very ordinary-looking really. But there is something that the camera does to certain people. Julia in certain lights looks quite plain and then suddenly there'll be a flash of something amazing."
In an odd way, he is another person. His real name is Hugh Williams, but when he emerged from Cambridge and drama school, he decided to take his middle names of Richard Bonneville and keep the old one for writing and producing. So under one name he became a young stalwart of the RSC, and under the other he produced Jonathan Harvey's Beautiful Thing in the West End and, with the actor-turned-director Christopher Luscombe, wrote a film script. Sam Mendes nearly directed it until American Beauty came along. Gillian Armstrong nearly directed it till Charlotte Gray came along. Then they discovered that Josh Hartnett was starring in a film with a very similar plot. Does he think the US producers saw their script? "I couldn't possibly comment on that on tape."
If Richard Bonneville was doing all right on stage and Hugh Williams was doing all right off it, the owner of both these names was getting confused. "I was at a party and I didn't get introduced to anyone because my host didn't know whether to call me Hugh or Richard. I thought, I've got to stop this. I don't ever know who I am any more."
Once he did change back to Hugh, people started asking him if he's Richard's brother. "I'd say, 'Oh yeah, we don't get on, what have you heard about him?' Which only got me into deep water once. Someone said, 'My mate who worked with him says he's a complete ****.'" He doesn't just get confused with only his non-existent brother. "I get stopped once on Oxford Street and was told how brilliant my Mr Darcy was last night on telly."
The Cazalets is released on DVD on 23 March
Recently there was a really nasty shit of a part I wanted, and they gave it to a real nasty shit
Explore topics
Share this article