The Prisoner, ITV1 |

reviews, news & interviews
The Prisoner, ITV1
The Prisoner, ITV1
Remake of classic Sixties series fails to escape from its past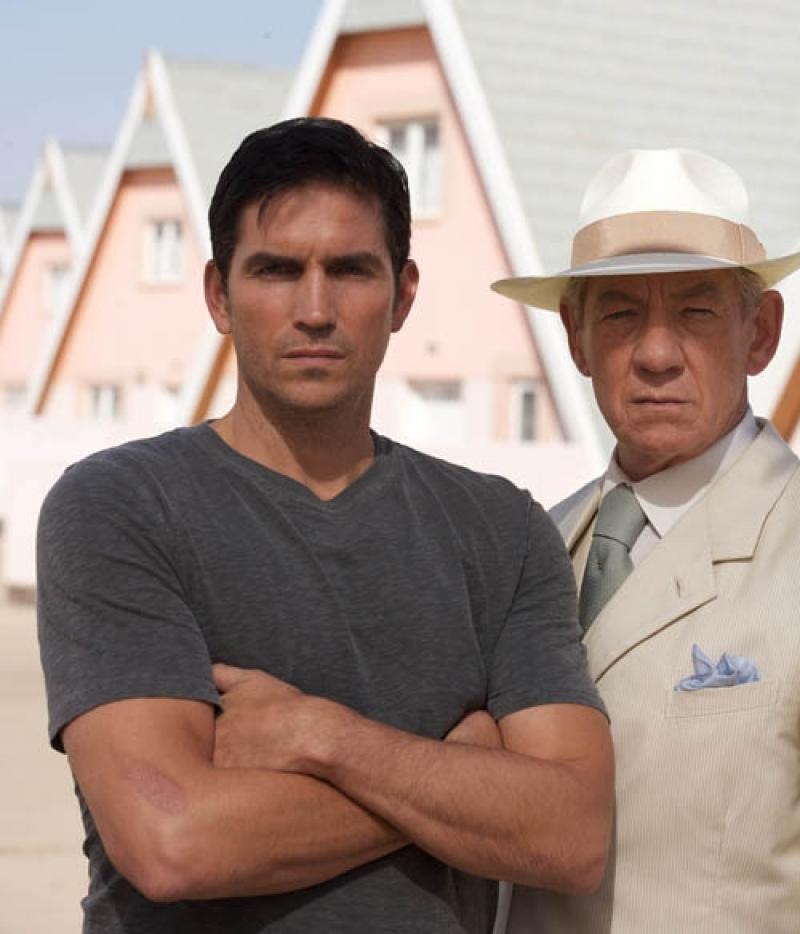 Jim Caviezel and Sir Ian McKellen wonder where all the good lines went in the remade Prisoner
"The ultimate battle! Jesus versus Magneto!" raved one sci-fi blogger (ironically), on seeing that this Anglo-American remake of The Prisoner stars Jim The Passion of the Christ Caviezel and Sir Ian X-Men McKellen. If only.
Unfortunately the new
Prisoner
's dominant characteristics are its sluggish tempo, limited vision and inability to drag itself out of the shadow of the Patrick McGoohan original.
Critics were queueing up to dole out kickings to the new Prisoner even before the first episode, which seemed a trifle cruel. Even Private Eye's "Remote Controller" weighed in with a merciless pre-emptive disembowelling. But although your reviewer strives for even-handedness at all times, the best he can say about it is that at least it picked a uniquely fascinating and creative series to try to recreate.
"Uniquely " being the operative word. Ever since the arrival of the pop-video era, the delusional notion has been allowed to take root that if you pick a classic movie or TV programme to rip off, then your ripped-off version will axiomatically inherit all the kudos that has accrued to the original. Listen up, schmucks - it doesn't work! This new-millennial Prisoner might have succeeded as a mildly diverting afternoon soap with a sci-fi twist, but as challenging drama designed to rock the pillars of our insidious Big Brother society, with its creeping tendrils of mind control and 360-degree surveillance, it's not even a rival forThe Man from U.N.C.L.E. and that was totally idiotic.
Still, episode one did manage to muster a smidgeon of mystery and intrigue with its opening sequence of Caviezel, whom we would soon discover had been assigned the original McGoohan role of Number Six, waking up in an amnesiac daze to find himself in a parched desert, watching a squad of armed men hunting down an elderly and infirm gentleman. This turned out to be none other than Number Ninety-Three, shortly thereafter deceased.
Caviezel staggered across the rocks and dunes until he stumbled into what appears to be a gated community for the affluent retirees of Palm Springs. In fact the series was shot in the Namibian seaside resort of Swakopmund, which possesses precisely none of the trompe l'oeil weirdness of the original's Portmeirion. To Jim's amazement, he found that everyone in the so-called Village (pictured) already knew he was Number Six, and he had been allocated a home furnished exactly like the one he thought he used to live in back in the real world. The Village is run by Number Two (McKellen), who flounces around in a white suit and panama hat reassuring everyone that their boring Stepford-zombie existence represents the pinnacle of the human condition. Anybody caught muttering about a bigger world outside or some place called New York is liable to be blown up or disappeared, like the luckless Ninety-Three.
The gaping hole in the concept is that they've tried to impose conventional notions of plot on to an idea that succeeded originally because it was hallucinogenic, non-linear, scary, comical, grotesque and yet whimsically British all at the same time. An even pottier extension of the later period of The Avengers, if you will. There's the occasional lame nod to McGoohan's blueprint - somebody keeps driving past in a Morris 1000, "Be seeing you" makes a comeback as a Village catchphrase, and every now and again Caviezel protests that "I am not a number, I'm a free man!" But Caviezel radiates none of the charismatic stroppiness that was McGoohan's stock-in-trade, and it was an important ingredient of the original show that Number Two kept being played by different actors. I guess once you've signed up Sir Ian you feel obliged to use him as intensively as possible.
Perhaps above all, the new Prisoner has been caught flat-footed by events. During the several years during which it inched towards production, that pesky anglophile and sci-fi nut JJ Abrams came along and comprehensively aced everything The Prisoner wanted to be with Alias and, especially, Lost. Abrams will freely admit his debts to history, but he brings a dose of anarchy and spurts of true inspiration to the party.
Watch the trailer to The Prisoner
Explore topics
Share this article