Ripper Street, Series Two, BBC One |

reviews, news & interviews
Ripper Street, Series Two, BBC One
Ripper Street, Series Two, BBC One
Reid and the boys are back with another dose of po-faced Victoriana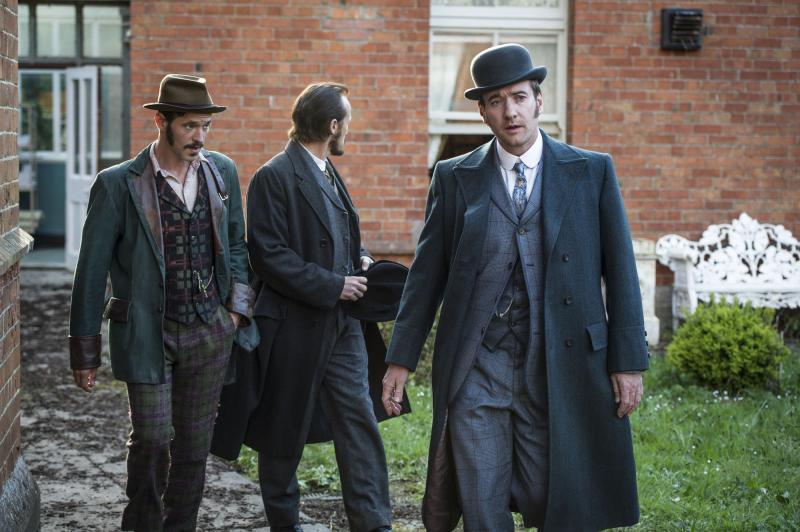 Bromance: Jackson (Adam Rothenberg), Drake (Jerome Flynn) and Reid (Matthew Macfadyen)
Proof that the BBC's love of gritty realism is not solely the province of Luther and similar modern-day urban crime dramas comes just minutes into the second series of Ripper Street, before the credits even roll.
In the East End of London a police officer is thrown from a window, only missing a little boy playing recorder for the amusement of the street below when his leg is gruesomely impaled on a railing.
The writers allowed their leading man a bit of social commentary
So far so Ripper Street of course, given the criticism that the first series of the Victorian crime thriller collected for its gratuitous depictions of violence against women in the aftermath of the "Ripper" murders - but Whitechapel, like its never-caught killer, has moved on. While sex (and violence) remains a theme, this time around drugs (and violence) are the motif for London's sordid underbelly. The accident that befell DS Maurice Linklater (Steven Hartley) in those first few minutes set DI Edmund Reid (Matthew Macfadyen) and his men off on the trail of a dangerous new drug from China - and its ties to corruption on a neighbouring force.
Set in the last years of the 19th century, Ripper Street is a show that faces, almost knowingly, a world on the cusp of change. It's there in the unconventional methods of Captain Homer Jackson (Adam Rothenberg), and in Reid's own sensitivities. Although the Chinese immigrants that played such a central role in the episode came across like a collection of stereotypes (exotic beauties or mysterious, freakish strong-men; controlling gambling and opium rings behind closed doors), the writers allowed their leading man a bit of social commentary as he pondered the dockside Chinatowns the less well-off are left in when promises of work fall through.
Despite Reid's noble vow not to let the brutal assault of a fellow officer go unpunished, the presence of a K Division man on H Division territory spelled trouble - and it quickly emerged that Linklater, an old acquaintance of Jerome Flynn's unrecognisably grizzled DS Drake, was embroiled in a drug-smuggling ring fronted by the beautiful Blush Pang (Kunjue Li). Meanwhile Pang's ferocious brother, Wong King-Fai (Aaron Ly, right, with Li) was in pursuit, hell-bent on saving his sister from a life of Western-led dishonour.
If that all sounds like ludicrous fun, what disappoints about Ripper Street is how seriously it takes itself. This is a sorry product of Macfadyen's two facial expressions, although his use of "perturbed" when Reid realised the consequences of the second of the two basic errors of policing judgement he made over the course of this first hour was excellent. Joseph Mawle as the corrupt - and unpronounceable - DI Jedediah Shine played his villainous performance with just enough camp to, well, shine.
But the most interesting subplot - and subplot was all she got in this testosterone-heavy episode - belonged to MyAnna Buring as Long Susan, fallen into debt and threatened by the slimy Silas Duggan (Frank Harper). How the strong, no-nonsense madam extricates herself from a difficult situation could provide an interesting counterpoint to the central "bromance" as the series progresses.
What disappoints about Ripper Street is how seriously it takes itself
rating
Share this article