The Scapegoat, ITV1
The Scapegoat, ITV1
Daphne du Maurier's doppelgänger novel makes for a highly entertaining morality tale
Monday, 10 September 2012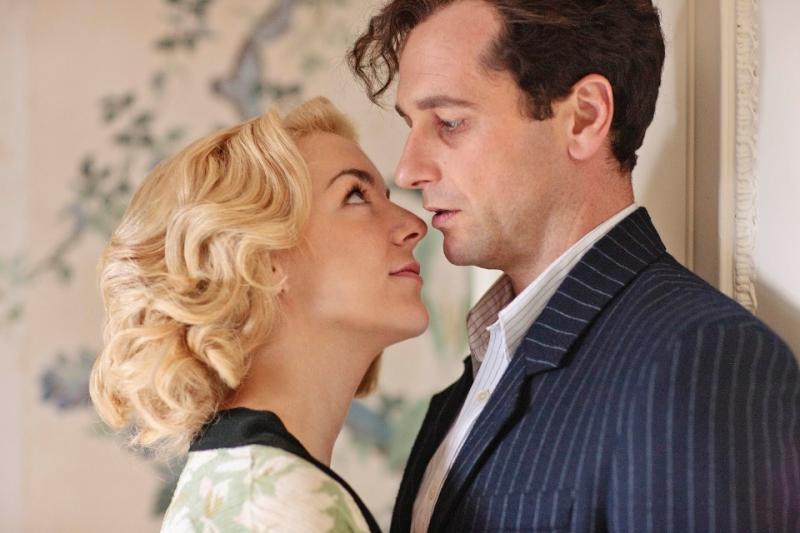 Sheridan Smith and Matthew Rhys in 'The Scapegoat'
The small screen has always been as much a mirror as a window into other worlds. Even when the picture-box is switched off it reflects the viewer. If light is both particle and wave, glass is both solid and liquid. It shows things and hides things. Now you see it, now you don't.
Daphne du Maurier was obsessed with ways of seeing. Her short story, "Don't Look Now" – made into a truly great film by Nic Roeg – explores the grief of a bereaved couple and the possibility that their drowned little girl has come back to life. Her shiny red mac is continually glimpsed among the calles and canals of Venice. When her father finally catches up with its wearer the stage is set for a shocking climax of pure Gothic horror.
Comedy is the enemy of the supernatural. Laughter dispels tension
The Scapegoat, cunningly dramatised and directed by Charles Sturridge, also plays on the nature of doubleness. When John Standing, a recently sacked teacher of Greek, is drowning his sorrows in a pub he glimpses Johnny Spence in a mirror. It's not just their initials that the two men share: they are the spitting image of each other.
Matthew Rhys (pictured below right), who plays both alter egos, brilliantly differentiates the doppelgängers, bringing out John's everyday saintliness and Johnny's raffish sinfulness. Their initial confrontation in the white-tiled men's room – "Bloody hell! You're not the devil by any chance, are you?" – is a triumph of technology: you can't see where the split-screens join. Johnny's rotten life is crumbling around him. When he hears that John is planning a walking holiday round Europe he sees a way out.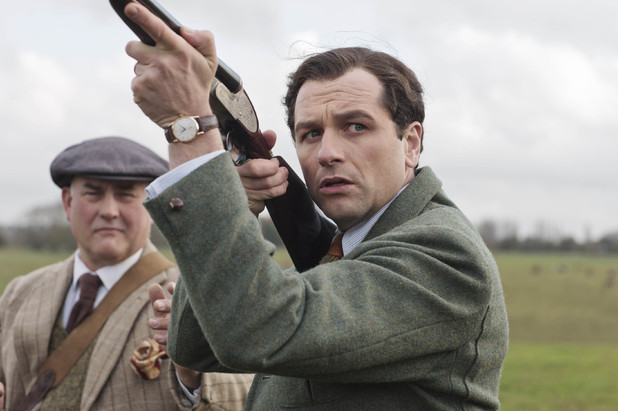 The programme titles link the G and O in scapegoat to reflect the fact that John and Johnny are two peas in a pod but The Scapegoat also contains another word meaning "go": escape. The latter-day Jekyll and Hyde are soon so drunk they are seeing double: John is unaware that as they swap coats – they're a perfect fit – they are also swapping lives. The next morning John wakes up to find that Johnny has vanished along with his (John's) other clothes.
It is 1952. George VI is dead and Princess Elizabeth has yet to be crowned: a "special time" when anarchy, at least in Johnny's evil mind, is in the air. Anything can happen… George (The Devil's Dinner Party host Pip Torrens), Johnny's chauffeur, gives John a hangover cure – "one of my specials, sir" – which proves to be mainly vodka. John's sense of unreality – did he dream last night? – is heightened when he is led outside and allowed to drive a Rolls Royce Silver Wraith which he immediately prangs.
Comedy is the enemy of the supernatural. Laughter dispels tension. Instead of going one way – developing into a full-blown ghost story – the drama goes another, becoming a rather old-fashioned – but still immensely entertaining – morality tale. John's bafflement increases when he crosses the threshold of Johnny's Gothic mansion (Sturridge, who directed Brideshead Revisited and A Handful of Dust, likes big houses). His hen-pecked brother (Andrew "Moriarty" Scott) is furious with him, as is his sister-in-law (Sheridan Smith) whom Johnny appears to have seduced.
His lesbian sister (Jodhi May in a big pair of bags) – "You disgust me!" – hates him; his opium-addicted mother (Dame Eileen Atkins at her most superior, pictured below) thinks he's a "beastly boy"; and Piglet, his daughter, threatens to "top" herself if he goes away again. Only the housekeeper (Phoebe Nicholls channelling Mrs Danvers from du Maurier's Rebecca) smells a rat (actually it's a dead goldfish called Mrs Simpson who is buried with full pomp in a ceremony led by a Catholic priest). The feeling of déjà vu is strengthened by the resemblance of Eloise Webb, who plays Piglet, to Nicholls who just happens to be Mrs Sturridge. Perhaps Eloise is related to them as well. Either way, the result is an almost Addams Family affair.
John's reticence gradually gives way to acceptance as he comes to enjoy being lord of the manor. He saves the family glass-making firm and sleeps with not only Johnny's French mistress but also his neglected wife (Alice Orr-Ewing). Of course bad pennies always turn up and Johnny, horrified by what he sees on his return, attempts to frame John for murder: "You're almost as good at being me as I am."
A scapegoat is sacrificed to cleanse others of their sins but here, when the terrible twins have a climactic fight at the factory, it is bad Johnny who ends up in the furnace. Such is the power of the production you can't help grinning and shouting "good riddance!" At bottom The Scapegoat may just be a Tale of the Unexpected with a bigger budget but, as John and his new family watch the coronation of Queen Elizabeth on their new telly, it leaves you much to reflect on about character and fate.