Steeltown Murders, BBC One review - eloquent true-crime drama about tracking a serial killer 30 years on |

reviews, news & interviews
Steeltown Murders, BBC One review - eloquent true-crime drama about tracking a serial killer 30 years on
Steeltown Murders, BBC One review - eloquent true-crime drama about tracking a serial killer 30 years on
How South Wales Police used DNA testing for the first time
'Investigating murders against the odds is always a good game': Philip Glenister
The thought of yet another primetime true-crime series might weary the soul, even if it has been created by Ed Whitmore (Manhunt: Martin Clunes heading two cases as DI Colin Sutton), directed by Marc Evans (Hinterland: Wales's contribution to modern noir) and stars Philip Glenister. More rapes and murders of young women from the archives? More cops with typewriters and a drinking habit being poorly led by myopic superiors?
Steeltown Murders inevitably has some of this stock material, as it's (partly) an account of the investigation into the rape and murder of two teenage girls in Llandarcy near Port Talbot in 1973; and yes, the senior policeman in charge at that time has little grasp of the possibility that he has a serial killer on his hands.
This isn't a nail-biting murder series so much as a sad portrait of a community in shock
This thought, though, has very much occurred to DC Paul Bethell, a conscientious young detective whose attempts to link the Llandarcy case to an earlier murder in Neath are systematically stamped on by his boss. For his audacity he is assigned to "taping": taking adhesive tape on his rounds to pick up fibres from the cars he is inspecting. Thirty years on, now a DCI, Bethell finds himself reopening the unsolved case, this time with a smart female DS in charge, who tries to keep his inquiry open in the face of swingeing budget cuts. Basic desktop computers have replaced the Sellotape dispensers.
Investigating murders against the odds is always a good game and this story has the full set: an anal DS, jurisdiction squabbles that mean a Neath case isn't automatically investigated by Port Talbot, the shoe-leather-intensive inquiries that can still miss the prime suspect. The series, has a USP, though: it's an account of the first criminal investigation in the UK to successfully employ DNA testing.
As 30 years separates the murders and the reopening of the case, the script necessarily has a double-helix structure, switching between the two strands with two different casts, often with quick-fire editing. No dozing allowed. So it's a double-decker period drama for those who love to ooh and ah over the naff fashions and 'dos, the clunky tech and the youthful pop faves on the soundtrack, supplied with impressive but not intrusive accuracy.
The younger DI Phil Bethell, torn between bravado and his sense of duty, is ably played by Mark Arthur (pictured below, right, with Siôn Alun Davies), the older one by Philip Glenister (who is half-Welsh, main picture). Alongside them are the familiar faces of Welsh TV drama: a small, chummy pool, not unlike the community depicted In Port Talbot, where everybody knows everybody else. One actor, Gareth John Bale (no relation), is actually playing his own uncle, Geraint Bale, one of Bethell's 2002 team.
I say "team" but there were just three of them, thanks to the cutbacks, plus Colin Dark (Hinterland's Richard Harrington), the boffin who analyses swabs for DNA matches. The third member of Bethell's team is straight bat Phil Rees (Stefan Rhodri in 2002, Siôn Alun Davies in 1973); Rhodri went to school just a mile from Llandarcy Woods; and the real Bethell and Rees visited the set and assisted Whitemore in his research.
Where Steeltown Murders scores is in its concern for more than the minutiae of police procedurals. The murder isn't shown, no maimed bodies appear, and police briefings are kept to a minimum. The people in the aftermath, and that includes the investigating officers, are its main focus, almost exaggeratedly so at some points. You sense the script is straining to justify its necessary nosiness into all these lives by regularly posing the question of why this old case has been reopened at all, given the police's lack of resources.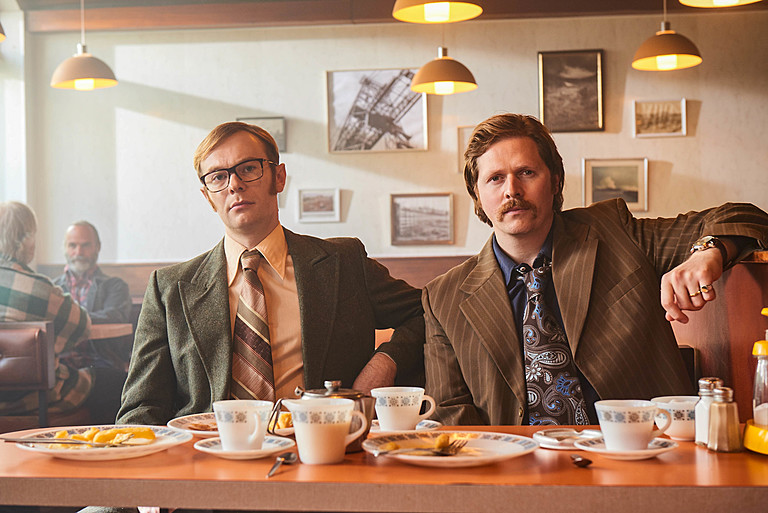 Bethell is usually the character answering this question, insisting that the grieving relatives need to know who killed their children. It also becomes clear that suspects are still being ostracised by local people 30 years later and need redress. (As one of these suspects is the explosive Keith Allen, whose reluctant swab-taking is hilariously grotesque, you very much want him not to be riled.)
The piece is eloquently shot (though no more aerial shots of woods with bodies in them, please), Dominating the landscape is Port Talbot's long-gone steel industry and its polluting smokestacks, CGI-ed into the background here, with British Rail engines trundling past pulling open wagons of coke. Tonally it's overwhelmingly overcast, even indoors, its interiors filled with a yellowy-brown haze.
With great symbolism, Bethell's 2002 team work in the abandoned police HQ, once full of hairy-faced male cops, now stuffed floor-to-ceiling with mouldering files and envelopes, It wouldn't look out of place in a piece of modish installation art. Only Bethell's 2002 home looks welcoming and up to date, presided over by his sage, long-suffering wife (Nia Roberts).
Glenister gives a compelling, sensitive performance as a man whose career, he is often reminded, never really took off but who stuck to his guns. He's an old-style copper who listens to his gut feelings and is happy to go off-piste to collar his man. His gut isn't always right, but he's the one with a moral compass here.
This isn't a nail-biting murder series so much as a sad portrait of a community in shock, and increasingly hollowed out by economic woes. Only the incidental music grates a little when it's trying to inject tension where none is merited, or swelling with choirs and threatening to topple over into melodrama. But it's a respectful, even affectionate piece of work that maps the toll of an unsolved murder on the people in pain left behind.