theartsdesk Q&A: actor Gemma Whelan |

reviews, news & interviews
theartsdesk Q&A: actor Gemma Whelan
theartsdesk Q&A: actor Gemma Whelan
From 'Game of Thrones' to 'Emma' and the new series of 'Killing Eve', upward mobility is the name of her game
Gemma Whelan as Geraldine in series 3 of 'Killing Eve'
She's not quite a household name yet, but Leeds-born Gemma Whelan is heading speedily in that direction. Having started out as a standup comedian, winning the Funny Women Variety Award in 2010, Whelan began notching up film and TV roles, en route to making a significant breakthrough by being cast as Yara Greyjoy in HBO's Game of Thrones.
As
GoT
aficionados will need no reminding, that meant she was the
Lady of the Iron Islands and Lady Reaper of Pyke, and last surviving child of Balon Greyjoy.
More than that though, Whelan was a regular in BBC Two's cod-Shakespearean comedy Upstart Crow, and was playing the character of Kate in the stage version at the Gielgud Theatre until the Covid-19 pandemic doused all the lights. She appeared as detective Eunice Noon in the first season of Channel 4's dark comedy The End of the ****ing World, then last year nabbed the role of Marian Lister in BBC One's wildly successful Gentleman Jack, playing the demure younger sister of Suranne Jones's Anne. Her portrayal of Ann Eaton in White House Farm (ITV) will be fresh in viewers' minds, along with her turn as Mrs Weston in Autumn De Wilde's recent film of Emma. And now, Whelan's kudos-factor is set to surge upwards a few more notches thanks to her arrival in the third series of Killing Eve, where she plays Geraldine, the daughter of Fiona Shaw's bristlingly brisk MI6 administrator Carolyn Martens. Read on...
ADAM SWEETING: How are you coping with the virus lockdown?
GEMMA WHELAN: The only comfort we can take is it's huge for everyone and we're all in the same boat. The best thing for your mental health is to surrender to it and know that it won't be forever, and we're doing the very best we can for the NHS at the moment. We weren't ready to finish Upstart Crow obviously, but we're really hopeful that we can bring it back for five or six or weeks maybe next year, and finish what we started (pictured above, Whelan with David Mitchell in Upstart Crow). I was supposed to start filming the new series of Gentleman Jack in June. They've pushed that currently to September but who knows. At least I've got a light at the end of the tunnel, like some work to come in again, because obviously I'm not earning at the moment, and I've got a daughter and a mortgage, but everyone is in the same tricky boat to a greater or lesser degree.
What can you tell me about your role in Killing Eve?
I play Carolyn's daughter Geraldine. She's quite square and sensible but she's never really found her direction in life and she's very sort of easy with her emotions, she's quite over-emotional and expressive, which of course is quite interesting against Carolyn's hardline colder manner, shall we say. And their having to live together again and that dynamic and what that brings to their lives.
Was it fun acting with Fiona Shaw?
Amazing, amazing! I've been such a fan of hers. Since I was a child I've watched her in Three Men and a Little Lady [where Shaw played Miss Lomax]. She was my first female comedy idol if you like, like much earlier Lucille Ball was another idol of mine. Fiona's timing and her effortlessness and her nuance and subtlety… The prospect of not only being in the same show as her but being her daughter was very exciting for me (pictured below, Shaw and Whelan).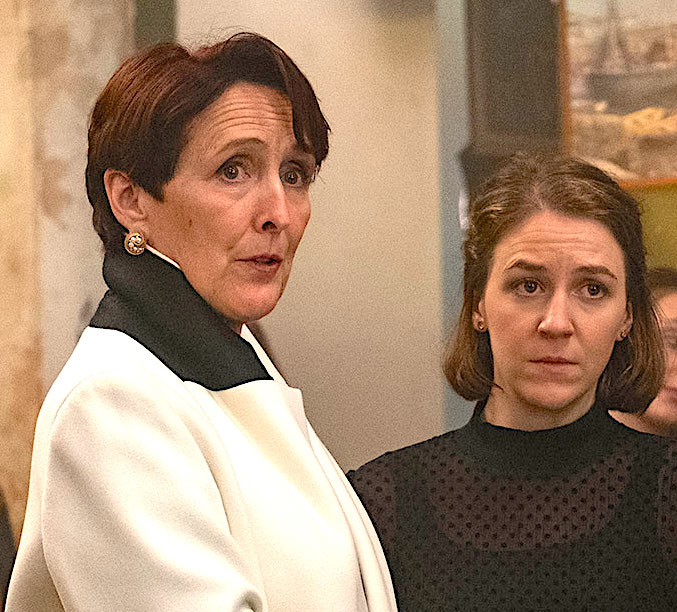 Was it intimidating to work with somebody you've admired for so long?
No, it wasn't actually. I guess that's a credit to Fiona. She was very warm and generous, she was funny and we just had a very easy and immediate professional relationship. I've never been someone who's been starstruck or overwhelmed by someone, but I suppose it would have been different if she had been someone who was not easy to work with. Of course, very good actors are very keen to make their work as good as it can be, and one of the best ways of doing that is to get your fellow actors to be the best that they can be, and then you keep reflecting each other. Also if you win a role in an audition you have to trust that you're there because they believe you're capable of it, you have to believe you have a right to be there, not because you're brilliant and "go me!" but just to trust that they believe you're capable of this, so show them that you are and be professional.
As an actor, you have to get used to a lot of knock-backs. It must sometimes be bad for the ego?
Yes, absolutely. Before I got Killing Eve I think I had a good 10 rejections… or 10 no's from meetings I'd had, I just wasn't right for them and that's OK, but it's very difficult. When the no's collect up it's very difficult for your ego not to take a bit of a bashing and not begin to take it personally. Then of course you lose confidence and you think "I haven't got the last five, so how is this one going to be any different?" Then somehow with Killing Eve I just thought, "I know who this woman is and I think I've got a chance at this." You've just got to keep picking yourself up and carrying on.
It's an amazing show for female roles.
Yes, there are female writers, female directors, great female leads, it's absolutely fantastic. But hopefully these things will not be unique for much longer. It's an exciting talking point but eventually, hopefully, it'll just be "yes, there's women in that and there's some men in that, and that's fine". But you're right, it's a very cool thing to be part of, and to have it very female-focused is very satisfying I think.
You've been everywhere recently – the Emma movie, White House Farm on ITV…
Sorry, everyone! Is it too much of me? Maybe this is good, my forced sabbatical I'm taking now. I have been in quite a lot of stuff. I have an amazing agent, I'm very lucky, he keeps me in work.
With White House Farm (pictured above) being a true and very grim story, did you have any apprehension about treating that as a drama?
No, I didn't, because I'd worked before with the same team, the same director, and I trusted what they'd done and I liked the script. It felt it had been handled with great respect and a fine-toothed law comb, so to speak, so no. My trepidation would have been for my representation of my character [Ann Eaton], to be something that should that person see it, she wouldn't baulk. I trust [director] Paul Whittington enormously and having worked with him before on a real-life event that was dramatised, I just knew he was the man for the job. Of course you have to be so careful doing these things. While you're filming it there's great sort of belief and integrity and understanding of what you're trying to do, but once it's out in the public domain everybody's got an opinion and you've got to be careful how you talk about that with respect and with the bigger picture in mind.
The White House Farm cast was a bit of a Game of Thrones reunion, wasn't it?
Yes, with me, Mark Addy, Mark Stanley and Alfie Allen – there were four of us. We were in touch on a WhatsApp group and we see one another at certain events anyway, and it was nice to see my friends. I work with Mark quite a bit and I had a few scenes with Alf and Mark Stanley as well. We just hung out, it was great. It's like any job – familiar faces are always helpful.
Did Game of Thrones have a noticeable effect on your reputation and visibility?
I'm sure it must have done, but I couldn't give you sort of concrete evidence of it. It must have opened a few doors, or it would get you in a room to get seen for certain things. Once you have a few episodes of Game of Thrones on your CV, perhaps someone else might think, "Maybe she'd be good for this." We're all working towards climbing the ladder, aren't we? (pictured below, Whelan in Game of Thrones).
I must admit I never got hooked on Game of Thrones. What was the secret?
I was sort of in your camp initially. When I got the audition I was very much like, "Oh, fantasy and dragons and medieval things, oh God, but I'll watch it because I've got an audition and it's HBO and it sounds exciting." I watched the whole first series in one sitting, I just was hooked. I think it's because it's not what you presume it would be. The characters are so intricately drawn, there's a great deal of family politics and hierarchy. The minutiae of it all in this enormous world, it's just exquisite. We're somewhere completely different, and yet we're talking about very familiar things, and it's just shot so epically as to make you leap off your sofa. If anyone knew the real secret magic ingredient everyone would do it, but it just hit the tuning fork at the right pitch. It sang, didn't it? Although it didn't sing to you, unfortunately.
Tell me something about making Emma?
We mostly shot in these incredible private homes, it was such a beautiful cast of really lovely people. It was a beautiful summer. I had my daughter with me who was only very little at the time, and my sister-in-law and my husband with me as well, so it was a family trip to all these gorgeous places with the lovely people, and it was an enormous laugh. I don't think I know anyone who worked as hard as Anya Taylor-Joy [playing Emma] who was incredible in that film. She made the film what it was really, in terms of her attitude towards it, because a lot was asked of everybody and it required a lot of attention to detail and meticulous, intricate work.
Are you a Jane Austen fan?
Do you know what, I'd never read Emma, but obviously I did as soon as I found out I'd got the job. Yeah, I became a fan I suppose, a forced-to fan, but nonetheless I was glad to be awoken to her. She's a genius! Her turn of phrase and the intricacy of her writing, her descriptions and her wit and her presumption of intelligence in her reader as well, which I think is exceptional. Not in some of her characters, but certainly in the reader, which is very nice. And did the world really need another Emma? It definitely needed another Emma from [director] Autumn de Wilde. Hopefully there'll be Oscar nominations. It's a very female-led thing so in light of what happened last time, maybe Emma will sweep the board. You heard it here first!
Episode 1 of Series 3 of Killing Eve will be available on BBC iPlayer from 6am on Monday 13 April. It will then be on BBC One on Sunday 19 April
The prospect of not only being in the same show as Fiona Shaw but being her daughter was very exciting for me
Explore topics
Share this article