In Their Own Words: British Novelists, BBC Four |

reviews, news & interviews
In Their Own Words: British Novelists, BBC Four
In Their Own Words: British Novelists, BBC Four
Fascinating archive footage of the authors who wrote the Seventies and Eighties
Seventies' Salman Rushdie: 'Grappling with history, race and how and why to tell stories.'
"The empire writes back" was Salman Rushdie's pithy summation of the process that changed British literature during the late Seventies and early Eighties, a shift epitomised by his novel Midnight's Children winning the 1981 Booker prize. It wasn't just the empire.
Everyone else who had been, in one sense or another, colonised (women; the working classes; those once termed "adolescents") by literary fiction began articulating their experiences in a manner that often ran counter to past orthodoxies.
Subtitled Nothing Sacred, this was the last programme in an excellent three-part series tracking the British novel through the 20th century using archived interview footage of its most prominent authors. The final installment attempted to capture, in the words of one academic, an age of "irreverence and blasphemy" in which established lines of demarcation became tangled and twisted.
I started out sceptical of this thesis but ended up almost convinced. The hour began unpromisingly, with the usual reductive images trotted out to define the period: race riots, beauty queens, drunken Scottish football fans, the homeless, brick-like mobile phones, IRA blasts, Reagan; in totality, these images apparently signified "a world in flux". This seemed a narrative convenience – the world is always in flux - but the programme went on to rather deftly – if selectively – bear out Fay Weldon's claim that writers at that time, much more so than during many other periods in the last century, were "writing out of the society".
Not just Rushdie, a Mumbai-born middle-class Muslim educated in England, who was grappling with his relationship with history, race and how and why to tell stories; but also the intense Hanif Kureishi, writing about the difficulties of being a "British geezer" trying to shed the baggage of his cultural past and integrate himself into his metropolitan present.
A different kind of cultural colonialism was challenged in the writings of James Kelman (pictured right), who sought to illustrate – without any imposed "literate" narrator – that the interior life of working-class men and women is as rich, mysterious and valuable as that of more culturally visible members of British society. Coming 15 years after the shitstorm of vicious Anglo-centric snobbery that accompanied Kelman's 1994 Booker victory with How Late it Was, How Late – too many nasty sweary words, apparently – the fact that the programme couldn't rustle up even one non-Scot to opine about Kelman suggests that writers of his stripe, and the people whose inner landscapes he so assiduously maps, aren't out of the ghetto just yet.
Over on the other side of the great divide, there was entertaining speculation about the "class anxiety" of writers like Martin Amis and Ian McEwan. In hindsight, it's rather tempting to view Amis's state-of-the-Eighties opus Money as the work of a privileged posh boy, cosily aligned to the literary establishment through primogeniture, struggling to get to grips with the collapse of age-old class distinctions – all that new, boorish City cash threatening the old order; his response was one of thrilling, visceral disgust towards a "binge culture" which he was, clearly, more than a little bit in love with.
The cruelty of Amis and McEwan was astutely noted; theirs was often sadistic writing, not just in the acts described in their novels but in the sharp edges of the expression itself. McEwan countered accusations of indulging in "voguish nastiness" by deriding "gratuitous optimism" and describing the elation of writing about violence or terrible acts. The Eighties suited them much more than perhaps either would like to admit.
The knockabout, common-room carnality of Amis's debut, The Rachel Papers, was countered by the impact of feminism filtering into fiction; Weldon told how she was inspired by anti-Miss World protests at the Royal Albert Hall. Watching "ordinary women" picketing against "their pretty sisters", she began questioning the "natural" role of the mother and wife: "What is this nature?" she wrote. Angela Carter (pictured above) – described as "the most imaginative of the post-war writers" – plumbed the undomesticated sexuality of the female psyche, accessed through the dark corridor of fairy tale and myth. Of course, an evil stepmother loomed over the entire programme: Margaret Drabble talked about capturing the "dirty realism" of Thatcher's Britain, instructing: "Just look down under your feet."
Describing himself in plummy tones as a 'revolutionary writer', Berger declared his intention to share his £5,000 Booker prize money with the Black Panther Party
There was much to enjoy; the old footage and archive interviews - linked by Rebecca Front's narration and interventions by a small cast of talking heads – were especially good value. John Berger, winner of the 1972 Booker with G., railed against the event's sponsor Booker-McConnell's trading links with the Caribbean. Describing himself in plummy tones as a "revolutionary writer", he declared his intention to share his £5,000 prize money with the Black Panther Party. My, times have changed.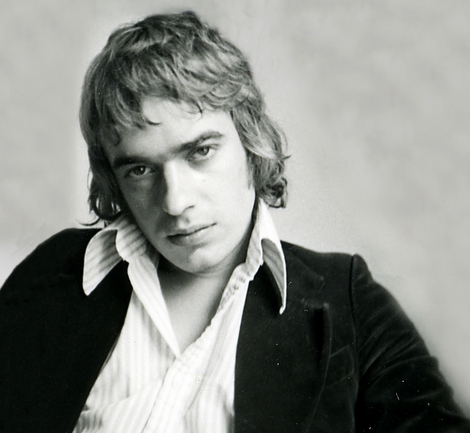 McEwan, 1979 vintage, was a vision in fluffy white knitwear, slumped in a wonderfully tatty armchair in his south London flat and displaying a chilly confidence. We were beamed back to 1974, and a nervy Amis (pictured right) seemingly in temporary possession of Noddy Holder's haircut, chatting to Melvyn Bragg about The Rachel Papers. Footage from a decade later revealed he had evolved fully into the drawling literary sophisticate, taking a good-humoured grilling from Germaine Greer.
Many of these thrusting tyros went on to become today's establishment heavyweights, and we were reminded that partially it was television that sealed the deal. Not only was Malcolm Bradbury fronting The Book Programme, but the Booker prize was first televised in the Seventies. Literary novelists became significantly more high profile, swaddled within a seemingly permanent fug of fag smoke in shiny frocks, brown suits and velvet jackets, proffering wise and witty observations from behind reassuringly bad teeth. Fame flickered in front of them like the dagger in Macbeth.
Some, of course, became not so much famous as notorious. Nothing Sacred ended with the publication and aftermath of Rushdie's The Satanic Verses, which showed that there were limits – and dangers - to all this envelope-pushing and taboo-busting. It also backed up the programme's central premise that seismic rumbles in literature and societal shifts were inextricably linked. Rushdie's plight – much more so than the contents of his novel, which even today has probably been read by only a tiny fraction of those who became aware of it through the fatwa - shone a global light on the issue of Islamic fundamentalism, which has been a fixture on both the news agenda and literary landscape ever since. A case of empire writes back, author gets bitten.