There She Goes, BBC Four review - mining disability for family comedy? |

reviews, news & interviews
There She Goes, BBC Four review - mining disability for family comedy?
There She Goes, BBC Four review - mining disability for family comedy?
Writer Shaun Pye's family experience makes for less than parental paradise
Wednesday, 17 October 2018
Uncomfortable viewing: Jessica Hynes as Emily
What do you do after playing Doctor Who, the dream dad of the nation, quirky and compassionate, the adult who every child knows will be fun? Does it seem like a good idea to play the beleaguered father of a child with special needs? It must do, because David Tennant has now followed Christopher Ecclestone, who played the grandfather of an autistic boy in The A Word.
In There She Goes Tennnant plays Simon, a writer who seems to spend most of his working hours in the pub exchanging insults with his colleagues. Simon is married to an academic researcher Emily (Jessica Hynes), and together they have two children, Ben (Edan Hayhurst, pictured below with David Tennant) a bright, attractive boy and Rosie (Miley Locke) who has an unknown chromosomal disorder. The narrative is split over two time frames – 2006 when Rosie was born and causing her parents the most anguish, and 10 years later when she's causing havoc but the extremes of grief have worn off.
BBC Four doesn't seem like the natural home for a five-part serial produced by Sharon Horgan's company Merman, who are behind Catastrophe and Motherland. As well as major star Tennant and the excellent Hynes, There She Goes has all the trappings of a sitcom (half-hour episodes of domestic mishaps sold with a deceptively jaunty trailer), but maybe it's lurking on BBC Four because drama commissioners don't think terrestrial audiences are prepared to watch life with a child who has profound learning disabilities? Certainly the parents here weren't prepared to have such a child in their lives and are brutally honest about their despair, anger and exhaustion.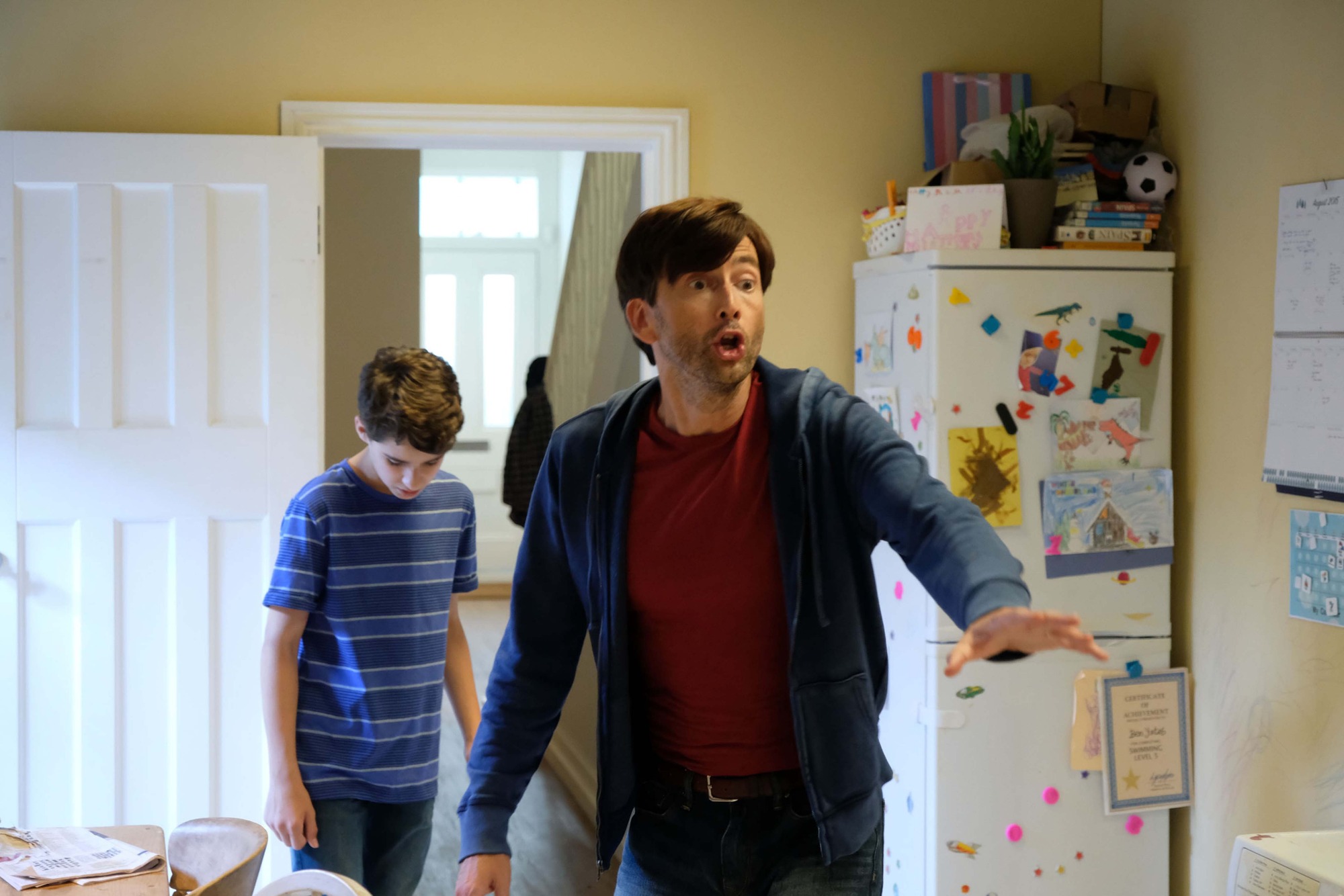 The rawness of Emily and Simon's distress when they didn't get another perfect child makes for uncomfortable viewing, especially for those of us who have learning disabled siblings or children. It will undoubtedly be even harder for the million or so people in the UK who have some degree of learning disability themselves. While admiring the writer's honesty, it's extremely painful to hear dialogue like this: "I used to think the worst thing would be to lose a child. But what if your child was wrong, just not wrong enough to die? And what if you lost a child but there was something there, just reminding you of it all the time? ... I should love her, I want to love her but I don't know if I can. She took my beautiful normal daughter and took her place and I hate myself for thinking it, but it's all I think." One can't help wondering how Rosie would feel if she heard and understood her mother's words.
And what would it feel like to know that your father enthusiastically jokes about surrendering their disabled child, if faced with a Sophie's Choice scenario? While an onscreen caption reads "A day in the life of Rosie", this opening episode is really all about her parents with Simon coming over particularly badly, wrapping his self-pity up in one-liners that often fall flat. Writer Shaun Pye has created There She Goes from his own experiences with his disabled daughter. Much of Rosie's behaviour – the biting, the sleeplessness, the difficulties with eating, the all-consuming obsessions, the sheer frustration of not knowing what someone who cannot communicate wants or how to stave off the consequent meltdown – has the ring of complete authenticity. Wholly familiar as well is the mixture of embarrassment and irritation felt when outsiders stare or make comments about a disabled child's "bad behaviour" and criticise parenting skills. The most positive effect There She Goes might have will be if it makes viewers think before rushing to judgement next time they see someone with unusual behaviour.
It's a step in the right direction to have a TV drama about a non-standard family and it's good that the parents are not portrayed as impossibly warm and saintly. Miley Locke is very convincing as Rosie and it's right that the producers didn't try and cast a child actor with similar disabilities in the role, as the rigours of production would have been impossible. But it would be better if Rosie wasn't the only profoundly learning disabled character we see in a TV drama, and if next time there was more consideration of the feelings of learning disabled people and perhaps their greater involvement.