Tyrant, Fox |

reviews, news & interviews
Tyrant, Fox
Tyrant, Fox
The complexities of the Middle East rehashed as slick TV drama
Saturday, 13 September 2014
Jamal (Ashraf Barhom, left) greets Bassam (Adam Rayner) and family
Created by Gideon Raff, mastermind of Homeland and its Israeli forerunner Prisoners of War, and produced by Howard Gordon (who worked on Homeland and 24), Tyrant parades its roots on its sleeve. Its mix of action thriller and family drama, all souped up by a stiff dose of combustibly unstable Middle East politics, adds up to a slick entertainment formula, but do such deadly and complex issues deserve to be handled quite so glibly?
If
The Honourable Woman
was a crossword without clues, this is more like a shopping list scrawled in felt pen.
Nonetheless, the basic premise is reasonably promising. Barry Al-Fayeed is a successful paediatrician in Pasadena, California, but after decades away he's about to return to his homeland of Abbudin, somewhere in the Middle East, to attend his nephew's wedding. Despite the soothing reassurances of his wife Molly, he's not relishing the prospect, and it's clear that a submerged iceberg of unfinished business lies in wait for him (at home with the Al-Fayeeds, below).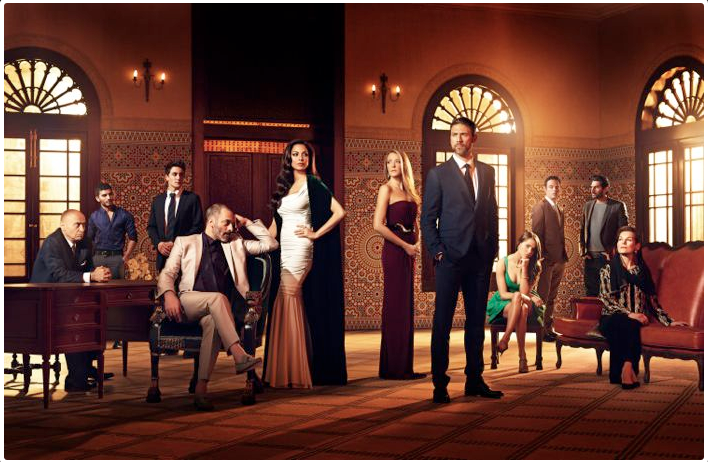 You could say that the big theme of the show is the ties that bind, or that blood is thicker than water. Barry - his real name is Bassam - is the son of Abbudin's formidable and ruthless ruler Khaled Al-Fayeed (Nasser Faris). Pop rolls out the red carpet for Barry and family by buying up all the seats on the airliner they fly in on so they can travel undisturbed, and offers them the run of his immense palace. The stone-faced Barry insists they resist these blandishments and stay in the hotel they've booked, but the tendrils of the Al-Fayeed dynasty steadily entwine themselves around him, dragging him back to the past he was trying desperately to put behind him.
In Abbudin, the Arab spring hasn't sprung. Khaled himself namedrops such fallen regional despots as Gaddafi and Saddam Hussein, and the idea is that like them, he has felt forced to deploy a repressive army, torture and chemical weapons against the militant opposition constantly plotting to kill or overthrow him. His heir apparent is Bassam's brother Jamal (Ashraf Barhom). He's depicted as a cackling playboy-psychopath, happy to slash his enemies with a cut-throat razor when he's not charging around in his Lamborghini blasting Aerosmith through the stereo, or forcing his sexual attentions on subservient women. Though to be fair they're not always so subservient - one of them almost bites off Jamal's male member during an in-car blowjob.
Yet it seems as if Jamal's monstrous behaviour and crazed mood-swings are the result of dad's relentless bullying rather than some inherent evil, and the contradictions that are tearing him apart look likely to make him the most interesting character in the piece (Nasser Faris as Khaled, pictured above). In a childhood flashback depicting the rounding-up of some "militants", it's the young Bassam who displays the cold-blooded ruthlessness which his father has been trying vainly to beat into the cowering Jamal. When Khaled is erased from the proceedings by a stroke, we get an inkling that the "tyrant" of the title might turn out to be Bassam, even if Jamal is nominally the new man in charge.
A shame, then, that Bassam is portrayed by Adam Rayner like a lumpy teak sideboard, confined to a single facial expression more suggestive of piles or constipation than a man caught in the eye of an existential storm. Whatever, there's plenty of trouble ahead. As Bassam growls glumly to his wife, "I told you we shouldn't have come."