Wallander, Series 4 Finale, BBC One / Dicte: Crime Reporter, More4 |

reviews, news & interviews
Wallander, Series 4 Finale, BBC One / Dicte: Crime Reporter, More4
Wallander, Series 4 Finale, BBC One / Dicte: Crime Reporter, More4
A gloomy farewell from Kenneth Branagh, and the arrival of Dicte Svendsen
The last time: Kenneth Branagh as Wallander
This concluding mini-series starring the sorrowful Swede began with a bizarre misfire set in South Africa, but redeemed itself with a finale imbued with persuasively Wallander-ish characteristics. The light was grey, flat and menacing. Landscape shots stretched lugubriously as far as the eye could see, encompassing forbidding lakes, shivering forests and damp fields.
Meanwhile, Wallander himself was steadily falling apart. This closing story, "The Troubled Man" (★★★★), reached back into the Cold War past and the ambivalent obscurities of espionage and subterfuge, which writer Peter Harness (adapting Henning Mankell's final Wallander novel) used to explore the themes of failing memory and the way time erodes the meaning of events. Did it all really matter after all these years, wondered an elderly woman whose Communist beliefs had led her to indulge in a spot of spying on the Swedish navy.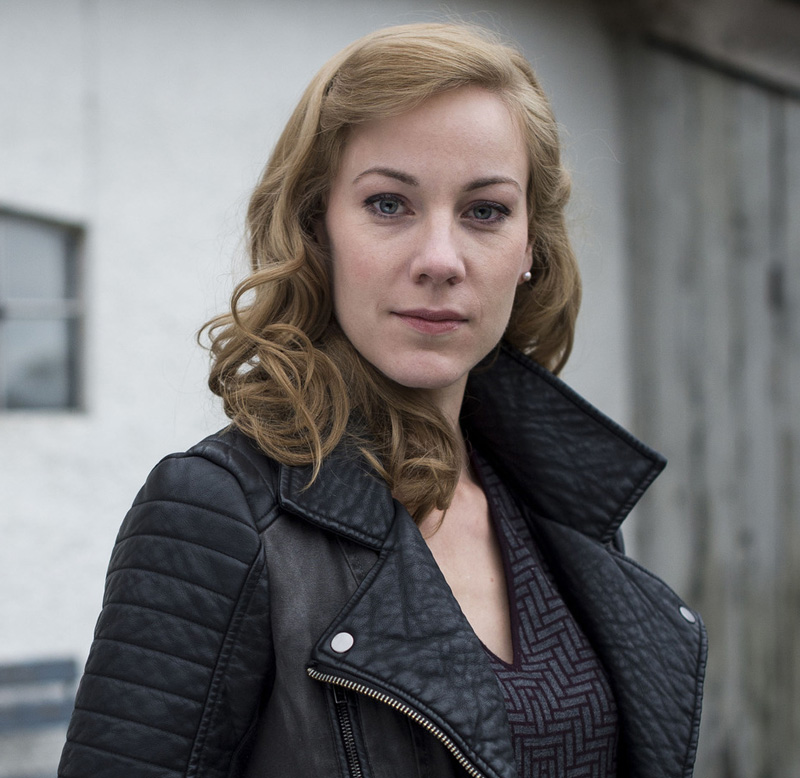 It mattered to Wallander, because it concerned the mysterious disappearance of Hakan von Enke (Terrence Hardiman), a former senior officer in Swedish naval intelligence but also the father-in-law of Wallander's daughter, Linda (Jeany Spark, pictured right). Poking about in von Enke's home, Wallander discovered a hidden interview tape hinting at a treasonous plot involving Russian submarines detected in Swedish waters in the 1980s. Why had this all been covered up? Von Enke had been involved, but in what capacity, and on whose side? Could he, or his wife Louise (Ann Bell), have been a spy?
His investigations led Wallander to various startling discoveries, including a lost von Enke daughter hidden in a nursing home and a cynical plot by the Americans to create hostility between Russia and the Swedes. But overshadowing it all was Wallander's struggle to come to terms with a diagnosis of Alzheimer's disease. Kenneth Branagh played the intermittent episodes of confusion, rage and terror with unsettling conviction, and though we left him in a state of at least temporary equanimity, the cumulative impact was chilling.
However, the Scandi wave shows no sign of abating. More4's latest import in the "Walter Presents" series is Dicte: Crime Reporter (★★), though after episode one I'm not sure they needed to bother. Dicte Svendsen (Iben Hjejle, pictured left) is a crime reporter from Copenhagen who returns to her home town of Aarhus in Jutland, which is apparently Danish shorthand for the sticks, the back of beyond etc. Here, working as a local reporter, she soon happens across a dead body (while she's taking a pee outside a club on the dockside, which seemed a gratuitous piece of contrivance). Before you could say "Schengen area", she was waist-deep in a sinister people-smuggling plot involving trafficked girls from Eastern Europe apparently being coerced into bearing babies for sale.
There's a drama-by-numbers feel about this which could become quite annoying. Dicte arrives pre-packaged with a suite of psychological issues and emotional problems – she's just got divorced from a touchy-feely creep called Torsten, her daughter Rose keeps reciting pages from the Stroppy Teenager's Handbook, and she's haunted by the memory of her parents taking away her baby son for adoption. Hence her obsessive interest in the dead woman's dead baby and the baby-smuggling storyline. Local detective John Wagner (Lars Brygmann), who looks like Robert Peston's younger brother, is already fed up with her bossing him about and witholding evidence. Meanwhile, Dicte's regular wine-drinking get-togethers with her gal-pals looks like a set-up for a really smug sitcom if the crime-busting angle doesn't work out.