This Way Up, Channel 4 review - hilarity with a dark undercurrent |

reviews, news & interviews
This Way Up, Channel 4 review - hilarity with a dark undercurrent
This Way Up, Channel 4 review - hilarity with a dark undercurrent
Funny or die: Aisling Bea stars in her self-penned comedy series
Sisters under the skin: Aisling Bea and Sharon Horgan as Aine and Shona
"Get those worksheets in by Monday or I will Brexit the lot of you," says turbo-charged teacher Aine (Aisling Bea: The Fall, Gap Year) to her London TEFL class. Her students have just enjoyed a stimulating lesson built around the Kardashian family tree. "Kim is the…" Aine waits for the answer. "Yes, well done, the second eldest. And Khloé is the…yes, the middle one. She was the youngest until along came Kendall and Kylie."
"Get those worksheets in by Monday or I will Brexit the lot of you," says turbo-charged teacher Aine (Aisling Bea: The Fall, Gap Year) to her London TEFL class. Her students have just enjoyed a stimulating lesson built around the Kardashian family tree. "Kim is the…" Aine waits for the answer. "Yes, well done, the second eldest. And Khloé is the…yes, the middle one. She was the youngest until along came Kendall and Kylie."
Aisling Bea's lovable new six-part comedy drama, co-starring Sharon Horgan as Aine's older sister Shona (the two have worked together before, but this is the first script of Bea's to make it to air) fills the gap left by Fleabag and Catastrophe. And although it's very funny, there's a dark undercurrent.
Aine is recovering from a "teeny nervous breakdown" following a break-up. Episode one begins with Shona collecting her from a posh-looking rehab facility, which, Aine complains, was sadly lacking in essentials such as a Jacuzzi and a mini-bar. "Is she fixed?" Shona asks the woman at the check-out desk while Aine waits in the car. Not entirely, it seems.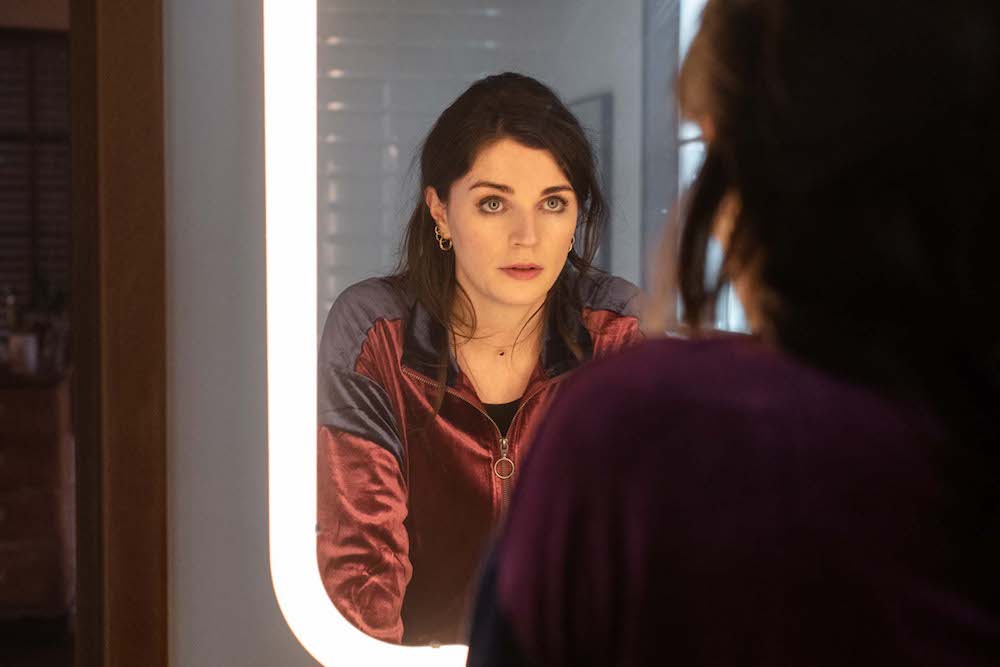 Bea and Horgan make a brilliant Irish double act, with the comedy often found more in tone of voice or body language than words, though the words are good too. "Where did you get that dress?" asks Aine. Forever 21, answers Shona. "Well, that's a bit of fucking irony if I ever heard it." Shona has a boyfriend, Vish (Aasif Mandvi) and works in the finance industry ("What is my job?" she tests Aine. "You do money. I don't know. Nasdaq. Calculators.")
Shona constantly worries, with good reason, about her sister. She leaves parties and meetings (she's starting a networking company for women in finance with her elegant colleague Charlotte, played by Indira Varma) to track Aine down. "I'll unmatch 'Find my iPhone' if you don't stop stalking me like a creepy uncle," says Aine, who is prone to walking late in the park at night, driven out of her flat by despair, terrible dates and by her flatmates having sex so loudly they're like "two alley-cats punching each other in the face". Her own punchy one-liners and easy charm mask huge loneliness.
There are longueurs. Sometimes the sisterly banter lacks bite. And an episode (all are available on All 4) set in Vish's parents' house, which includes Sorcha Cusack as the sisters' mother, is a bit flabby, but even that is redeemed by a fine rendition of "Proud Mary" from Aine and her mum. And although it's Aine's depression that is central to the series, Bea shows us that no one's immune: her mother had post-natal depression, while the outwardly serene Charlotte has a brain that's "a bit shit", is on medication and sees a therapist. Now she's "totally fine, except when I turn on the news or scroll through Twitter, and then I want to jump off a cliff". Words we can all relate to.