Anthony Caro: Upright Sculptures, Annely Juda |

reviews, news & interviews
Anthony Caro: Upright Sculptures, Annely Juda
Anthony Caro: Upright Sculptures, Annely Juda
The venerated sculptor enjoys the interplay between the figurative and the abstract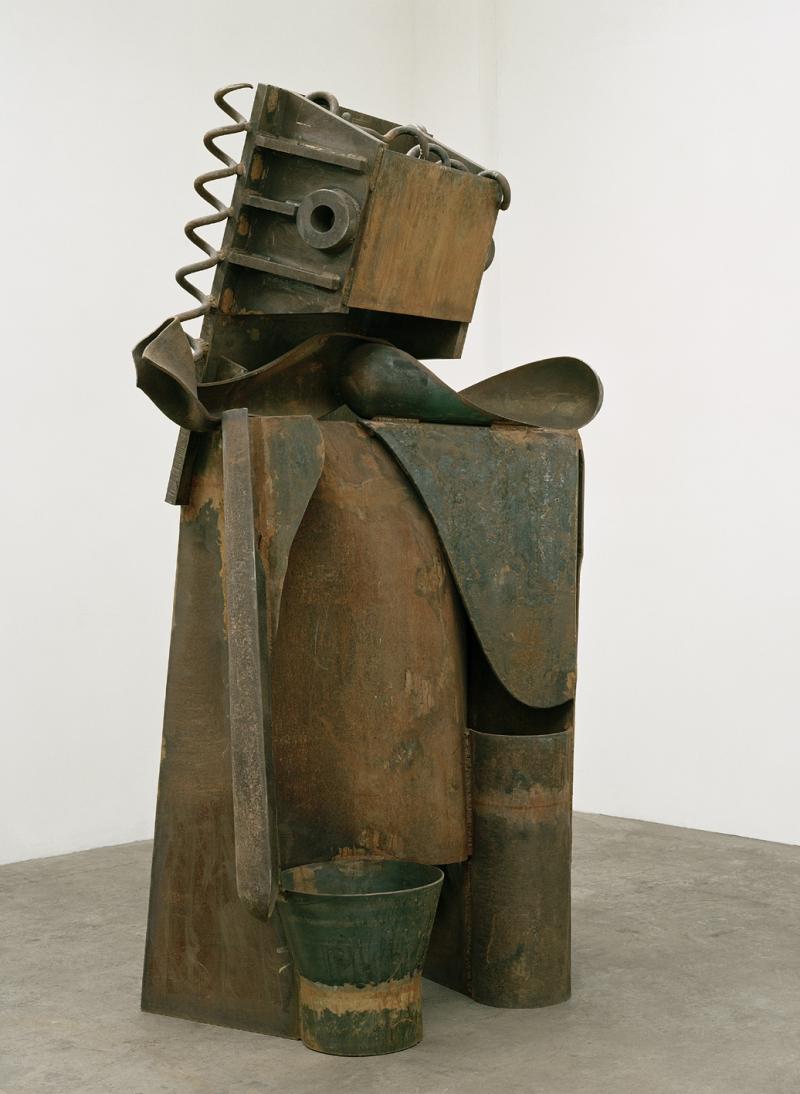 Anthony Caro's Upright Sculptures 'hark back to a kind of defunct modernity'
Anthony Caro makes works with the human figure in mind. The venerated sculptor, who, at 86, remains seemingly unstoppable, came to prominence in the early Sixties with his brightly coloured abstract steel sculptures. These, such as his seminal 1962 work, Early One Morning – an open-form sculpture of welded steel plates and delicately balancing rods painted in bright red – chimed with an era of optimism and confidence. Any figurative references were entirely incidental.
A different Caro emerged in the Eighties when he produced monumental works of solid mass and volume. Rich with references to mythology, these later works were not only concerned with the interplay between architecture and sculpture, but between the figurative and the abstract.
His new body of work, produced in the past 18 months, is simply called Upright Sculptures, and they look like a cross between defunct farming equipment and mock-sinister, bug-eyed sentinels. Welded or bolted together, they consist of materials such as rusty steel, rusticated wood and pieces of industrial scrap.

These Uprights include the gently comical Goddess (main picture), a rusty fusion of industrial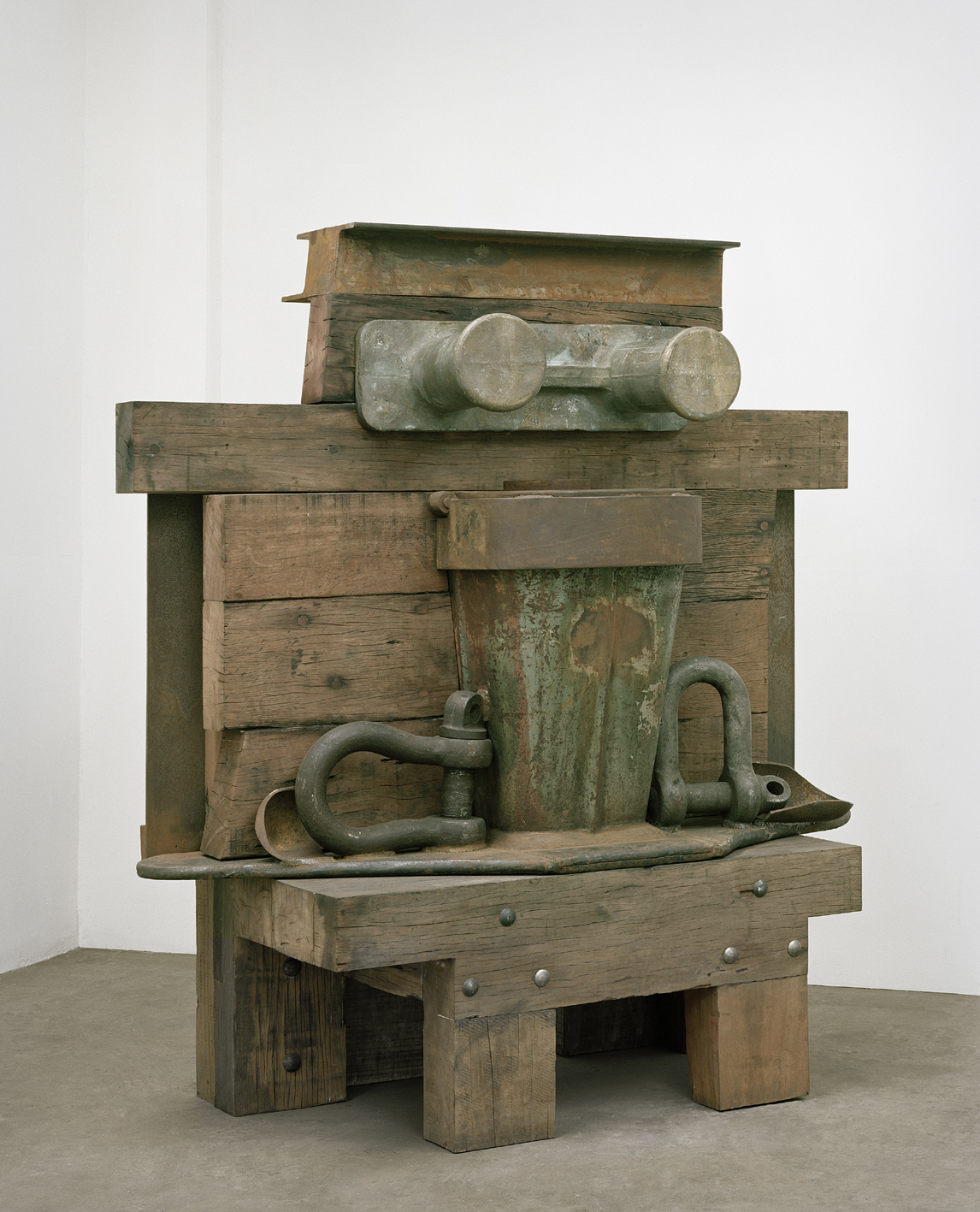 parts whose huge blank eyes stare out from the sides of a flat, boxy head sweetly framed by ringlets of metal, and Head (pictured right), a squat structure built from planks of wood, with a bucket that could pass for a huge, bulbous nose, and protruding metal, antennae eyes. They seem to be dumb but watchful creatures; largely benign yet with the characteristics of an unpredictable robot.
They are all more or less of human dimensions and play with the aesthetics of old-fashioned Cubism. Up the Ante, for example, consists of a series of flat, interlocking planes of rusted steel topped with a hooded structure the size of a head and situated at head height. Many of their titles suggest their vertical forms, Drum Up, Up North, Three Up and Upper Field.
But though their titles might suggest that all is upbeat and jaunty, these are not works that sing in the bright colours of the coming of a new modernist dawn, as his earlier work once did, but hark back to a kind of defunct modernity. And this is in some ways a little more interesting.
These Upright Sculptures are undoubtedly influenced by The Chapel of Light, Caro's ambitious, decade-long project for the Church of Saint-Jean-Baptiste, in Bourbourg, northern France, which was unveiled in 2008. Ragged strips of rumpled steel, wood and terracotta figures were installed within the church's Gothic arches, producing a powerful and compelling dialogue between the Gothic and the Modern. They each represented conflicting utopias, one religious, the other quasi-religious, with neither one particularly certain of itself any more.
In a way, Caro's Upright Sculptures - playful, heavy, robotic, human – capture the mood of a similar kind of uncertainty. And that, too, plays perfectly to our times – though one doesn't necessarily feel that this is at all intentional.
Explore topics
Share this article