Art Gallery: Egyptian and Nubian Galleries, Ashmolean Museum |

reviews, news & interviews
Art Gallery: Egyptian and Nubian Galleries, Ashmolean Museum
Art Gallery: Egyptian and Nubian Galleries, Ashmolean Museum
A newly designed space to house 5,000 artefacts from 100 sites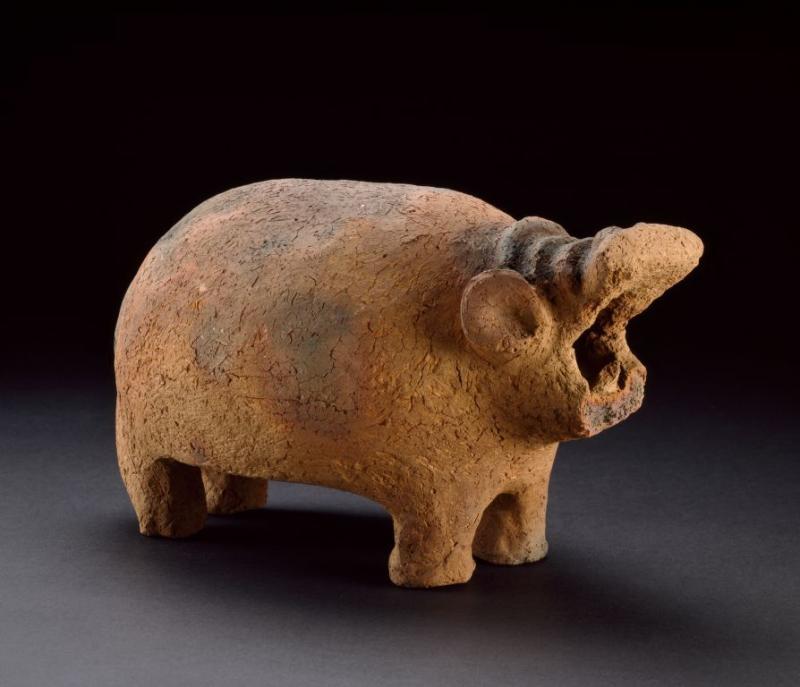 Hippopotamus: coarse red pottery, found in grave R134 at Hu, of Predynastic (c 3500-3000 BC)
The Ashmolean Museum opens the doors to its Egyptian and Nubian galleries tomorrow and in these six refurbished rooms you'll be able to see one of the greatest collections (among some 40,000 antiquities) outside Cairo. Designed by the architect Rick Mather, the galleries cover 5,000 years of human history, including objects that have been part of the museum's collection since it opened in 1683.
These have been gathered from more than 100 archaeological sites in Egypt and what is now Sudan (Nubia).
Highlights include the Shrine of Taharqa (c 680 BC), built at Kawa in Sudan. The intricately carved sandstone shrine, which was once brightly painted, was bought back to Oxford in 1936 in 150 wooden crates. Since it was far too heavy to move, the new galleries had to be built around it. Other highlights are the many mummies, some of which will be displayed for the first time and two of whom have beautifully painted portraits incorporated into the heads of their casks.
One tiny mummy is that of a child aged about two, who died sometime between AD 80 and 120. Recent CT scans at Oxford's John Radcliffe Hospital revealed not only his sex and age, but that he probably died of pneumonia, had a twisted hip and suffered from a very rare dental condition. The contemporary artist Angela Palmer has recreated the child's body in glass based on the CT scans. The work will be displayed permanently next to the mummy.
Click on the images to enlarge
Since the Shrine of Taharqa was far too heavy to move, the new galleries had to be built around it
Explore topics
Share this article