Carsten Höller: Decisions, Hayward Gallery |

reviews, news & interviews
Carsten Höller: Decisions, Hayward Gallery
Carsten Höller: Decisions, Hayward Gallery
Disappear down the endless walkway and, like Alice, enter another world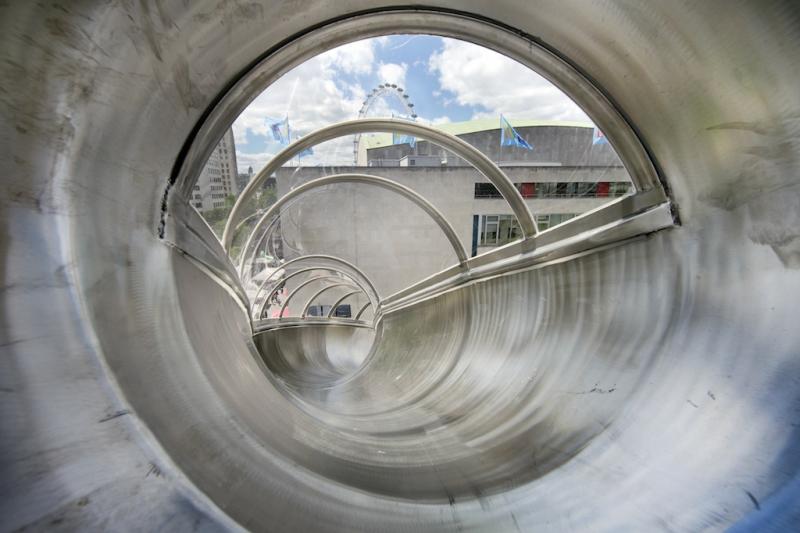 Isomeric Slides: an invitation to launch into the abyss
A steel corridor stretches as far into the distance as you can see (pictured below right); the gleaming sides and gently sloping floor invite you to step inside but, as you venture further in, it gets darker and darker until you are groping your way in pitch blackness.
This unnerving experience reminded me of when, as a child, I followed my parents deep into the cliffs of north Cornwall as they gingerly crept along disused mine shafts, lighting the way with matches that quickly fizzled out. In the Hayward Gallery, I kept telling myself health and safety wouldn't allow anyone to plummet to their death down a vertical shaft, so it must be safe; yet holding my nerve still required an effort of will.
After what seems like miles, the zig-zag path delivers you into a room only a few metres from where you began. Giant hallucinogenic mushrooms of the fairy tale kind, coloured poisonous red with white spots (pictured below), slowly revolve on mobile arms – reminders of the risks that some are willing to take to attain altered states of perception. The implication is that art can also offer mind-altering experiences and that the rest of the exhibition will be similarly transporting. Lying on the floor of the next gallery is an inviting pile of red and white pills, while a nearby water fountain encourages you to swallow one and possibly go off on a mental journey of your own.
Elsewhere, a beautifully crafted wooden box contains tubes resembling artist's oil paints. According to the labels, they contain toothpaste designed for men, women and infants respectively. Cleaning your teeth with paste from the female tube "will activate dreams related to the feminine world," claims the label, while various admixtures offer limitless dream potential. Roaming round the gallery are two beds in which you can enjoy your dreams either during the exhibition or, for couples willing to pay £300, an all-night stay is possible.
Those wide awake, meanwhile, can don a headset and watch a nocturnal scene of a forest in falling snow. The image soon splits into two, and then overlaps before fusing again. If this is meant to simulate the realm of dreaming, it fails because the visuals may be eerily out of kilter but the atmosphere remains too neutral to engage one emotionally.
So far so good; but from now on the exhibition seems to change tack. Rather than exploring the realm of psychological disorientation and drift, it shifts attention to the world of physical displacement with ideas that are more akin to fun-fairs and adventure playgrounds. Linking the two is Fara Fara, 2014, a video installation about the music scene in Kinshasa, capital of the Democratic Republic of Congo. Short sequences show people making music anywhere and everywhere – on the street, in cafés, drumming on plastic chairs – while, at the other extreme, an all-night concert for an audience of thousands seems to engender mass euphoria/hysteria and to fulfil the function of collective dreaming.
Carsten Höller invites us similarly to let go and indulge wholeheartedly in play. Upstairs you can climb in and out of a plastic cube, hover over one of the terraces in a harness, slide down the outside of the building in a helter skelter-style tube (main picture), or don glasses that turn everything upside down. It's all good fun, except that physical thrills need to be, well, thrilling and cruising a few feet above the concrete may be pleasurable but isn't exactly paragliding. The slides, which were faster and more exhilarating when installed at Tate Modern in 2006, are too tame to induce the "unique condition somewhere between delight and madness" that Höller is aiming for. The upside-down glasses live up to expectations – but so much so, they made me feel extremely sick.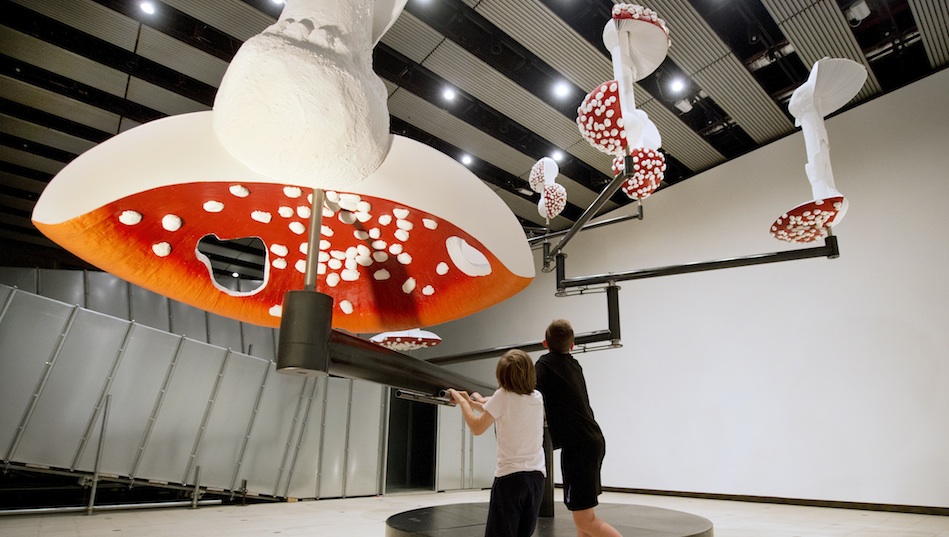 The downstairs galleries seem to be for adults and the upstairs for kids; after all, this is the summer season. But queues for each activity will be horrendous. Höller makes the optimistic claim that watching other people exploring his devices is as much fun as experiencing them yourself. As far as I'm concerned, you can tell that to the toadstools.
Physical thrills need to be, well, thrilling and cruising a few feet above the concrete may be pleasurable but isn't exactly paragliding
Explore topics
Share this article