The Danish Collector: Delacroix to Gauguin review - fabulous art, not sure about the framing |

reviews, news & interviews
The Danish Collector: Delacroix to Gauguin review - fabulous art, not sure about the framing
The Danish Collector: Delacroix to Gauguin review - fabulous art, not sure about the framing
Exhibition on Screen offers a catch-up for those who missed the RA show
Ready for her close-up: filming Gauguin's Portrait of a Young Girl
In Paris on a business trip in 1916, Wilhelm Hansen was no doubt typical of many husbands in confessing to his wife that he'd been a bit reckless in his personal spending ("You'll forgive me once you see what I've bought").
But he was hardly typical in his purchases: "Landscape paintings by Sisley and Pissarro, a portrait by
Renoir
, and
Claude Monet
's
Rouen Cathedral
, one of his best-known works!" he excitedly wrote home to his wife. In the space of the next two years Hansen acquired no fewer than 156
Impressionist paintings
, and it's the bulk of this collection that features in
The Danish Collector: Delacroix to Gauguin
– the first in a new series of films from Exhibition on Screen. It's released into selected cinemas on Tuesday.
Hansen was one of a new breed of art collector – rich but not aristocratic (he made his money in life insurance), amateur but deeply informed. What set him apart from others who descended on the French capital to take advantage of a temporary wartime dip in the price of Impressionist paintings was the fact that he wanted them for his home. Every one of the canvases he bought, ranging from the quiet French-realist landscapes of Corot in the mid-19th century to strikingly modernist canvases by Gauguin, found a place on the walls of Ordrupgaard, the mansion the Hansens had built for them in a leafy outer suburb of Copenhagen. There the paintings were double-hung in dining room and drawing room, in the parlour, in Hansen's private office, and eventually in a purpose-built extension. At least by this stage Mrs H must have been fully on board.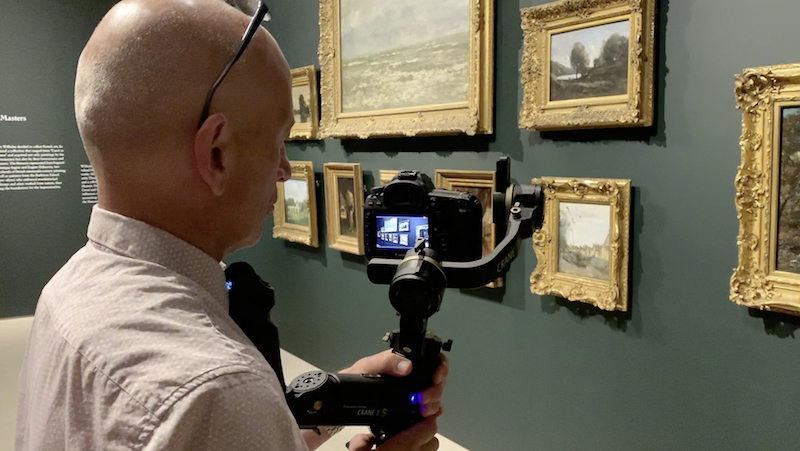 Of course taking art into cinemas is not new, and the benefits of seeing great paintings up close, under ideal lighting, in HD, and with armchair-friendly commentary by world-leading specialists, are hardly in dispute. For its first 20 minutes David Bickerstaff's film doesn't put a foot wrong as the camera roams the cool gallery spaces at Ordrupgaard, pulling in close on each picture to make effortless connections between them. A delicate and sensual landscape by Corot ("the last of the classics, the first of the moderns") leads us to marvel at how something as basic as paint can make us all but physically feel the midday sun beating down on a dusty track, but then the next painting, Pissarro's Plum Trees in Blossom, makes clear a link in the treatment of paint, showing Corot a clear influence.
Things start to go wrong for the film when it digresses from the art
The camera also takes us on a trip along the Seine in a series of deceptively casual-looking landscapes by Sisley. It makes us aware of how two-thirds of one of the pictures is taken up by sky, which leads to another painting with a low horizon – a very early Monet, and then on to one of Monet's mature series paintings, a Waterloo Bridge cloaked in blue fog. Ambient, noodling music runs whenever a curator isn't speaking and its ubiquity soon palls.
Things start to go wrong for Bickerstaff's film when it digresses from the art and loses pace. Yes, it's important to know that Hansen applied a system to his purchasing, his aim being to frame Impressionism with the art that had influenced it and the art it influenced in turn. It's perhaps interesting that he set out to get 12 works by each of his favoured artists, rather as men of lesser means set out to complete sets of cigarette cards. But these points of context could have been covered in five minutes. Instead, insisting on the "Collector" in the title, the narrative wanders off on an arid art-historical path for the remaining 70.
The four specialists – one of them is the curator of the Royal Academy show of this collection, another is the director of Ordrupgaard whose Danish commentary is subtitled – devote much time to describing the salon system, the dominance of certain dealers, and the rise of the "mercantile industrialist collector in the 19th-century". And once the film slips sideways into a wider history of collecting, citing Tutenkamun, the ancient Greeks and Romans, the Medicis, the Hapsburgs, the Tudors, and so on and on, the golden thread linking it to Ordrupgaard is lost.
So much talk! Yet there are compelling questions that remain unaddressed. What, for instance, was the tenor of day-to-day life for the Hansens when in 1922 the Danish bank from whom Wilhelm had borrowed heavily, crashed? The event had huge repercussions for Danish society and forced the sale of half Wilhelm's collection. He was said to be devastated when the state refused to buy it from him, forcing him to sell abroad. Yet the very next year he had begun buying again. That emotional rollercoaster was surely worth exploring.
I also wanted to know more about the selection of artists. Why, for example, Berthe Morisot and Eva Gonzalez, Manet's student? Did Hansen have feminist leanings, or did he simply trust his own taste sufficiently to go against the market which persisted in under-valuing women's art? That could have been a rewarding direction of travel. And what of the elephant (barely) in the room … Vincent Van Gogh, who chimes just as surely with Hansen's theme as Paul Gauguin? But Gauguin is represented by 12 works in the collection (eight after the 1922 crash) to Van Gogh's one.
Yet for the many who missed out on the Royal Academy's 2020 exhibition owing to outright gallery closure or severely restricted ticketing, these may be minor cavils. This remains the finest collection of Impressionist paintings in northern Europe, no question. There is also of course another way of seeing them, which is to visit Ordrupgaard where they are all on permanent view, and where you can contemplate the Hansens' glorious gardens while sampling a superior Danish sandwich from a café block designed by Zaha Hadid. Perhaps this uneven film will stir enough curiosity for some to make the trip to that truly magical place.
What set Hansen apart from others buying Impressionists at the time was that he wanted them for his home
rating
Explore topics
Share this article