David Shrigley/Brett Goodroad, Brighton Festival review - showcases puncturing the medium's pretence |

reviews, news & interviews
David Shrigley/Brett Goodroad, Brighton Festival review - showcases puncturing the medium's pretence
David Shrigley/Brett Goodroad, Brighton Festival review - showcases puncturing the medium's pretence
An exhibition and an event that both seem keen to democratise the artistic process
The public getting busy at David Shrigley's 'Life Model II'
In his 1991 novel Mao II, Don DeLillo called the literary medium "a democratic shout". His oft-quoted claim is that any man or woman on the street could strike it lucky, find their voice, and write a great book. Not only does everyone carry round a novel, but those novels are potentially brilliant.
Well, it's not a Pulitzer nomination but in
Brighton
right now, any ordinary Joe can walk in off the street and find their art put on the wall at the city's foremost gallery. Fabrica's installation, which goes by the name of
Life Model II
, is certainly a democratic shout.
This former chapel in the city centre plays host to a life drawing class, and, improbably, the public appears to love it. They wait on the sidelines for a chance to sit or stand at one of a dozen easels. Invigilators scale ladders to pin the work of these amateurs to the wall. Children lie on the wooden floor, sketching. The model gazes down from her plinth and from the countless graphite renderings. But none of these results are especially great. There is a flaw in Life Model II, which hampers any shot at artistic greatness which you or I might otherwise have.
It was a deeply involving experience, with a chance to fully appraise Shrigley's uncanny mannequin
She is tall, for a start, too tall. But her feet are too small. Her thighs are much too long. Her hair is lifeless and her brow is on the heavy side. That's not to be judgemental about a woman's looks, it is fact; our model is plastic. Her only moving parts are eyelids that briefly click shut every now and then. She is the punchline to a conceptual gag by the Guest Director of this year's Brighton Festival, David Shrigley.
Shrigley claims that this installation is his revenge against the art school practice of drawing from a live nude. However well he really can draw, and he claims he can't, most of his art is based around cartoons that are redeemed by their self-awareness. As a result, this year's festival has a strong visual brand and a bespoke typeface based around Shrigley's alienated handwriting, which only ever prints one sparse letter at a time.
Having read about Life Model II and seen a video, I was expecting my visit to Fabrica to feel like a joke to which I already knew the ending. In the event, it was a deeply involving experience, with a chance to fully appraise Shrigley's uncanny mannequin, with its surrealist echoes of the dolls so beloved of Hans Bellmer. Life Model II gives the chance to consider other visitors, and the work on the wall. It's a cliché, but we all become part of the show. Many of those drawing were clearly skilled. But outside the context of this rigged life drawing class, their work would make little sense.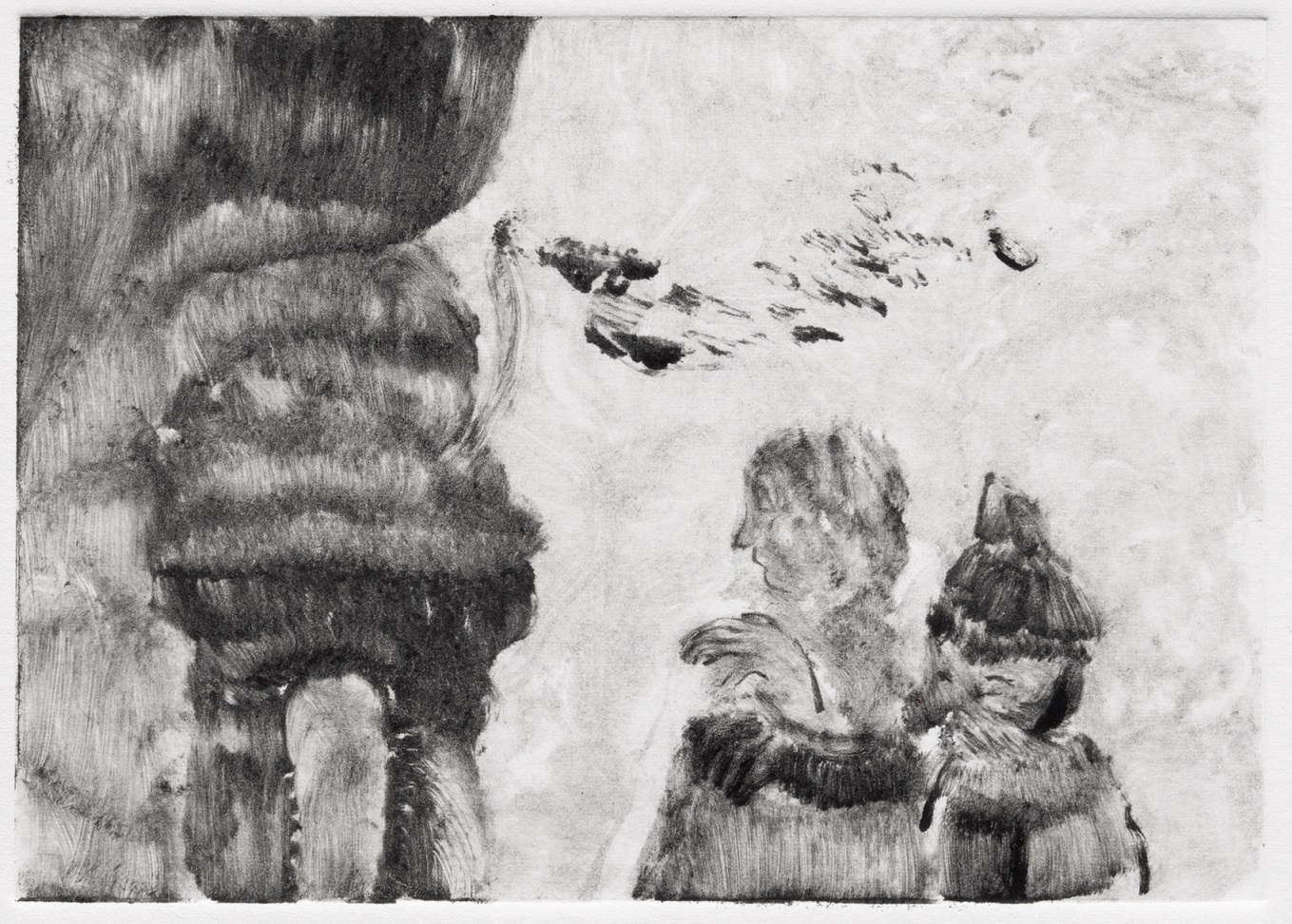 Not so far from Fabrica, Phoenix is where many of Brighton's working artists ply their trade. The gallery of this complex of artist studios plays host to a show by Brett Goodroad. It is a UK debut for the California-based artist. And while his commitment to painting and drawing cannot be put in doubt, his backstory is that Goodroad also drives a truck for a living. Not so much the man on the street as the man on the open road.
You might expect a truck driver to go in for landscapes. But Goodroad plies a trade in figurative art that emerges from an inky darkness. For the festival he exhibits works on paper, all roughly A4 in size. This scale, and the decision to leave his paintings at home in the States, is apparently the result of a logistical consideration. Sound logistics, at least, are one thing we can expect from a truck driver.
There are some 50 of these monochrome scenes (pictured above: 'Arrival'). Taken as a whole the exhibition calls to mind a sequence of Goya prints. Goodroad's obscure forms are as subjective as Rorschach patterns. At the same time, the predominance of dark greys and blacks do suggest an equally gloomy subject matter. A trio of huddled forms suggest witches or furies. Other forms appear submerged by cloud or corroded by mould. There is even a guitarist, with a squid on his head: a fête galante gone awry.
Goodroad freely admits to the obscurity of his subject matter. In a talk on the opening day of the Festival, he lists a sloth, a Pringle chip, a muppet, and a flying pair of breasts as among various non sequiturs to be found in his compositions. Otherwise his only explanation can be found on text pinned to the wall which quotes a poem called "Toe Buoy". This literary composition, named after the appendage of a drowning man, is quite apt for a show in which shapes swim out of the depths. It is as well that the drawings achieve formal balance and share absorbing textures, because there is little terra firma to cling to.
But as with Life Model II, perhaps the joke is on us, whether we gaze in utmost seriousness at a blot of Sumi ink or a nude made of plastic. Shrigley has always made art look easy; in Goodroad he has found a kindred artistic spirit to puncture the medium's pretence. This year's art might be the democratic shout Brighton Festival has been waiting for.
Below: Weird, android-voiced trailer for Brett Goodroad's Brighton Festival show
Goodroad lists a sloth, a Pringle chip, a muppet, and a flying pair of breasts as among various non sequiturs to be found in his compositions
rating
Share this article