Edouard Vuillard: The Poetry of the Everyday, Holburne Museum, Bath review - dizzying pattern and colour |

reviews, news & interviews
Edouard Vuillard: The Poetry of the Everyday, Holburne Museum, Bath review - dizzying pattern and colour
Edouard Vuillard: The Poetry of the Everyday, Holburne Museum, Bath review - dizzying pattern and colour
An artist's world encompassed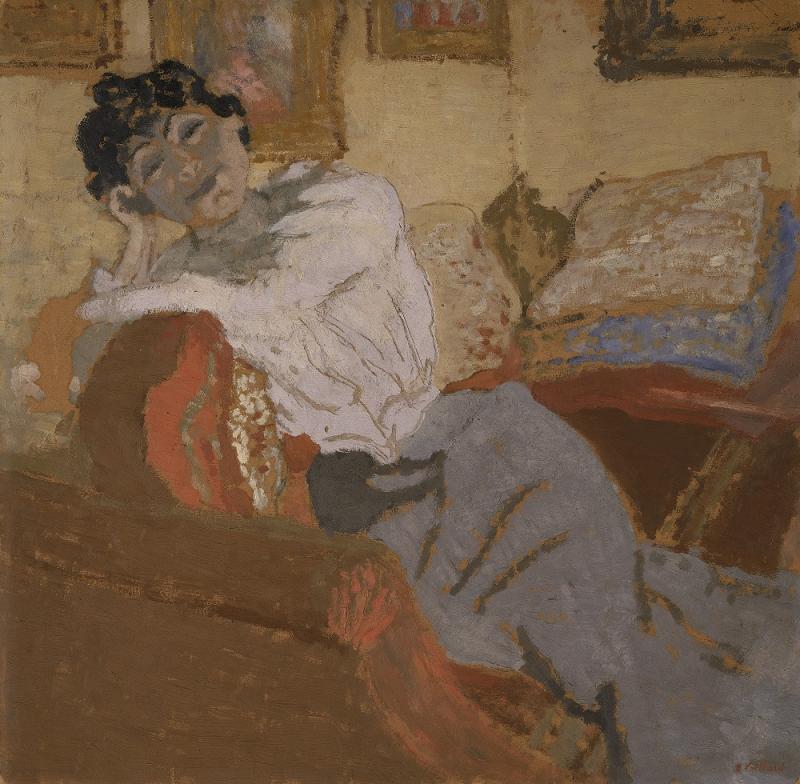 Edouard Vuillard, 'Mme Hessel on a Sofa', c.1905
A beguiling collection of small paintings by Édouard Vuillard (1868-1940) forms an exhibition from his early career. It is a vanished world of domesticity in a Parisian flat, where Vuillard lived with his mother, a seamstress, for almost all his life. In his fifties, he told a friend that his mother was his muse.
She died, aged 89, when he was in his sixties.
Shy as he seemed to be, he did have a gift for friendship, and with his other artist friends, whom he had met when they all studied in the 1880s at the Académie Julian had formed the Nabis (Hebrew for prophet) with Bonnard and Maurice Denis. The Nabis' lively and committed passion for an appealing simplicity, coupled with a passion for colour and pattern, had been inspired by their admiration for the visual innovations of the controversial older artist, Paul Gauguin.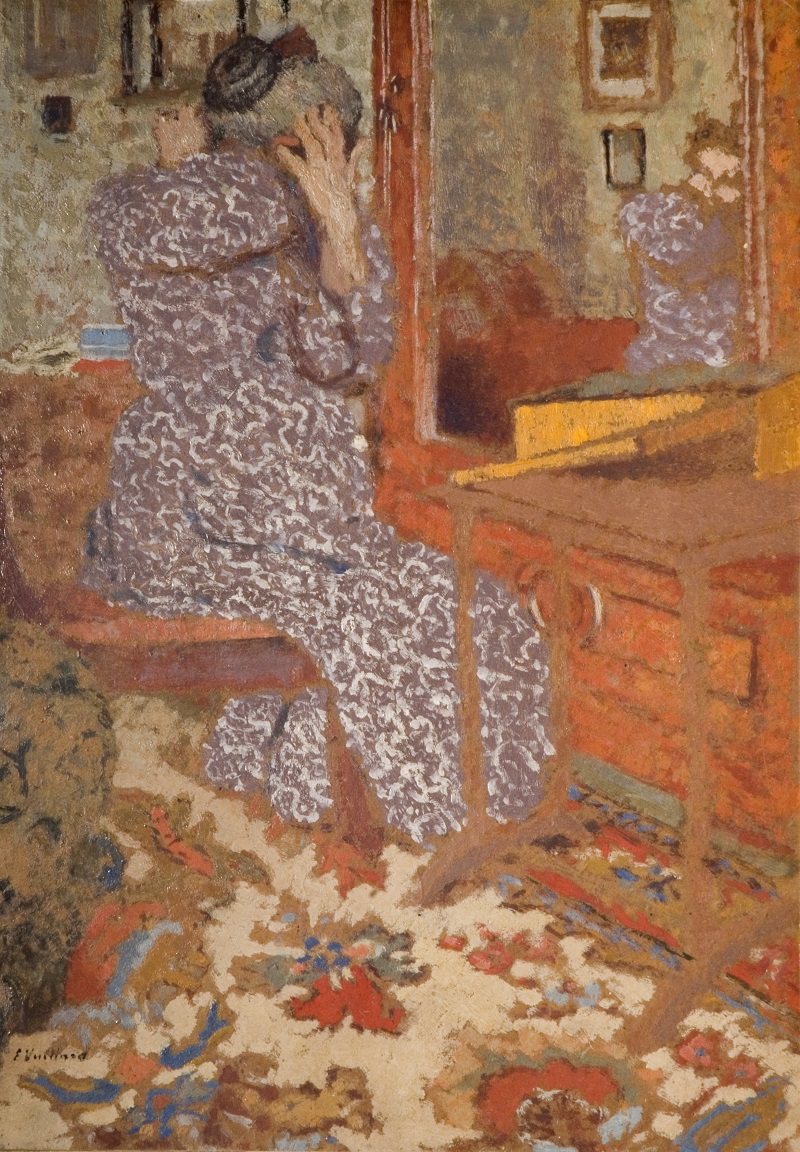 Although he loved women, Vuillard never married, but did have a deep relationship with several lively ladies at the heart of the intellectual life of Paris; his model and muse, Lucy Hessel, whose husband was the art dealer Jos Hessel, is shown in flirtatious mood in Madame Hessel on a Sofa, c.1905 (main picture). Oddly her face is more delineated than the ovals of his sister and mother, which are almost like Brancusi sculptures, suggestive but not detailed. Interestingly, unlike Bonnard and other artist colleagues he seemed to have no interest in pets, in cats and dogs.
The pleasure of this wonderful exhibition, all from British public and private collections, and dating from Vuillard's Nabi period in the 1890s, is the sense of such strong connections not only between the human inhabitants but the environments they have made. Madame Vuillard, arranging her hair, sits before a large mirror, her upright curved shape, comfortingly plump, clothed in the dizzying pattern of her purple and white dress emphasised by the more spacious pattern of the carpet and echoed by the delicate yet heavily patterned wallpaper, probably wall hangings that came with the various apartments rented by the Vuillards (pictured above right: Madame Vuillard Arranging Her Hair, 1900). The mass production of wallpapers and various ornaments was a feature of the period, and Vuillard wrote about how much he enjoyed observing in minute details decorative patterns and textures.
It is an immersive world, and when figures emerge out of the patterns we discern relationships, and even tensions. Every picture tells a story here, the story Vuillard intuits and even shows, and the story we tell ourselves when we look at the gossamer web of connections. The patterns of wallpaper and textiles, both repetitive and energised, surprising and inevitable, are somehow visual metaphors for human connections, too. Interiors are rarely observed straight on but obliquely; doors open at a slant to barely glimpsed rooms, a window opens out to a vista of roofs. In The Chat, 1893 (pictured below), his mother all in black sitting at right angles to her daughter in white seems to be having a formalised familial moment, embraced by the angled ceiling above. The Artist's Sister with a Cup of Coffee sits, hands folded, for a quiet moment; a broom leaning on the wall behind, wallpaper and tablecloth providing visual movement, setting off the quietude of her expression, with light slanting in from the opening into a room behind which seems sunlit, softly aglow.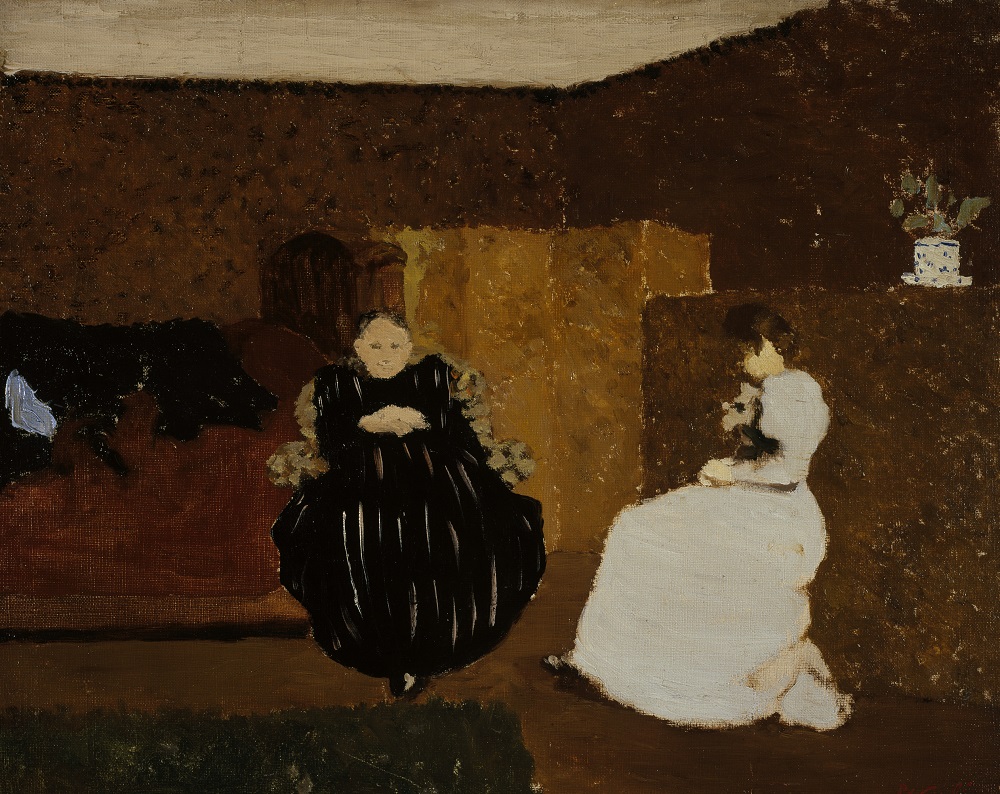 These are quietly experimental paintings as well. Vuillard enjoyed using distemper, where pigment was bound with glue, a substance often used to paint walls; he painted on board, cardboard, millboard, paper laid down on panel or canvas. At the same time he was painting large decorative panels commissioned for the grand apartments of the well off progressive circles in which he moved.
Here is a whole world in small compass, claustrophobic on the one hand, comforting on the other. It is a world of dizzying patterns and kaleidoscopic colours described in dabs, swirls, blobs of paint. Blues, mauves, a range of blacks and greys, reds, pinks and yellows: these are the colours of a garden in bloom, but softened by the crepuscular light of a homely interior. It is a brilliant and emotional series of domestic sized paintings, which explains perhaps why a significant number here are rarely seen publicly, given how happily resident they are in private collections.
When figures emerge out of the patterns we discern relationships, and even tensions
rating
Explore topics
Share this article