Giacomo Balla: Designing the Future, Estorick Collection |

reviews, news & interviews
Giacomo Balla: Designing the Future, Estorick Collection
Giacomo Balla: Designing the Future, Estorick Collection
Futurism, fashion and flair: works from the Biagiotti Cigna Collection
Taking flight: 'Design for a fan', 1918
The wonderful Estorick collection, tucked away in Highbury Fields in London, is internationally renowned for its collection of modern Italian art, with a core of major Futurist works.
Its new temporary exhibition focuses on one of these Futurist
enfant terribles,
Giacomo Balla, with a joyous assembly of works spanning the artist's entire career (1904-51), drawn from the private collection of the
fashion
designer Laura Biagiotti and her husband Gianni Cigna.
The show, which is the first to be dedicated to Balla's work in Britain, features 116 works from their 300-strong collection, and includes paintings, drawings, studies, applied arts, and some eccentric and striking furniture and fashion designs. The Balla that emerges from the show is a complex figure – a man with a romantic and decorative sensibility combined with a fierce belief in a provocative and "total" avant-garde: he manages to fuse these aspects most successfully in some of the earliest experiments in abstraction from 1913, which shimmer with light and feeling. Photographs of the artist in his flamboyantly painted studio, wearing his ebullient Futurist suit, show that he not only embraced Futurist principles early on (with the movement's aggressive and exhilarating insistence on modernity) but also made it his personal way of life.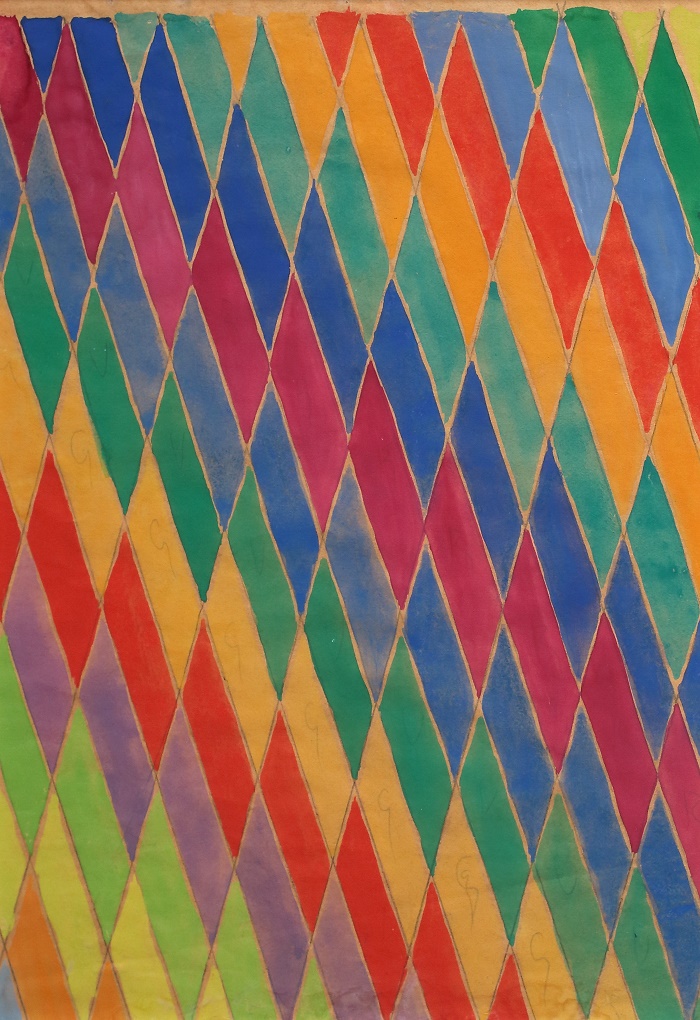 Balla was born in Turin in 1871 (just when Monet was introducing the Impressionist style). He was largely self-taught, embracing the Italian Divisionist style of established artists like Segantini and Pelizza, before moving to Rome in 1895 where he boldly introduced this new aesthetic combined with a passion for photographic realism. Early portraits show a camera-like devotion to capturing the moment (Head of a Woman, 1900) combined with painterly brushstrokes that divide the colours into vibrant strands of coloured shadow and light (Woman at Villa Borghese, 1906). In 1910, Balla joined Marinetti's iconoclastic Futurist movement, and the relative scarcity of works from this period betray his uncertainty as to how to embrace Futurist tenets in his work – specifically the capturing of "dynamic sensation" and movement.
In late summer of 1910, his fellow futurist Boccioni found Balla in Rome "discouraged with some hesitant yet still robust paintings". Two years later, Balla produced his most famous work – Dynamism of Dog on a Leash, 1912, which is unfortunately not part of this show's remit, but would have revealed his triumphant and very "fashionista-style" solution. By 1913, Balla's Iridescent Interpenetrations, 1913, (pictured above) – made during a visit to Dusseldorf, where he had been invited to decorate the study of a villa – achieved the "rainbow" simplicity that he was after, following "an infinite number of trials and experiments". These fuse his scientific interests in light and electromagnetic waves with a tendency to theosophical and spiritual reflection. While in Dusseldorf, Balla also took to the streets wearing his own Futurist designed suits, with their "aggressive" geometric cut, jacket free of lapels and collar, and which to his delight caused "a real furore". A natty embroidered Futurist waistcoat, 1924-5, that he designed features in the exhibition (pictured below).
Other designs, studies and pictures on show reveal Balla's variously successful attempts to find a new Futurist vocabulary that he could make his own. As well as the "abstract speed" of the modern world, he explores psychological states of mind, esoteric philosophy and psychic phenomena. Some of his less jagged abstract designs, with their symmetry and arabesques, recall the patterns of Eastern mandalas. By 1915 he had forged his own path. His manifesto for the Future Reconstruction of the Universe, 1915, co-written with Fortunato Depero, states: "We will give skeleton and flesh to the invisible, the impalpable, the imponderable and the imperceptible. We will find abstract equivalents for all the forms and elements of the universe, and then we will combine them according to the whims of our inspiration." Balla proceeded to design décor for the stage, nightclubs interiors (inspired by swirling motions of dance), private houses, shops and domestic settings. The exhibition includes a delightful suite of children's furniture from 1932, a proto-psychedelic and Pucci-esque red door from his red studio, and an aggressively decorative clothes stand (both 1928).
Francesco Leone's essay on Balla and Futurist fashion in the accompanying catalogue describes how Balla identified clothing as "a mighty battering ram" that would enable him to insert Futurism into "the fabric of daily life". Balla focused primarily on men's clothing as a way of overturning order and convention. In a draft for his manifesto, he described how "this dynamic joy of clothing will move along the many streets transformed by the new FUTURIST architecture sparkling like the prismatic splendour of a gigantic jeweller's window." Look-wise, the clothes would be "extreeeemely cheeeeerful", decorated with triangles, cones, spirals, ellipses, circles etc. and crazy colours His suit designs from 1914 to 1918, together with other fashion accessories such as an energetic Japanese-style fan, flaunt this audacious spirit.
By 1930s Balla had become a Futurist icon. But his later work sees a departure from Futurist ideas and a return to the figurative imagery of his earlier career, reflecting his belief in the value of studying contemporary reality in a verist manner with a new sensibility in order to create conceptions worthy of the ascensional period of Italian renewal (Futurism had played a role in the development of Italian Fascism, and Balla remained committed to its ideals). The latest dated canvas here, an oil painting of Dahlias in the Light, 1949, shows Balla returning to a world where the dynamism of light and traditional subject matter interact with each other more gently once again.
He not only embraced futurist principles early on, but also made it his personal way of life
rating
Explore topics
Share this article