Glam! The Performance of Style, Tate Liverpool |

reviews, news & interviews
Glam! The Performance of Style, Tate Liverpool
Glam! The Performance of Style, Tate Liverpool
This exhibition may feel random and tangential, but it's still enormous fun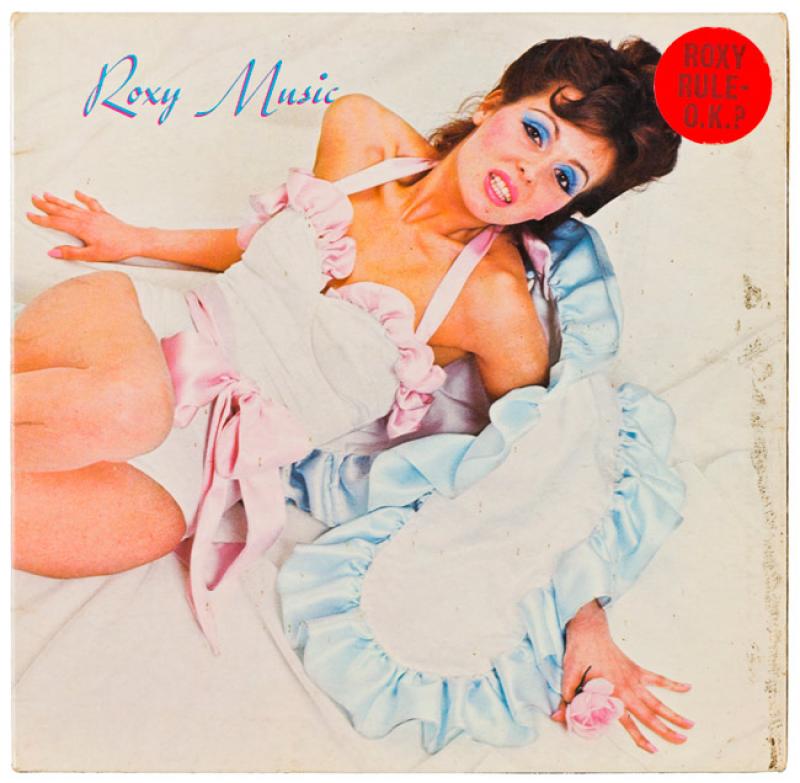 Roxy Music LP cover, 'Roxy Music', 1972 (Roxy Rule - OK?)
Glam. Were you there? If so, what was it all about? You might come up with a list: Roxy Music, Ziggy Stardust, shiny flares, Sweet, shaggy hair, the ubiquitous platform boot, T-Rex, glittery eye-shadow, lip-gloss pouts (on men). It was the era of dressing up and gender-bending as fashion statement, though it's also true that the glamour in Glam Rock was more glitter paste than gold.
Some of it remains pretty cool, but unlike the Sixties you probably wouldn't want to go back there, or at least for no longer than it takes to get round this exhibition, though
Glam! The Performance of Style
is actually enormous fun.
Indeed, it's rather more fun than it sounds, especially the first half which concentrates on the ephemera of Glam Rock: the album covers, the T-shirts, the posters, the teen magazine covers (Oh Boy, My Guy, Jackie), the odd Brian Eno costume. It's a winning nostalgia trip for those who were there and a slice of pop cultural history for those who weren't.
There are some outstanding individual works that somehow make up for the randomness
But it's an exhibition in two parts, and the second half is uneven. After you cross the threshold of Marc Camille Chaimowicz's installation Celebration?, which resembles the detritus of a Seventies disco at which you suspect there was more posing then fun, you enter a largely New York art scene that includes Warhol and Cindy Sherman.
Warhol's elegant drawings of shoes are from the Fifties when he worked as New York's highest paid adman, while a selection of his Superstar "screen tests", including footage of Lou Reed, are from the Sixties. Sherman's small black and white images were taken in the mid-Seventies, just before her Film Stills series, in a section that explores identity, but there's little sense of cohesion or coherence, since you could just as well have included Claude Cahun here.
The fact that Cahun was working in the late Twenties and Thirties might be stretching it even for the curators, though this genuinely radical "gender-bending" French artist would have been perfectly at home in that section. This only reinforces a sense that such categories, and such artists, are too expansive to fall neatly into time-capsule exhibitions. It's left to the documentary photography, including Nan Goldin's photos of glammed-up transgender friends, to capture a sense of the period.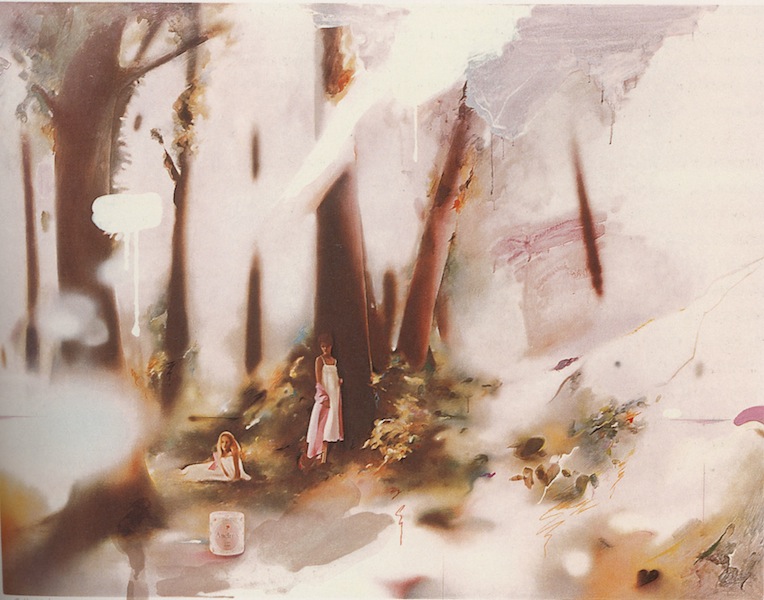 The exhibition loses its way even further by the time we get to Richard Hamilton, Sigmar Polke and Lynda Benglis. But there are some outstanding individual works that somehow make up for the randomness. Hamilton's Soft Pink Landscape, 1971-2 (pictured right; © Ludwig Museum, Budapest) is made in response to an advertisement for toilet paper and features models in floaty dresses in a romantic woodland setting. Naturally, Hamilton was intrigued by the convergence of glamour and shit. The appropriated soft-focus image, which had, incidentally, been the work of Bridget Riley when she worked for an ad agency, was smeared over with licks of brown paint. The work anticipates Hamilton's later paintings of the Northern Ireland Troubles, in which the dirty protests of Maze prisoners become abstract expressionist swirls.
Meanwhile, Evelyne Axell's powerful Campus, 1970 (pictured left; © Estate of Evelyne Axell / Musée d'lxelles, Brussels), reminds me a little of Turner Prize winner Elizabeth Price's film The Woolworth's Choir of 1979, in which The Shangri-Las' dramatic hand gestures segue into the frantic waves of shoppers trapped by fire in a Manchester Woolworth's. Here the Kent State massacre of 1970, in which the Ohio National Guard opened fire on student protesters, takes the frozen image of a screaming woman and three students falling after being shot and shapes the resulting tableaux into a psychedelic pop image: the screaming turns into singing, the falling students become choreographed dancers in a chorus.
This exhibition may leave you none the wiser about what Glam really is, and where it starts and ends – and Glam! could really have done with tightening up – but even randomness holds nice surprises.
Such categories, and such artists, are too expansive to fall neatly into time-capsule exhibitions
Explore topics
Share this article