Johan Zoffany: Society Observed, Royal Academy |

reviews, news & interviews
Johan Zoffany: Society Observed, Royal Academy
Johan Zoffany: Society Observed, Royal Academy
The German painter provides a riveting outsider's view of Georgian high society
Johan Zoffany's 'The Tribuna of the Uffizi, 1772-7'
Royal families and royal academies. Aristocrats at ease in exquisitely landscaped gardens or inside in gorgeous drawings rooms. Actors emoting, notably Sir David Garrick and his troupe. Nabobs in India. All are depicted in Johan Zoffany's rivetingly detailed paintings of Georgian society.
Born near Frankfurt Johan Zoffany (1733-1810) travelled to further his career, one of many foreign artists who enlivened the more provincial English art scene. He was appointed to the Royal Academy by its founder, George III, in 1771, and became almost as famous for his depiction of painting studios as of royal families from Hanoverians to Habsburgs. Zoffany was an outsider, in that limbo land between artisan and gentleman, but he had been trained up to courtly procedures. As a boy he was partly educated in the princely household of the Thurn and Taxis (sic) where his father was the master cabinet maker and sometime architect. On the visual evidence in this exhibition he revelled in his status as an outsider who had made it into the most inner circles, both amused and skilled at depicting the foibles of the societies he inhabited on the periphery, always the onlooker, cleverly conscious of hierarchies. He conveys the enjoyment of the spectator, hovering to the side, with elegant enthusiasm. This may explain his unusual affinity with theatrical denizens, also outsiders, and his skill too at showing group dynamics.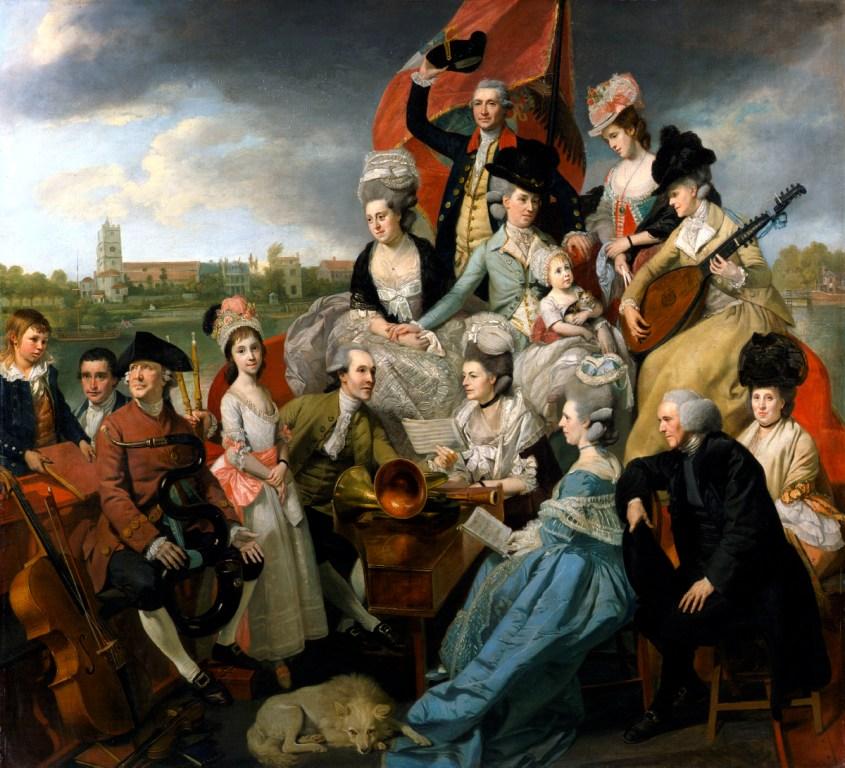 Never can wealth and success have been so lovingly portrayed. He was a master of surfaces, of skin tones and powdered hair, wigs and shawls, shoes and fanciful hats, patterned carpets and brocaded chairs. Every murmur of silk, susurration of satin, intricacy of lace, of both female and male dress is shown in loving detail, costume making status visible.
An uncomplicated tenderness was reserved for dogs, shown with a more captivating presence than humans. But he was not only technically accomplished but capable at times of portraying strong emotion, particularly in individual portraits, from Warren Hastings, to himself.
The Sharp Family (pictured above), afloat on a barge called Apollo with Fulham Old Church in the distance, is so exuberant as to be barely credible. It is a pyramid, a heap of humanity, each subject beautifully and elaborately dressed and exhibiting a solemn concentration on the music to come. Horns, harpsichord and cello are all at hand ready to be brought into play, and the scene is further enlivened by a baby holding a remarkably calm kitten.
Zoffany excelled at the group portrait, the conversation piece. We are given access to private societies and see their complex protocol made visible. The Dutton Family is at home playing cribbage, brother and sister holding their cards while being advised by their parents. Sir Lawrence Dundas (pictured right), portly and seriously rich, looks out from his drawing room. The walls are covered with Dutch 17th-century paintings, the mantelpiece with renaissance bronzes; his small grandson, in the skirts of the day, stands by him gently clutching his grandfather's knee.
The Portraits of the Academicians at the Royal Academy – 38 of them – shows the group gazing at a male model (pictured below). Artocrats all, here is Sir Joshua Reynolds, hearing trumpet to hand gesturing to Francis Hayman, Sir William Chambers listening attentively behind; next to Reynolds the slight figure of the anatomist and physician Dr William Hunter is gazing solemnly at the model. The women members – Mary Moser and Angelica Kauffman - are represented by wall portraits as of course they could not be in the painting studio with a naked male model. The Tribuna of the Uffizi, commissioned by Queen Charlotte, took over six years. It shows over 20 Italians and their British visitors, Grand Tourists dispatched to catch culture (and probably venereal disease too), surrounded by the masterpieces of the Florentine gallery. Talking, pointing, discussing, it's a hubbub of serious connoisseurship and, no doubt, one-upmanship as well.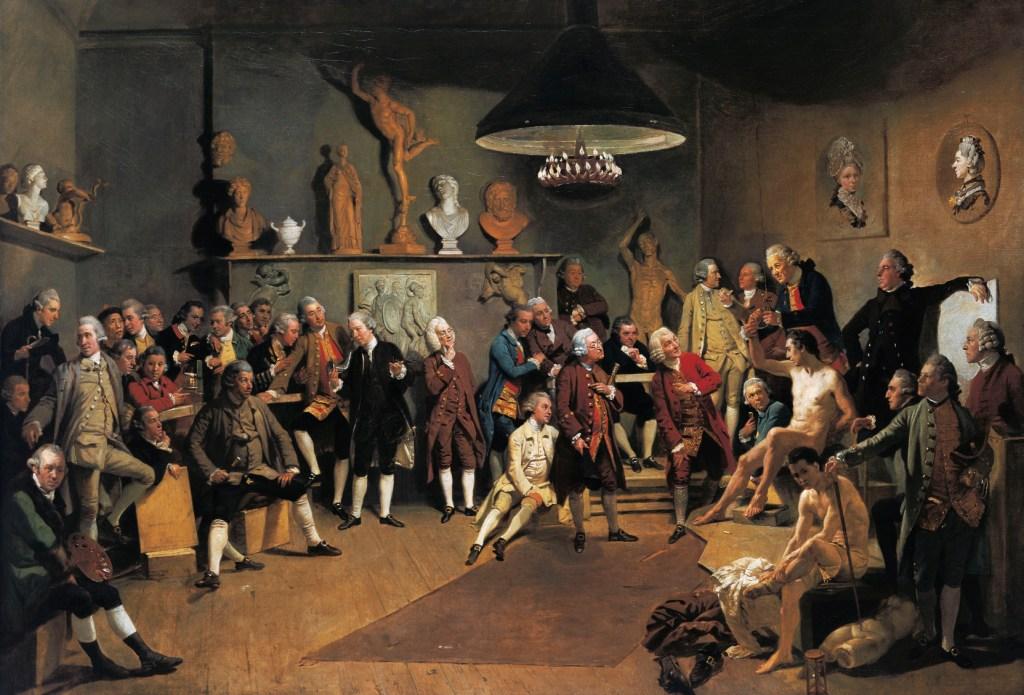 He was a painter of exuberance but also of acute insight. His celebration of life was undercut by a strain of melancholy and in his last decade he retired to Kew, overcome by dementia. In Self-Portrait, 1778, he showed himself in Italy holding a skull in the one hand and an hourglass in the other, all too aware of mortality – and potential immortality. A book on the mantelpiece is inscribed "life is short", but art is long.
Never can wealth and success have been so lovingly portrayed
rating
Share this article