Kafou: Haiti, Art and Vodou, Nottingham Contemporary |

reviews, news & interviews
Kafou: Haiti, Art and Vodou, Nottingham Contemporary
Kafou: Haiti, Art and Vodou, Nottingham Contemporary
Edible enjoyment and surreal surprises in a magical feast of art
Thursday, 25 October 2012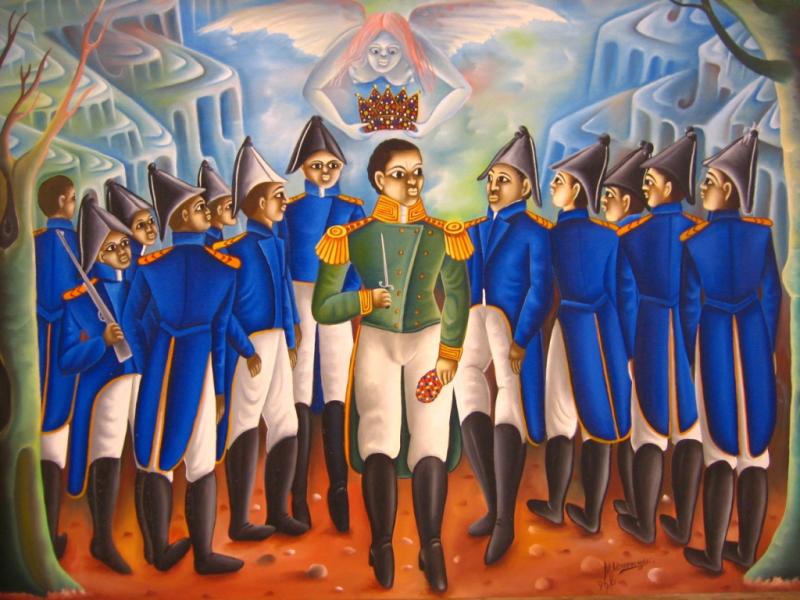 Madson Mompremier's 'Les Generales', 1988, Gassen Collection
I've rarely come across an exhibition as loaded with context as this one. Voodoo – or Vodou, as the show has it – is a massively complex and contested phenomenon, from the pin-sticking and zombies of legend and fantasy to the no-less colourful reality. Haitian history is tragic and dramatic, fraught with misinformation stemming from the country's creation in an 18th century slave revolt.
The religion, the history and the art produced from them feed in and out of each other in fascinating ways which the exhibition's promotional material presents as a great slab of facts and ideas that have to be negotiated before you can even get your foot in the door.
What we see when we actually get inside is more modest in scale and ambition than you might expect, but often beautiful. It is also highly revealing, not only about Haitian culture, but how we choose to present and think about art from outside the Western mainstream.
The initial impression is of a kind of magic realist folk art
Vodou, we are led to understand, is a blend of African and Christian beliefs incorporating elements of native Indian religion, Western occultism, freemasonry and whatever else takes its adherents' fancy. Its iconography draws equally promiscuously from the imagery that comes its way, from baroque religious art to Princess Diana, Nastassja Kinski and Fred Flintstone, all of whom have appeared on Vodou altars in recent years. You won't, however, meet this unlikely trinity in this exhibition. Apart from a few examples of sequinned and embroidered 'secret flags', none of the images and objects here are religious artefacts. While everything – or almost everything – here has been inspired by Vodou, it has all been created as 'art' of one sort or another.
Curated by Nottingham Contemporary's director Alex Farquarson and photographer Leah Gordon (creator of the superb book Kanaval), the exhibition's time frame begins in the 1940s, when Dewitt Peters, an American artist and teacher created the Centre d'Art, a gallery and informal art school in the Haitian capital Port au Prince. While the Centre d'Art was initially designed to promote Haitian Modernism, it became associated with so-called "naive art", the paintings of untutored peasants and artisans, such as Hector Hyppolite, a house painter and Vodou priest, and Benoit Rigaud, originally Peters' driver. When the Surrealist leader Andre Breton visited the island in 1945 his enthusiasm for this work piqued the interest of international dealers and collectors, and a full-scale Haitian "primitive renaissance" was under way. This is the tradition, rejuvenated by subsequent movements, such as the 1970s Saint-Soloeil group, that this exhibition explores.
The first room looks at the original Haitian art superstars, from Hector Hyppolite, still the best-known Haitian artist, to Philome Obin, a Baptist and Freemason, who eschewed Vodou subjects and created his own history-based sub-genre. The initial impression is of a kind of magic realist folk art in which certain subjects predominate: Vodou deities, Haitian history, scenes from peasant life or sometimes all three at once.
Hyppolite, technically perhaps the least adept, gives the greatest sense of getting Vodou ritual raw onto the canvas. Some of the other's efforts – such as Wilson Bigaud's wonderful Africaine Carnivale (pictured above) correspond so closely to what Andre Breton would have liked, you can't help feeling they must have been influenced as well as promoted by him.
There's the sense here of each of the artists struggling to evolve a personal visual language. But by the second room, of paintings by artists of the next generation, the work feels formulaic, with the artists applying an established manner to every work. Andre Pierre's figures are covered in white patterns derived from ritual marks, that extend decoratively into the surrounding foliage. Camy Rocher uses lines of white dots that sit on the surface of the canvas to give his works structure.
There are any number of paintings here that are almost edibly enjoyable. Yet the temptation to think of even the best of them as gorgeous 'little' paintings won't go away. There's the sense that the parameters of this kind of painting were established early on, and while some paintings really do resonate in the mind, others feel merely charming in a decorative, repetitive way expected of 'folk art' from around the world.
It's a relief to encounter three-dimensional pieces whether they're Georges Liotaud's silhouetted figures cut out of oil drums or Pierrot Barra's extraordinary plastic dolls encrusted with psychedelic amalgams of fabric, sequins and cheap jewellery (pictured above left). It's here that the exhibition starts to become genuinely weird and visionary, and that the work starts to overlap with so-called 'outsider art'. Had we been told that Barra's figures had been made by an inmate of a mental institution, we wouldn't be the least bit surprised.
Some of the paintings of the Saint-Soleil group of farmer-artists, active in the 1970s, are overtly reminiscent of the legendary British outsider artist Scottie Wilson. This room contains some of the most compelling and out-there imagery in the exhibition (pictured below right, Prospere Pierre-Louis' Lwa in the Blue Bird, 1990) and simultaneously its prettiest and most child-like. The relationship with Outsider Art is the aspect of Haitian art most controversial among academics. But judging by this exhibition it's difficult to say what the connection demonstrates other than the fundamental redundancy of the idea of Outsider Art.
Bringing the exhibition up to date are larger paintings by Edouard Duval-Carrie and Frantz Zephirin, two Haitian contemporary artists who draw on voodoo imagery – Duval-Carrie the more effectively – and the sculptures of the Atis Rezistans group, who fuse urban detritus into quirky figures reminiscent of African power objects. More revealing than the objects themselves, however, is Leah Gordon's film about the group – shown alongside – which throws both their work and the whole exhibition into fascinating relief. Far from appearing naive and provincial as you might expect, the artists are all fiercely articulate and highly conscious of their position as untrained contemporary artists working amid povery-stricken desperation. The wild assemblages of found objects filling their studios make the isolated objects in the surrounding exhibits seem relatively tame.
Glimpses of Vodou ceremonies bring home to you how much these rituals, like the African festivals that inspired them, are a kind of gesammtkunstwerk in their own right – a total work of art – in which many kinds of creativity are involved in ways that blur banal Western distinctions such as art, literature and music. Yet this sense of the essential liveness of Vodou is only fleetingly apparent in the show is a whole. What Dewitt Peters did at the Centre d'Art was to show Haitians how aspects of Vodou culture could be isolated and turned into art – which invariably means objects that can be easily transported and used, generally for decorative purposes, by collectors and tourists. This exhibition is a kind of history of that process. And that isn't to be derided: the history it records is what has happened. If we aren't shown the contents of ghetto artists' studios in room-filling installations, that is probably because the artists themselves don't conceive of their work in those terms. If we're not seeing Vodou-inspired Haitian performance art, maybe there isn't any.
This is a fascinating exhibition, well worth travelling to see, but the totality of Vodou and what it has to offer to art remain largely out of view, a massive partially charted area full of possibilities.
Princess Diana, Nastassja Kinski and Fred Flintstone have all appeared on Vodou altars in recent years
Explore topics
Share this article