London's Burning |

reviews, news & interviews
London's Burning
London's Burning
A cultural revelation that speaks as much of the present as it does of the past
Sunday, 04 September 2016
'Fires Ancient and Modern' by Martin Firrell
It has been 350 years since the Great Fire of London. A festival of art and ideas by Artichoke, the company behind Lumiere London, has brought a series of free, inventive installations and performances to the capital. These curated events and live art happenings don't so much teach us about the events of the past, but enable us to take stock of what's happening right now in the world, and challenge us to change for the future.
Of All The People In The World, a performance installation by Stan's Cafe at Inner Temple, promises to illustrate the cost of the Great Fire in grains of rice (pictured below right). But those hoping merely to imbibe factual knowledge such as the number of people who died will be surprised. This is a piece full of unexpected humour, symbolism and wit. There are facts and figures pertaining to the fire – the number of people it made homeless, the number of dinner guests at Samuel Pepys' gaff almost three weeks afterwards, and the number of firemen deployed.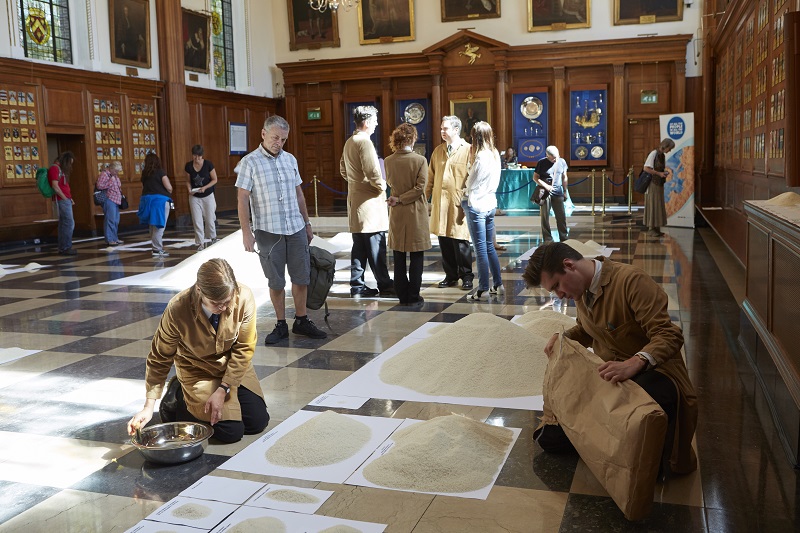 As you walk in, there is a mound of rice, a grain for every person who watched episode one, series seven of The Great British Bake Off last week. It's much bigger than the pile representing the population of England in 1650. There are references to the Globe Theatre fire in 1613, Battersea Arts Centre in 2015, or any one of those in Salem, Tokyo, Seattle, San Francisco, Copenhagen or Toronto.
There are startling statistics illustrating the acknowledged children fathered by great historical figures; the number of Lord Mayors of London since 1354 (a handful) versus the number of women who have been Lord Mayor of London, ever (two). There are topical references to crime during the Notting Hill race riots (not a patch on the pile for victims of domestic abuse in 2014-15), and taking front and centre stage of the exhibition is a huge, high, very, very long pile of rice that represents the number of refugees in the world today. Nearby there is a pile for people born, next to one for those who die each day (substantially less). It puts all else into perspective in a way that is immediate, and astonishingly moving.
This theme of contextualising momentous historical events is furthered by huge projections on to the side of the National Theatre (fairly obscure, but landmark moments that have formed London as we know it today for every year since 1666) and St Paul's Cathedral, which has a swirling mass of flames dancing over its dome (main picture). Further along the river outside Tate Modern, the smell of paraffin and charcoal mixes with the hiss of the foggy evening, as a series of fire sculptures heat the London air to the point of combustion (pictured below left: Compagnie Carabosse, Fire Garden).
Steampunk structures move with the kinetic energy of flames, industrial chimneys belch out puffs of smoke as crowds are directed down walkways of burning arches. Reaper-like figures, with echoes of Día de los Muertos about them, sit in pagodas at the epicentre of the fire surrounded by droplets of flame, spinning flamenco dancer dolls in cages, with guitars held by noose structures. They play sinister, atmospheric music, drawing on myriad cultures, creating a festival-like atmosphere on the Tate lawns.
On the Thames, a glowing cube of white light floats underneath the Millennium bridge, containing 500 drawings of memories of war. Ik-Joong Kang's Floating Dreams, a memorial to those displaced and divided by the Korean War (1950-53), is framed by the circus-like burning spheres along the South Bank. Over the river, London 1666, a wooden structure designed by David Best awaits its fate. This 120 metre-long, wooden architectural sculpture of the 17th-century skyline will be sent up in flames to close the festival on Sunday, a final dying ember to the sentiment that out of the past can be built a prosperous future.
the smell of paraffin and charcoal mixes with the hiss of the foggy evening, as fire sculptures heat the London air
rating
Explore topics
Share this article