Lubaina Himid, Modern Art Oxford and Spike Island, Bristol |

reviews, news & interviews
Lubaina Himid, Modern Art Oxford and Spike Island, Bristol
Lubaina Himid, Modern Art Oxford and Spike Island, Bristol
A major talent revealed in a joint retrospective at Oxford and Bristol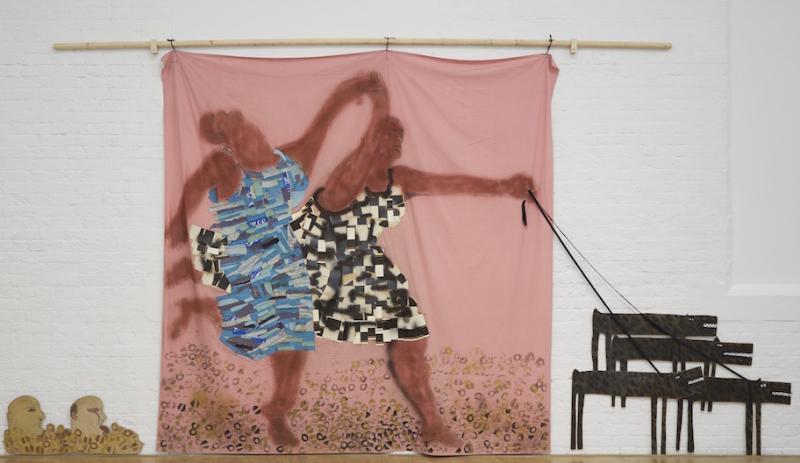 Freedom and Change, 1984, by Lubaina Himid
Modern Art Oxford and Spike Island, Bristol have joined forces to create a retrospective of Lubaina Himid's work that spans some 30 years, includes paintings, drawings, collages, sculptures and assemblages and proves what a highly original and complex artist she is.
Himid was a key figure in the Black Arts Movement in the Eighties and Nineties, organising numerous mixed shows that brought attention to the work of black artists. She has been working ever since and exhibiting outside London, but although she has been included in various mixed shows in the capital, it is 25 years since she had a solo exhibition in London, at the Southbank Centre. One might be forgiven, then, for thinking of her as a marginal figure, but this dual exhibition is a wake up call, a reminder of how easy it is to overlook a major talent if she (it is nearly always she) does not fit the template of a successful artist – young, glamorous, white and living in London.
Himid's personal story feeds into her work in subtle and meaningful ways. Her father died of malaria when she was just four months old. "I was born on an island in the Indian Ocean", she remarks, "and lived for the first four months of my life 200 yards from the beach in a house at Beit el Ras in Zanzibar." After 40 days of mourning, her mother brought her daughter back to her home town of Preston. "One grandmother had waved goodbye with the sound of the warm sea around her," says Himid; "another welcomed me to her seaside home in the chilly north of England."
Not surprisingly, the sea features prominently in her work, as an anxiety-inducing backdrop (Himid has a deep fear of drowning, since she is a poor swimmer) and a metaphor for displacement – her own and that of thousands of migrants forced to leave their homelands and journey overseas, especially those herded onto ships and sold into slavery.
The work focusing on her own story tends to be beautiful, lyrical and semi-abstract. Zanzibar is a series of diaphanous paintings made in 1998-9 following her first visit to her birthplace. Diamond patterns echo the layout of floor tiles, the weave of mosquito nets, the folds of wooden shutters and the patterns on printed cotton. This recurring motif is overlaid with thin washes of acrylic that dribble down the canvas, destabilising the geometry and veiling its clarity, just as rain or tears blur one's vision. Beautifully painted shells, leaves and cloves invoke the smell, feel and texture of the island. Hanging alone in Oxford, Zanzibar – Sea: Wave Goodbye, Say Hello, fails to make an impact, but the collective effect of the eight Zanzibar paintings shown in Bristol is very moving. It would have been better to keep the series together.
During a two-month residency in St Ives, Himid used a lifeguard's hut as a studio. The proximity of the sea to this fragile building gave rise to Plan B, 1999-2000, a series of paintings (shown at Oxford) whose apparent simplicity belies their psychological depth (pictured above: installation shot by Ben Westoby with Plan B paintings and Bone in the China: Success to the Africa Trade). Yellow Pool, from the series Plan B, is a long thin canvas divided by spindly lines into a tall, narrow interior. Two tiny windows provide glimpses of the choppy sea outside, while perched on narrow ledges, two empty chairs create an unnerving sense of vulnerability and solitude.
Other rooms in the series are filled with empty chairs, as though large numbers of people are expected to pass this way. "We suffered from exhaustion and lack of water. We had to cross a deep and fast flowing river. Many of us were weeping with fear and were sure we would die." Written across one painting, this account of a terrifying journey encourages one to see the inhospitable rooms are reception centres. While Yellow Pool, evokes the unnerving experience of being sequestered inside a flimsy structure at the margin between land and sea, in other Plan B paintings, personal unease is translated into the collective trauma of displacement.
Himid's overtly political work is usually figurative and often funny; sardonic humour is used to reveal injustice and poke fun at the status quo. Freedom and Change, 1984 (in Oxford) (main picture) is based on Picasso's painting Two Women Running on the Beach, 1922. Himid has translated Picasso's monumental figures into two black women collaged onto a curtain. Escaping the mean-looking male heads snapping at their heals, the women skip into the future led by a pack of vicious black hounds, offering protection against racists and bigots.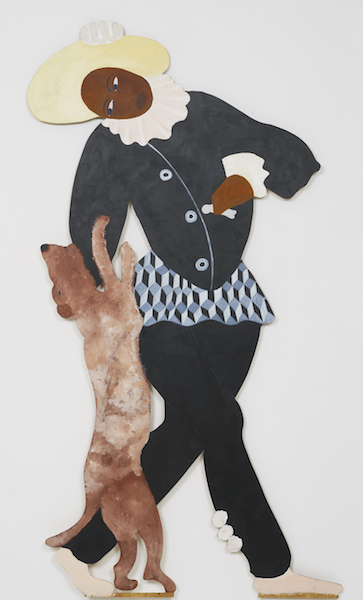 Bone in the China: Success to the Africa Trade, 1985, takes the latter part of its name from an 18th-century punch bowl on display in Stoke-on-Trent City Museum, where the sculpture was exhibited. The bone-shaped pedestal commemorates the slaves whose sweated labour fuelled our economy yet are absent from the history books. The assemblage is dotted with questions demanding, "Where are the memories? Where is the evidence? Who are the heroes of black people's lives?" "The point I am often exploring", explains Himid, "is that of being so very visible and different in the White Western everyday yet so invisible and disregarded in the cultural, historical, political or economic record or history."
Swallow Hard: The Lancaster Dinner Service, 2007 (in Oxford) is an assortment of plates, bowls and terrines overpainted with the faces of black servants who once worked in wealthy British households and are described by Himid as "an invisible engine working for nothing in an amazingly greedy machine". The Rapid Effects of Abolition (pictured above) shows their avaricious owners spewing up as the realisation takes hold that the game is up: "Oh dear! Oh oh! Olah lah! It's all over!" shrieks a distraught dame dressed in yellow.
A hundred cut-outs fill Gallery 2 at Spike Island. They represent the African slaves who worked in the royal courts of 18th-century Europe as herbalists, dog trainers (pictured above left), drummers, shoe makers, painters and map makers. Their bright, carnivalesque presence is tinged with sadness; the labels on their backs speak of the loss of individual and cultural identity. The drummers are all called Dan and the viola de gamba players Henry. "My name is Jabulani. They call me Dan. I used to be a king. Now I watch and play. But I have my ring," reads one label. "My name is Ahmed. They call me Henry. I used to play the music of my people. Now I play to forget them," reads another.
The two distinct strands in Himid's work, the personal and political, come together in Cotton.com, 2002 (detail pictured right), 85 small canvases painted with a joyous array of grids, stripes, rhomboids, dots, dashes, circles, rings and stars that echo the infinite variety of patterns printed on African and European cottons as well as the repetitions deployed by many an abstract painter.
In this exquisite series, the languages of decoration and Western modernism unite to commemorate an exceptional act of solidarity. During the American Civil War, thousands of Lancashire mill workers lost their jobs when supplies of cotton from the plantations dried up, forcing the mills to close. Yet they voted to support the anti-slavery legislation that had sparked the conflict. Abolishing slavery was deemed more important than safeguarding their own livelihoods. Cotton.com is a delight because, in uniting the disparate strands in Himid's work, it creates a multi-layered fusion of opposites that riff off one another and create a respite from the pull of dual identity. Which gallery will follow the examples of Oxford and Bristol and offer Lubaina Himid the London retrospective she so richly deserves?
This dual exhibition is a reminder of how easy it is to overlook a major talent who doesn't fit the template of young, glamorous, white and living in London
rating
Explore topics
Share this article