Matthew Barney: Redoubt, Hayward Gallery review - the wild west revisited |

reviews, news & interviews
Matthew Barney: Redoubt, Hayward Gallery review - the wild west revisited
Matthew Barney: Redoubt, Hayward Gallery review - the wild west revisited
A fusion of classical and modern mythology
Still from 'Redoubt' 2018, a film by Matthew Barney
The focal point of Matthew Barney's Hayward exhibition is Redoubt, a two-and-a-quarter-hour film projected on a giant screen that invites you to immerse yourself in the rugged terrain of the Sawtooth Mountains in Idaho
, where he grew up. The entrance ticket allows you to watch the film at home, yet while I was there almost everyone stayed the course, which is remarkable given that there's no dialogue.
It's winter so everything is deep in snow which makes it difficult for people, dogs and horses to get around. Only the most intrepid are out; there's a hunter played by Anette Wachter, who is a member of the U.S National Rifle Team and winner of many international trophies. Barney plays a Forestry Department ranger, who is known as the Engraver because he makes copperplate engravings of the landscape and animals that live in it.
Chancing on a recent kill, he is alerted to the presence of the hunter and begins to look out for her. While she peers through powerful binoculars, scanning the slopes for wolves or elk, he catches glimpses of her through leafy branches or spies on her with a night vision camera.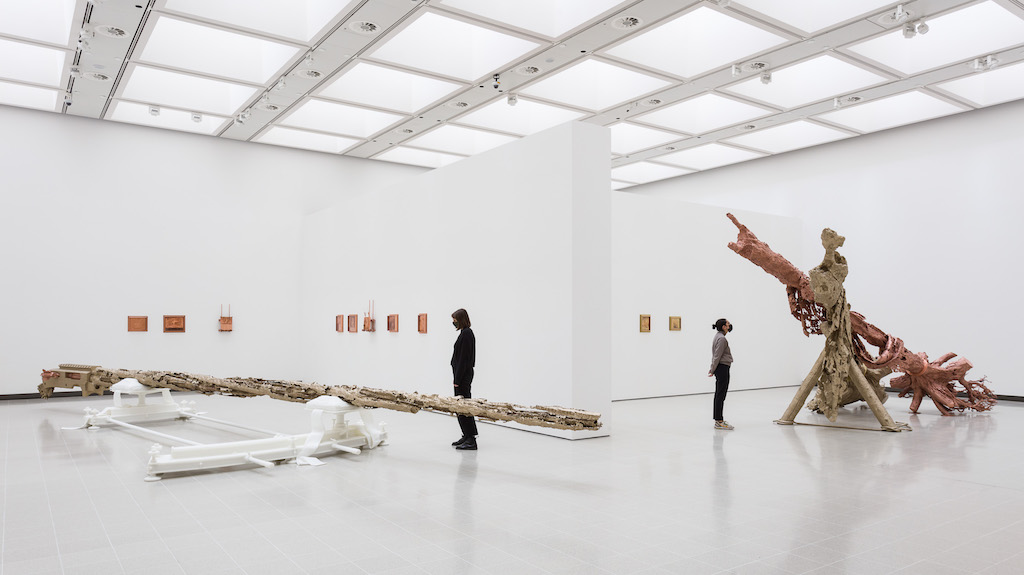 Redoubt is not just a story about a game warden stalking a hunter, though; the film is loosely based on the myth of Diana, goddess of the hunt, and Actaeon, a young hunter who blunders upon Diana and her nymphs when they are bathing. Her revenge for this trespass is to turn him into a stag so that his hounds will tear him to pieces.
The artist records Diana in detailed engravings, translating her designer camouflage into delicate patterns resembling snake skin. He also draws her companions, the Virgins played by dancers Eleanor Bauer and Laura Stokes whose role is to amplify the narrative in dance moves made cumbersome by deep snow. They provide ample opportunity for voyeurism by bathing in hot springs wearing long johns that are see-through when wet. One Virgin shins up a huge pine tree, then plummets down as though dead, with only a rope coiled round her waist to slow her descent. This dramatic sequence anticipates the moment when the Engraver shoots a cougar and it crashes to earth from the high branch where it was resting.
Everyone seems bent on killing; but instead of murdering the Engraver, Diana contents herself with disarming him by firing into the barrel of his gun (a neat Freudian moment) and shooting up his copperplates. The plates are taken to a remote caravan where the Electroplater (K.J Holmes) dips them in acid and passes electrical currents through the liquid to electroplate them. We are encouraged to see the process as modern day alchemy and to view the main characters – Diana, the Virgins, the Engraver and the Electroplater – as archetypes of some kind. And this is where I take issue with the film.
Some relevant background info: having been hunted to near extinction, wolves were reintroduced into Idaho in 1995. Little by little, their numbers have increased to 1,500 and, on May 7th this year, the governor removed their endangered species protection and made it legal to kill them. He was bowing to pressure from the gun lobby which includes a right-wing, Christian survivalist group described by their leader as "pistol-packing Amish" and called the American Redoubt – hence the film's title.
This is bad news for wolves, especially when you bear in mind the blood lust of American hunters. During a single weekend last February hunters in Wisconsin killed 216 wolves legally, plus another 115 illegally and exceeded their official quota by 82%. There is nothing noble about this slaughter. In Idaho, all constraints are off; it is now legal to poison and trap wolves, as well as chase them on snow mobiles and shoot them from helicopters, the aim being to destroy at least 1,000 animals.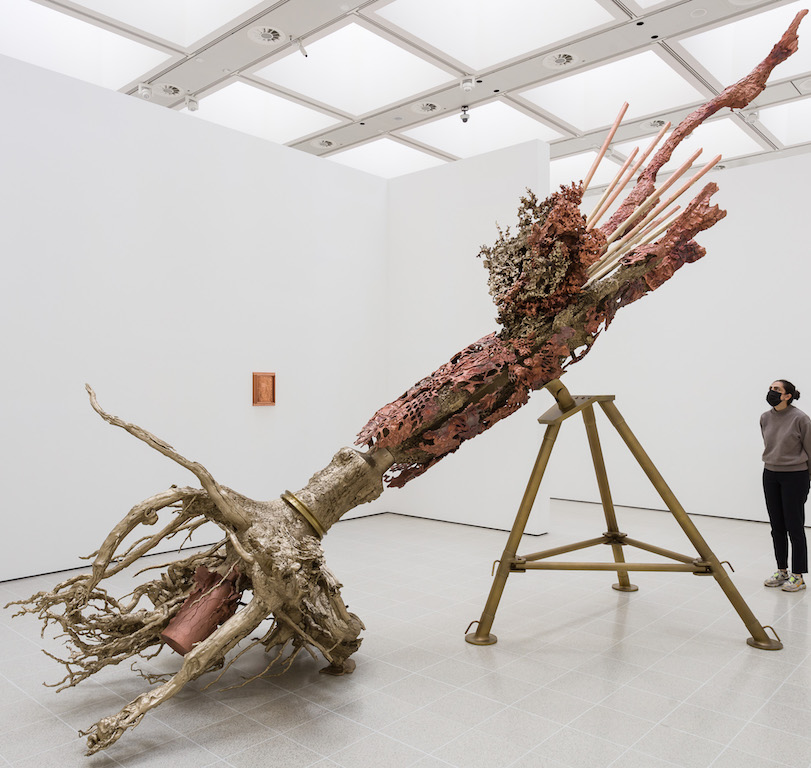 Barney's film was made in 2018 before the new legislation, I hear you cry; but Donald Trump was already stoking tensions between hunters and environmentalists, so to frame the debate in terms of mythology, cosmology and alchemy – or even a loan hunter stalking her prey on horseback – still seems wilfully apolitical.
On show alongside the film are the elaborately framed copperplates and several large sculptures (pictured above: installation shot with Elk Creek Burn (left) and Virgins 2018 (right)). Charred pine trunks have been cast in copper and brass. Some resemble giant rifles and rest on tripods or gun emplacements. Diana 2018 (pictured above right), on the other hand, points heavenward like a rocket with a tangle of roots flaring out behind like a blazing trail. Part nature, part military hardware, the sculptures are dressed in a metallic filigree resembling lichen or the patterning on Kryptek, the camouflage gear favoured by paramilitary survivalists.
The copperplates are too glitzy and the sculptures too quirkily baroque for my taste. The film, on the other hand, is extremely watchable mainly because of the splendour of the landscape. It pays tribute to the tradition of the American sublime – landscape paintings in which the west is portrayed as an empty wilderness awaiting settlement. This was to ignore the millions of native Americans already living there, and by reframing the politics of land use in terms of mythic individuals, Matthew Barney similarly avoids present day realities.
The film is loosely based on the myth of Diana, goddess of the hunt, and Actaeon
rating
Explore topics
Share this article