Only Human: Martin Parr, National Portrait Gallery review - relentlessly feelgood |

reviews, news & interviews
Only Human: Martin Parr, National Portrait Gallery review - relentlessly feelgood
Only Human: Martin Parr, National Portrait Gallery review - relentlessly feelgood
Passing shadows across Brexit Britain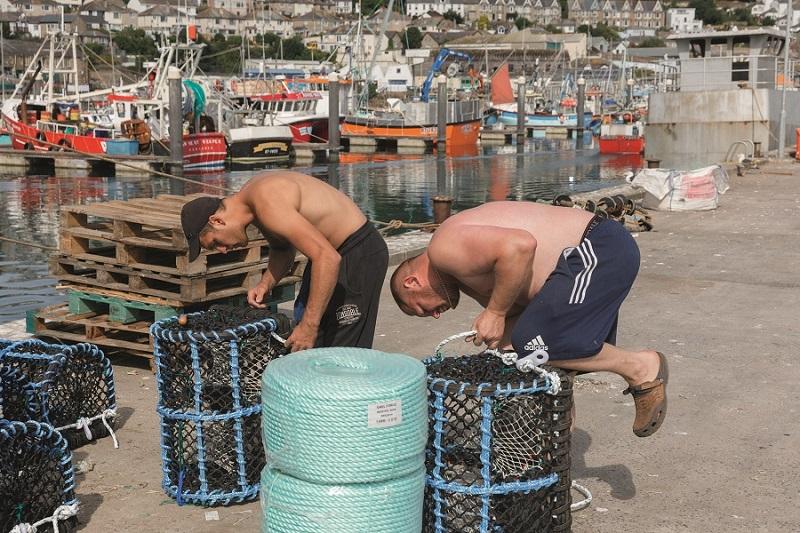 Martin Parr, 'Preparing lobster pots, Newlyn Habour, Cornwall, England', 2018
The Magnum photographer Martin Parr has spent decades observing contemporary human activity world-wide as – perhaps – a mesmerised observer, an anthropologist, a tourist, addicted to the vagaries of the human condition.
This anthology at the National Portrait Gallery is dominated by what is called "Britishness", even when it is race goers in Durban. And the shadow over whatever "Britishness" may be – from the City Establishment, to a drunk young man all dressed up in black tie passed out at a May Ball, to men mending lobster pots in Cornwall – is of course Brexit
(Main picture:
Lobster Pots).
Parr is adept at finding delight and sometimes boredom, and is fascinated by ritual and recreation. Everyone is out and about, at clubs and shops and streets and sporting events. And on the walls of the gallery these scenes can seem both peculiarly familiar and wildly strange and disconcerting.
Parr has been showing us people, groups and communities for decades in his brightly coloured photographs. His world view seems at odds with the anxiety and distress that seem at times so all-consuming to so many. Idiosyncratic, eccentric, over the top, exuberant, enjoyable seem the dominant emotions in the groups Parr portrays. Everyone is working or involved in doing something: it is an extrovert world.
Topped by Brexit Britain now and scenes from several years back highlights include near naked men posing at Manchester Pride; dog owners, their charges all dachshunds, in Newcastle; lifesavers in Exmouth. One gallery is a big series over time of Parr's self-portraits, rarely smiling, improbably fleshed out by the accoutrements of jokey photo studios world-wide: here Parr is next to Putin on a grey beach, there next to Lionel Messi on an empty football field, and there his face tops the shiny torso of a body-builder. It is a mini visual anthology suggestive of Parr's many journeys (Pictured above right: Martin Parr, Online dating profile picture, Hey Saturday, London, England, 2016).
He subtly probes some cultural differences: an old lady on the beach is brave in a bikini as she clutches her wet and sulky small dog to her bosom – her awesome confidence marks out the image as having been taken on the beach at Nice (Pictured below left). There are echoes of Britain as he explores people at tennis matches from Wimbledon to the Us Open to Melbourne to Paris, from players to attendants and attendees; we go to the races at the Kentucky Derby, Ascot and Cheltenham, the Grand National, and Durban, South Africa; and we observe lots of parties and weddings, from a Sikh wedding in Cardiff to the Notting Hill Carnival and a Scottish Country Dance Club not to mention a Bar Mitzvah in New York and a dinner dance at the Savoy.
And then there is Britain: Britain shopping, Britain playing, Britain at school, Britain working, and Britain at the seaside. All British life is here, a little melancholy under the noisy frenetic colour, but Parr by emphasising the ways people occupy themselves, by swimming in icy lakes, buying flowers at Chelsea, turning up at car boot sales, street parties and lots of dressing up makes it all seem almost lovably eccentric, idiosyncratic, even quaint and picturesque.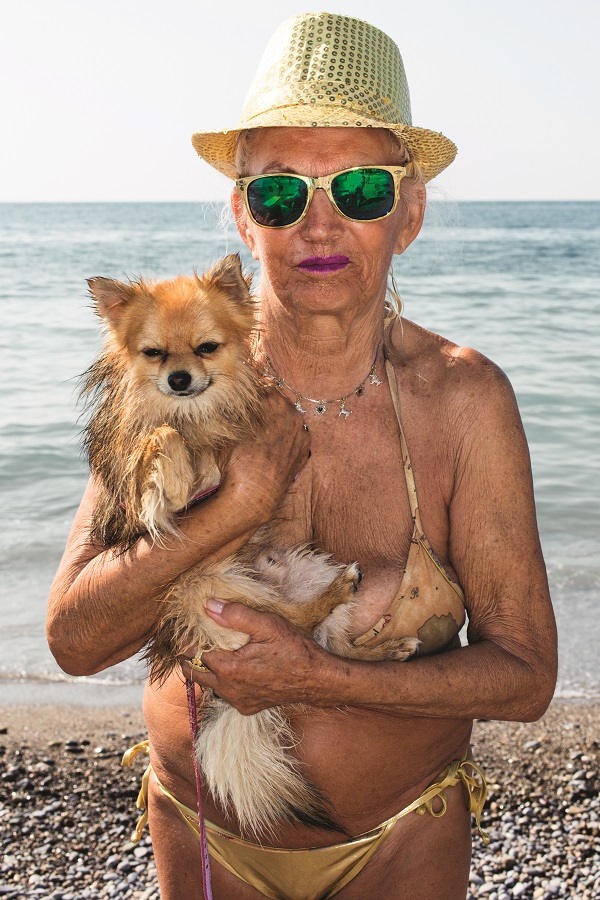 There is a curious nostalgia to notions of Britishness underlined in the galleries a pastiche café halfway through with a glass counter filled with cakes, and a special shop selling everything from beach chairs to tote bags and T shirts with the logo Only Human. For all the elaborate tableaux that Parr finds and fixes with his alert and roving eye, there is also a peculiar undertow of melancholy underneath the visual noise. Although these images are all of the proverbial frozen moments it is also as though if everything stopped we would all fall off.
Parr has photographed exclusively in his brand of heightened colour since the 1980s, strident, dazzling, almost blinding: oddly he is at his most restrained when photographing what he does seem to characterise as the élite. But subtlety and nuance are not part of his visual vocabulary. Here mostly all is for the best in the best of all possible worlds. For what is curiously missing is the sense of the interior lives behind all the countless human permutations on parade. Parr's human comedy can seem a pageant without meaning, as one ritual fades into another, although occasionally there might be a mocking edge. There is hardly a shadow to be seen.
It is certainly a relentlessly feel good exhibition, and so full that you can easily feel over stuffed. All this hubbub and carry on, all this immense activity is a swerve away from quotidian daily life. We see everybody out and about, and we hardly ever go behind the front door. Parr's subject is the public face of private lives, everyone dressed up – or down – from party clothes to bathing suits and with somewhere to go.
Here mostly all is for the best in the best of all possible worlds
rating
Explore topics
Share this article