Paula Rego, Tate Britain review - the artist's inner landscape like never before |

reviews, news & interviews
Paula Rego, Tate Britain review - the artist's inner landscape like never before
Paula Rego, Tate Britain review - the artist's inner landscape like never before
A magnificent retrospective celebrates one of the outstanding artists of her generation
Paula Rego, 'The Little Murderess', 1987
It is conventional for artists to reflect their surroundings, experiences and inspirations, whether this be in a subliminal manner or overtly. But Paula Rego is by no means conventional. She is a rebel, a nonconformist, a freethinker. Rego doesn't simply reflect the world around her, but soaks it in like an emotional sponge, before squeezing every last feeling out onto the canvas with passion and vigour.
This unparallelled exhibition at
Tate Britain
is not only a retrospective of the artist's work, but of her life and times. It expresses a myriad of personal, political, social, emotional and artistic inspirations through a range of quality and ambitious artworks, which paint a picture of Rego's inner landscape like never before.
Rego was born in Lisbon, Portugal in 1935, under the Salazar dictatorship, where strong, liberal views were instilled by her father, José Figueiroa Rego, who was a resolute anti-fascist. He encouraged her to question the status quo and think differently, an influence that fuelled all her work as an artist.
Having recognised the confines of living in Portugal, José and Mariade Rego sent their 16-year-old daughter to England, where from 1952-56 she studied at the Slade School of Fine Art. It was here she painted Portrait of José Figueiroa Rego, 1954-5, a standout piece in the first room of Tate's exhibition. Visceral brushstrokes coat the canvas implying intimate, psychological knowledge of the man, who is in deep thought. Personal and artistic inspirations intertwine, as the piece is reminiscent of Francis Bacon and Lucian Freud, who taught her at the Slade. Rego describes her father as an "immensely kind and liberal man, who tried to give me my freedom".
Discussion of politics has never been off limits for Rego; in fact she puts it at the forefront of her work, never shying away from, or censoring her opinions. This is clear in Salazar Vomiting the Homeland, 1960, where she paints an abstracted, yet gruesome, picture in response to the repression and enforced austerity of Salazar's regime. On the right, the fascist leader is small, ugly, messily being sick, while in the centre a larger figure representing a woman stands tall covered in dried blood. Forget subtlety, Rego is practising her freedom of expression to the fullest. Because of the abstraction of the image, the title plays a huge role in making the artwork overtly political. This is also the case for pieces, such as When we had a house in the country we'd throw marvellous parties and then we'd go out and shoot black people, 1961. She makes sure that there is no confusion about the politics of her images.
Growing up under this regime, Rego became aware of many forms of abuse, notably violence against women, who were treated as the property of their fathers and husbands. She describes hearing the screams of a woman being beaten by her miller husband, close to the farm where she lived and being disturbed that no one came to help her. As an artist, she has continued to showcase and question injustices against women in her work, whether this be domestic abuse, sexual liberation or abortion rights. Bride, 1994, is a striking, large-scale, pastel depiction of a woman on her wedding night from the artist's well known Dog Woman series. Looking directly into the eyes of the viewer, the bride appears strong, but not happy. This contrasts traditional portrayals of brides throughout art history, where the women are sweet, innocent and apparently content to be the "property" of a man. Compared to La Velata, 1515, by Raphael, for example, it depicts a more powerful story; Rego, as a woman artist, has taken control of how her sex is portrayed.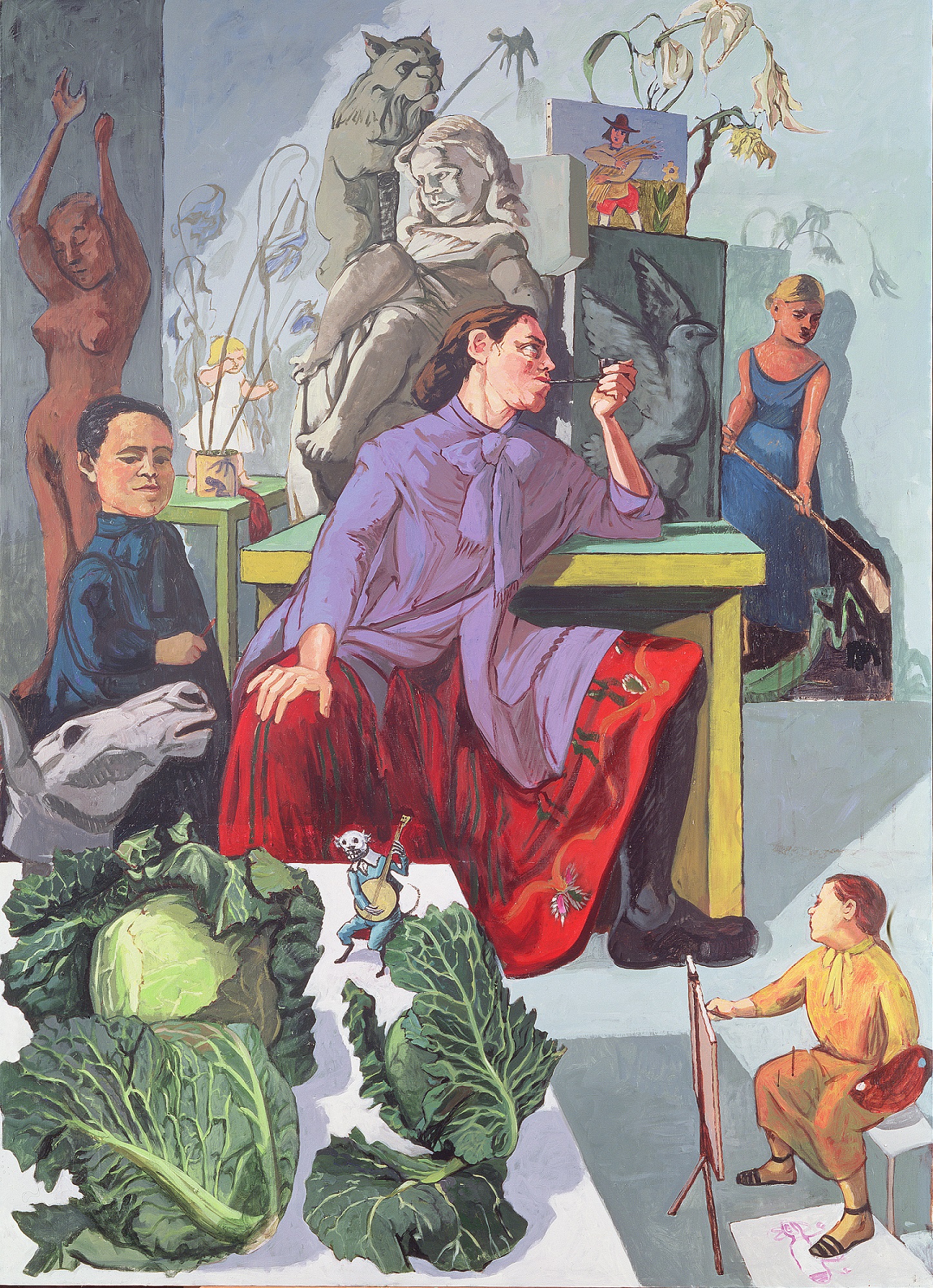 Throughout her life, Rego has dealt with difficult experiences and emotions (main picture: The Little Murderess, 1987). She has used these to drive her artwork, particularly in her Girl and Dog series, which exposes how she felt looking after her unwell husband, Victor Willing, in the last years of his life. Rego met Victor at the Slade in 1952 and later they married and had three children together. Not long afterwards, he fell ill with multiple sclerosis and began a decline that lasted 15 years. Girl Lifting her Skirt to a Dog, 1986, is an arresting portrayal of Rego's sexual and general frustration. Representing Rego, the girl appears determined yet distressed, wanting satisfaction that she knows she will not get. The dog, representing her husband, looks back at her in a helpless, wide-eyed manner. His illness is affecting her, but he cannot control this. Nothing she can do will change his situation – she is the helpless one.
One benefit of a large and comprehensive retrospective is that viewers get a well-rounded sense of the artist's growth. In Rego's case, her development in style is clear. Two artworks which perfectly illustrate this are two self-portraits, Self-Portrait in Red, 1966 (pictured above right), and The Artist in Her Studio, 1993 (pictured above left). Self-Portrait in Red is a surreal, symbolic collage which depicts the artist as a small girl; it is a style that is difficult to understand without the help of a title and supporting text. Although her views were strong, Rego was tackling reality by creating a fantasy, expressing herself in a more coded, inexplicit way. However, by the time she painted The Artist in Her Studio, her style had become realistic and concrete, presenting us with a version of reality that we recognise and immediately understand. This is also the case for other pieces with difficult subject matter, such as abortion, where she is not afraid to paint all the grim details – Rego and her girls look us in the eye and tell us their story unapologetically.
This exhibition takes you on multiple journeys: personal experience, political rebellion, social injustice, emotional trauma, artistic development. As an artist, Rego is deep, thought provoking, intelligent and thoroughly important to the art world and its history. As a woman artist, she pushes boundaries and takes control. This unconventional figure deserves to be championed as an outstanding artist of her generation.
The girl appears determined yet distressed, wanting satisfaction that she knows she will not get
rating
Explore topics
Share this article