Ron Arad: Restless, Barbican Gallery |

reviews, news & interviews
Ron Arad: Restless, Barbican Gallery
Ron Arad: Restless, Barbican Gallery
High-concept chairs and more in extensive design survey
Tuesday, 23 February 2010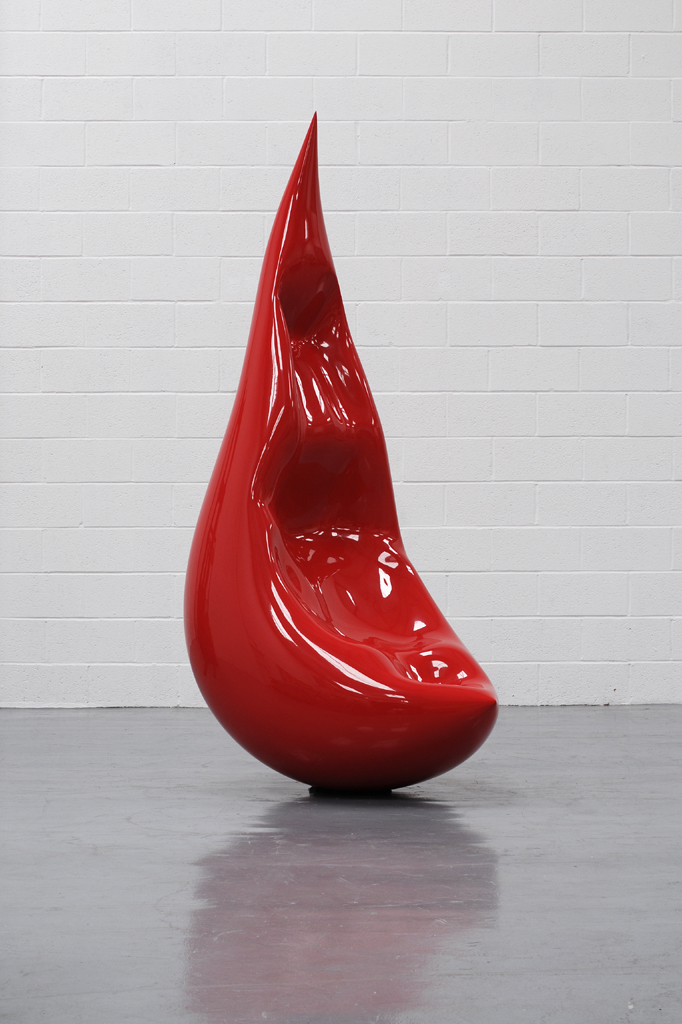 The
Rover Chair
was a clever salvage job: an old battered leather Rover car seat mounted on curved steel. It was perfect for the 1980s bachelor pad and, aptly, made its television debut on
Top Gear
under Jeremy Clarkson. Since then the designs have become much more high-tech and a lot flashier.
In this extensive retrospective at the Barbican Gallery, large LED screens with seductive graphics and esoteric design statements are positioned in front of themed rooms. Themes – for these are high-concept designs – have titles such as Scavenging, Tinkering, Rolling, Voiding and Superforming (the last sounding either like an extreme sport or a 1980s dance move). And they are not only redolent of that decade of excess from which Arad emerged, but they surpass it.
Take the red fibreglass
Gomli
(pictured right)
, which can be found under the theme Gomling - which makes it sound cute, as if it were a kid's cartoon character. It's a moulded chair, though more of a kind of open-form body pod, inspired by the body casts of Arad's friend Antony Gormley. But it's also as if Arad has taken the idea of Vitruvian Man, and made a Universal Man chair.
In fact, with its pointy top and roly-poly, bulbous bottom the chair looks more like a really fat Ku Klux Klan member in full costume – a Weeble Klansman who wobbles but never falls down. And it's a strange chair for anyone to want to sit in rather than to admire: like many of Arad's chairs, you're going to be stuck in the same moulded position. So, really, it's a flashy showpiece; you're not going to want to curl up in a
Gomli
with a good book – though, as Arad is also known as an "artist-designer", one is never quite sure where the boundaries between functional design and art really fall.
The idea of constriction comes up quite a bit in Arad's chair designs. Indeed, in front of the Gomling display there's a Gormley iron-cast man strung up with some ropes – and I'm sure it's no accident that I start thinking about Japanese bondage. Still, there are plenty of user-friendly, mass-produced pieces in the exhibition that you can try out for yourself. Some are more comfortable than they look. Others are less comfortable than their cushiony padding suggests –  the
High Tilt
chair, for instance, which relies on your leg muscles to keep upright. Yeah, great for a lower-body workout.
And some are just ugly.
Even the Odd Balls
, a pair of metallic "positive/negative" chairs, one with shiny, extruding balls, the other with big, ragged cut-out holes, come to mind. They do look a bit rock'n'roll, though they are, unusually for Arad, static: many of his pieces literally do rock, roll, bounce, curve and flex. You can hear metronome sounds all around as little mechanical devices keep the pieces jigging frantically about.
But my favourite for trying out has to be
Spring
, which Arad might consider renaming
The Freud
. It's a moulded-to-the-body chaise longue, and as you recline and nestle snugly into its deep curves, you find yourself gently bouncing, as if held within the blanketed warmth of Mother's arms. Perfect, I thought, for the psychoanalyst's chair.
Arad is clearly a very clever man, an ingenious designer. But if only everything else was as restful in
Restless
.