Taylor Wessing Photographic Portrait Prize 2012, National Portrait Gallery |

reviews, news & interviews
Taylor Wessing Photographic Portrait Prize 2012, National Portrait Gallery
Taylor Wessing Photographic Portrait Prize 2012, National Portrait Gallery
Outstanding images from eminent photographic masters and students alike
Thursday, 08 November 2012
And the winner is... Jordi Ruiz Cirera's image of Margarita Teichroeb
The Taylor Wessing Photographic… well, you get the drift. It's quite a long title for what is now one of the most fascinating and wide-ranging exhibitions of photographs mounted in London, and which goes out on tour nationally next year.
It is described as a snapshot of contemporary portrait photography, and this is one of the strongest iterations yet, 60 photographs selected from an international submission of over 5,000 images from more than 2,000 photographers, all taken within the last year or so.
Each has been chosen blind, as the photographer was not identified during the selection. In practice this means that the eminently accomplished and senior masters of the genre - two dozen photographs by the sexagenerian Eamonn McCabe are already in the NPG collection and here he is with an emotive portrait of the artist Sarah Lucas, simultaneously wiry, resilient and extraordinarily pale and rather scruffy, perched on the rim of a modest swimming pool in Suffolk – are on view, along with photographers who are still students or just emerging.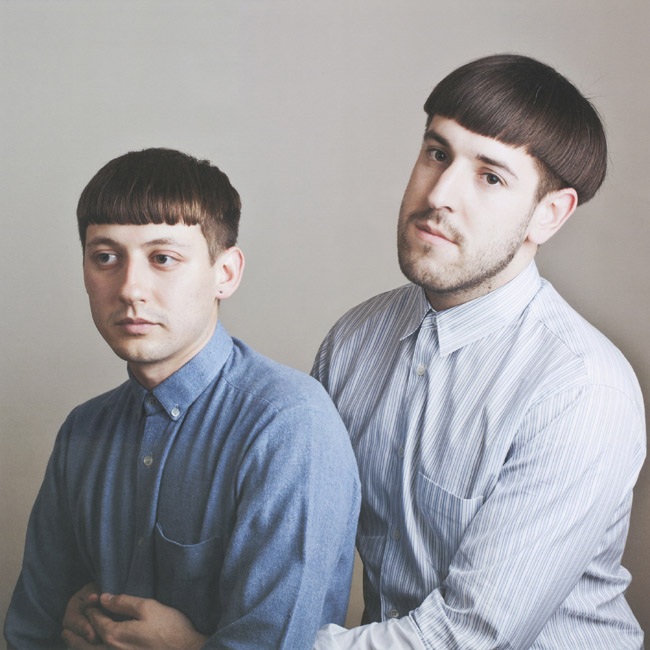 Alma Haser is a German who graduated from Nottingham Trent two years ago, and her compelling offering is two eerily similar adolescent boys, friends, deadpan in identical haircuts, one clutching the other, called The Ventriloquist (pictured right), a title which makes the viewer wonder about the ties that bind. The image won fourth prize. First prize was awarded to the portrait by 28-year-old Barcelona-born London resident Jordi Ruiz Cirera of a young Bolivian woman, Margarita Teichroeb, clearly itchily uncomfortable in front of the camera. She is a Mennonite, descendant of a religiously exclusive German sect who rather improbably settled in Bolivia centuries ago, and still live in isolated subsistence farming communities, similar to the Amish of Pennsylvania. Simplicity and awkwardness combine to telling effect.
Some of the subjects are also eminently recognisable, although who realised that Mark Rylance has such startling greenish-blue eyes, as seen in his strikingly introverted portrait (pictured below) by Spencer Murphy (third prize). David Bailey looks like a cleaned-up tramp who happens to have lucked into a handsome interior in a photograph by Rick Morris Pushinsky, whom Bailey commended for quickness while demanding to know all the technical details. There is a huge portrait of Hilary Mantel, in a subtly charming hat, caught by Michael Birt standing on a Cornish beach in a moment between rainstorms. There is an extraordinary dignity and serenity in Sam Faulkner's black and white photograph of Jane Goodall.
There is also many a tragic or disturbing portrait. Justin Sutcliffe photographs police constable David Rathband, who was randomly shot and blinded and would kill himself a few months later. He stares eerily out at the camera through his alarmingly convincing artificial eyes.
In Gujarat, Darran Rees photographs (from the inside of a lorry's cab) a very young and rather beautiful Indian lorry driver, standing against a backdrop of speeding lorries: one of the hardest jobs in the world and hardly attended by vigilant health and safety measures. Likewise the group of Delhi roadworkers, photographed at night by Jeremy Rata, one standing on a barrel almost like a plinth. Somehow, the mood conveyed in both is subtly heroic.
A mini-gang of almost cheery teenage boys is photographed by Jon Tonks in the middle of nowhere - almost literally, since these are the Boys of Tristan da Cunha, just five from a total population of about 300. In David Graham's Food for Thought, a beautiful young boy, all liquid brown eyes, looks out at us, perhaps querying his fate. Dressed in clothes so well worn that Oxfam wouldn't touch them, this Ethiopian has just learnt his family can no longer afford to send him to school. A terrifically dignified and profoundly memorable full-on image is that of the photojournalist Giles Duley, now in rehab following the amputation of two legs and an arm after he was caught in an explosion in Afghanistan. He hopes to return to work.
While some portraits are so clearly and sharply composed, others are the work of a snatched moment. Alice Pavesi Fiori contributes a Polaroid called Lola Smoking, an image of a model taking a break from a series called Off the Set, and Nathan Roberts offers a witty iPhone photo of two Asian tourists in the NPG café, photographing themselves.
The cliché could not be truer that every picture tells a story, and they are of many different kinds: reportorial, documentary, familial, intimate, taken on assignment, self-motivated. Sean O'Hagan, the critic and Taylor Wessing judge, quotes Henri Cartier-Bresson, on record as saying that the most difficult thing for him was a portrait, where he was "looking for the silence in somebody." He added that "as time passes by and you look at portraits, the people come back to you like a silent echo."
On view here though is a chorus of life as it is being lived now, from council estates in London to high schools in Texas, with detours to Kosovo, Albania and the Cornish coast, not to mention Lima and Libya. And we are greeted by a huge portrait by the Beijing-based Matthew Neiderhauser, of Ai Weiwei holding a marmalade tomcat (pictured above), a stirring colour combination against the blue walls of his studio where he was under house arrest.
On view here is a chorus of life as it is being lived now, from council estates in London to high schools in Texas, with detours to Lima and Libya
Explore topics
Share this article